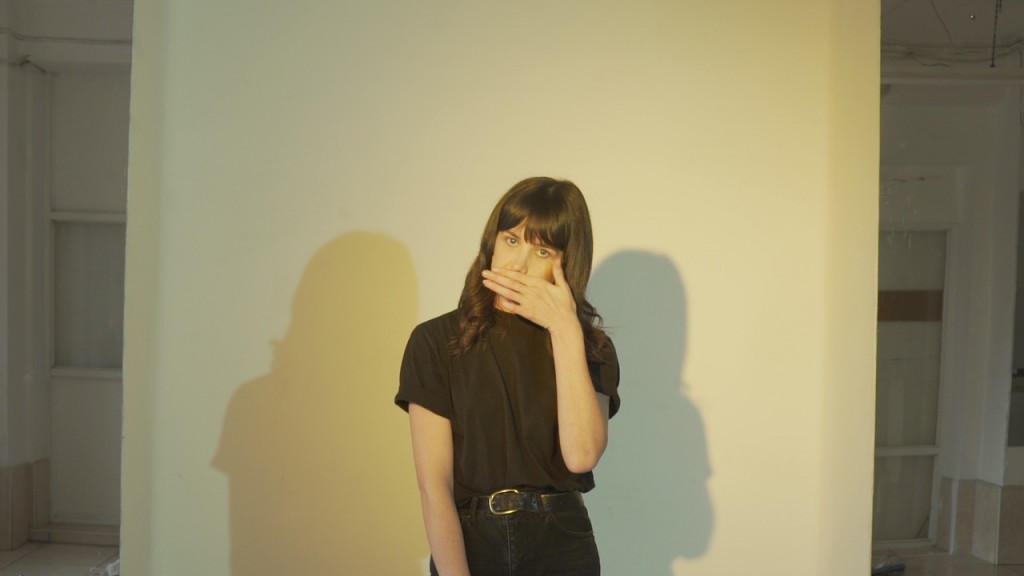 In the first of a new regular series, Colin Gannon rounds up the very best Irish tracks released of the month just gone, featuring SOAK, Arvo Party, ELLL, Problem Patterns, James Joys, Sister Ghost, Gadget & The Cloud , Maria Somerville and more.
Problem Patterns — Allegedly
In a month where the R&B musician R. Kelly—after painfully long years of swerving accountability for persistent, unsettling claims of heinous abuses—may finally have his day of reckoning in a court, new Belfast-based feminist punk group Problem Patterns' snarling debut single, 'Allegedly', lands a certain potency.
The word allegedly—itself a necessary adverb used in copy to avoid defamatory action—has become shorthand for a world where powerful men eschew culpability in a system that favours their continued high-standing. Problem Patterns know this. But they also point at the circles of people around abusers—mostly men of course—who enable, ignore, and muddy the lines of co-conspirators. There are shades of the scathing wit of Australian punks Camp Cope and the searing energy of Philadelphia group Mannequin Pussy on 'Allegedly', which pulses through sheer directness, but, with some further streamlining of their sound, they will undoubtedly blossom into their own.
NONZUS MAGNUS — Look Both Ways
Viscerally, the Irish rap track that grabbed my attention most this month—and perhaps this side of the decade—was Nonzus Magnus's woozy, genre-averse, Martian-like 'Look Both Ways'. Although clearly besotted by peak underground Soundcloud rap—dripping in irony, obsessed with melody and ringtone-era hip-hop aesthetics—Magnus may just be this island's most forward-thinking rap act. He's got attitude, a great, caustic sense of humour, an ear for sugary melody, an appealing erratic nature, legitimate charisma, and a fascinating artistic identity so adrift from many of his peers, that it cast my mind back to when I first perked up hearing Rejjie Snow's 'Dia Dhuit' all those years ago.
On 'Look Both Ways,' in which he playfully namechecks the Black and Tans and speeding away in a Batmobile in the same breath, Magnus flits between a trendy warble and a commanding, Dublin-accented rap. Many stateside artists come to mind—Atlanta crooner Sahbabii, the carefree pop-punk/rap hybridity of Lil Tracy, the off-kilter but magnetic productions of early Spaceghostpurrp, and Pi'erre Bourne's otherworldly creations for Playboi Carti—but he strikes a singular, stylistic balance. He has toiled with different, mangled sounds before, but this is undoubtedly his most accomplished yet. Full of video game bloops and blanketing synths, the beat is artful in and of itself: a diagram of its splicing musical theory deserves to be hung in the Irish Museum of Modern Art. Or, perhaps, it should just be blasted out of the Spire, something Magnus may well be plotting.
James Joys — Fugitive Wound
The city of Belfast abounds in preternatural production whizzes. Lately, James Joys' 'Fugitive Wound' has existed, to my mind, in an infinitely expanding space: the song never seems to come to an end, hurtling in varying directions, gratifyingly so. It's crazed arpeggios climb, and fall, without warning. It's warped, but not disfigured enough that you can't re-listen to it in one sitting. The mind behind James Joys—Belfast producer and composer James Thompson, one-half of Ex-Isles with vocalist Peter Devlin—dropped 'Fugitive Wound' ahead of next month's A Constellation Of Bargained Parts, with anticipation now high. Rare is something so synthetical so rich and powered by human irrationality.
Maria Somerville — All My People
Maria Somerville (pictured, above) is, without a doubt, one of Ireland's most essential talents. The title track from her debut LP—which will marry traditional Irish music motifs with pop whimsy and hypnotic drones—is gorgeously phantasmal. Consequently, 'All My People' has a sunken Grouper feel, but it's louder, with more percussion, and representative of where it was mostly recorded: Her childhood home of Connemara—the wondrously rugged, untouched landscape you'd expect on a postcard sent by an overly-enthusiastic American tourist home to their colleague who has one ginger hair poking out of their beard.
"It explores the equanimity of rural freedom while touching on its supernatural aura and mysticism," Somerville said of the track. And it's true: she channels the unsullied, wind-blown greenery, spotted with grey boulders, full of wildlife, divided by short, age-beaten, limestone fences.
Initially, her wistful multi-track vocals shimmer on the song like mist during sunrise. There exists a lightly thudding percussion, but as the song enters its midway passage, with the drones intensifying, a patchwork of bubbling synths plugs the space around one of the aforementioned traditional Irish motifs. A beautiful, moving pitched guitar (or banjo) line swoons until it is replaced by an abrasive, fuzzy drone: her memory fades here, nostalgia crumbling into a numbing present.
If you squint, 'All My People' is, of course, of picturesque interest, but it is a writerly song, too. Shards of lyrics would fall into place when rooted in the countryside, surrounded by a purity Somerville recounts here so effortlessly. Above all else, her music evokes a sense of familiarity, a closeness, that warms and soothes the soul.
YZ  (D15) — Pcxs & Japs
Not many nascent music scenes in Ireland are moving as penetratively as drill music, an Irish-bent incarnation of the rap trend popularised in Chicago earlier this decade. Although promotionally frugal, with barely any tangible social media presences outside of Instagram, swaths are teenaged Irish rappers are garnering tens of thousands of YouTube views through DIY minimalism, with huge visibility in London especially. Dublin crew D15's YZ, a relative newcomer, released drill's best song so far of 2019 in 'Pcxs and Japs', a bleak, slow-burning track with mournful keys and swallowing deep bass. "I got guys that hate me, got guys that love me / But I ain't Judas," the baby-faced rapper says with smooth but dead-eyed animosity on the first verse, a menacing smirk sounding stretched across his face.
Glen Hansard — I'll Be You, Be Me
I have no real affinity for Glen Hansard's work. But because this is one of the best and most tightly-wound guitar-driven tracks I've heard since Mitski's Be The Cowboy, I am excited about his latest album. His voice is malleable, bending around the unhurried percussion and shuddering guitar plinks, but it is also plainly harrowing, even in spite of the lovelorn messaging. The taut and ever so slightly lo-fi instrumental—continuously ascending as the song unfurls—provides a simultaneously weightless and forceful backdrop for his lyricism to breathe.
In 'I'll Be You, Be Me', Hansard tells a story of intoxicating, requited love in the singular way only he can: "Your love's a bonnie snare / Traps me in the evening / Got me hanging in mid-air / Now I'm swinging from the ceiling."
Invader Slim — Shine or Die
Irish rap is bracing itself for its most exploratory year yet. Close to the front of a vanguard of new artists aiming to disentangle years of stodgy sounds is rapper Invader Slim—a member of Cork-Wicklow-Dublin collective Glacier Gang—who has only been recording music for little over 12 months. The 20-year-old's latest release, the alluring 'Shine or Die', is characteristic of his output thus far: soul-deadened hedonism, mixed with gallows humour, christened with a lava-smooth flow and a cadence not too dissimilar from Awful Record's Father.
His voice, when detached from its airy surroundings, also reminds me of Bones, the hermetic cloud-rap artist who is clear forebear. Invader Slim, too, tends to sound unapproachable and abject, although he sprinkles his languid verses with plenty of biting cultural specificity and razor-sharp one-liners ("Drop the vodka in a cold cup of tea," "Your boy's a goofy, he's a creep, he's a melt".)
Helmed by Canadian artist blvckmass, the 808-heavy beat—spacey and engulfed in fluffy, chemical clouds—is unique to Irish rap. Not just for its soporific aesthetics, but for its fine-grained qualities, undeniably inspired, in equal measure, by cloud-rap producers and architects of late-decade Atlanta trap. Slim's deadpan, droning voice is the perfect counterweight to the ethereal sound, and he—and his Glacier Gang compadres—should be on everyone's radar going into the new year.
Hannah Peel & Will Burns — The Night Life
It would be naive to presume that composer Hannah Peel will not transcend this plane. The Northern Ireland artist's talents are boundless, her artistry tended to with such delicate finesse, her compositions so driftingly astral, that it is difficult to believe she has yet to open a multidimensional wormhole. That's probably hyperbolic, but she's gifted.
On the first single plucked from her collaborative album with English poet Will Burns, the recitation section near the start acts as the haunting precursor. Anxiety-inducing at worst, a convulsing bloodletting at best, 'The Night Life' pierces through the silence with pacing Colin Stetson-like clacking, reducing the poetry to a footnote.
It's difficult to delineate the exact sonics: what sounds like electronic guitar-scrapes grate incessantly and neurotically atop quiet, pattering, arrhythmic drums; flickering, thorny strings careen around before it all it grinds to a pleasing halt. It's a compelling listen, nonetheless, and Hannah Peel again proves herself to be an artist in growth.
SOAK — Knock Me Off My Feet
Another Irish song released this month that contends with home, albeit in a slightly less sanguine manner than Maria Somerville, is SOAK's 'Knock Me Off My Feet'. Derry-raised Bridie Monds-Watson sings about her love-hate relationship with small-town Ireland where she grew up: where freedom meets claustrophobia. Grim Town, the new album title being released on Rough Trade, is self-explanatory in that regard.
"Growing up, I've spilt my blood / But you're still my home / You stay within my bones," SOAK sings on her return. It's a buoyant indie-pop cut, full of lush instrumentation and sunlit melodies, which demonstrates that she is instilling in her sound a more maximalist and expansive scope.
Odd Ned — Shtoneymatter
Although intended as a series of cassette potboilers, dub techno producer Odd Ned's Rushes possesses a linear, narrative sensibility. Cassette hissing, a lo-fi staple, undergirds everything here. Pressed to pick a highlight, I would choose 'Shtoneymatter,' with featherlight synthesisers and interlocking drums gently swimming into one another. 'Shtoneymatter', to me, paints a picture of a dreary modern cityscape; high-rise buildings punctuating a foggy winter skyline, large department stores and multinational retailers dominating the high street, homeless people camping across the concrete beside much-photographed tourist hotspots.
People have acquiesced to the notion that cities like Odd Ned's Dublin, or any other metropolitan city for that matter, have entered a perpetual state of moral and spiritual decline. The closing measures of 'Shtoneymatter' feel like a revelation of sorts, though—a moment of clarity after some soul-searching: systems are made to be broken.
Arvo Party — Ouroboros
Belfast producer Herb Magee is steadily improving his craft. A true polymath, the former punk bassist's output as Arvo Party ranges from hissing ambient to hyperrealistic house to sunny vaporwave, all classily composed with a fascinating ear for melody and movement. 'Ouroboros', a nine-minute-long reverie, his latest escapade, is triumphant, complete with a steaming sax sample that gracefully interrupts three minutes of florid synth swelling. As a single composition, 'Ouroboros' is tense, patient, drifting, iridescent, and fluttering with rhythm. Most importantly for those prone to January blues, however, it's outrightly fun and danceable.
ELLLL – Febreeze
Forward-thinking Gash Collective figurehead ELLLL released the refreshingly clean, breakbeat-heavy 'Febreeze,' the title track from her upcoming EP. The Sunrise edit, which was also shared this month, more glacial and airy, is also awesome.
Sister Ghost – Backwards
Belfast-based artist Sister Ghost's earworm-friendly alt-rock cut, 'Backwards', which will inevitably turn out to one of the most sharply written Irish songs of the year, dropped late this month. It reminds me of Charly Bliss; therefore, automatically, it rules.
Rikshaw – Spellbound
Coolock rapper Rikshaw's Spellbound is Ireland's best effort at synthesising the teary-eyed, face tat-wearing emo-rap wave birthed on Soundcloud.
Marcus Woods – Saturn V
Rising 18-year-old producer Marcus Woods' 'Saturn V' is a steamrolling, Iglooghost-inspired cut, his most experimental track yet.
B2 – Silly Silly
B2, a now recognisable name in UK drill circles, delivered a typically fun and borderline menacing track in 'Silly Silly'.
Gadget and the Cloud – Too Soon to Say
Gadget and the Cloud's 'Too Soon to Say' has fabulously warm, soothing ambient textures.