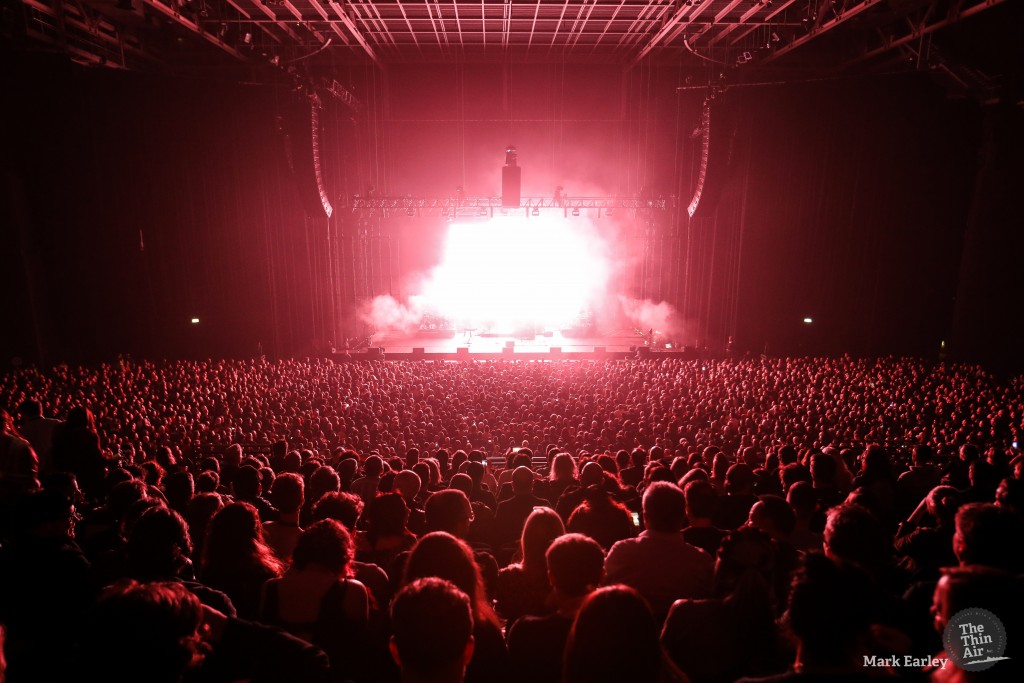 When Massive Attack announced their current Mezzanine XXI tour last October, no one could have reasonably expected a safe or linear presentation of the band's seminal – and arguably career-cresting – 1998 album. With founding member Robert Del Naja aka 3D promising a "one-off piece of work; our own personalised nostalgia nightmare head trip", at Dublin's 3Arena tonight, the Bristol luminaries deliver on that pledge and then some.
Unless you've been keeping a close eye on recent setlists, the big curveball of tonight's set isn't the top-drawer guest vocalists (in this case, Horace Andy and the ever extraordinary Elizabeth Frazer). Nor is it Adam Curtis' rapid-fire, dread-drenched archive footage of pop culture, politics and war. Offering direct insight into the music that either inspired or was sampled on Mezzanine, it's covers – from VU's 'I Found a Reason' to Ultravox's 'Rockwrok' – that offset the doomy mastery of the album we all came to hear performed live.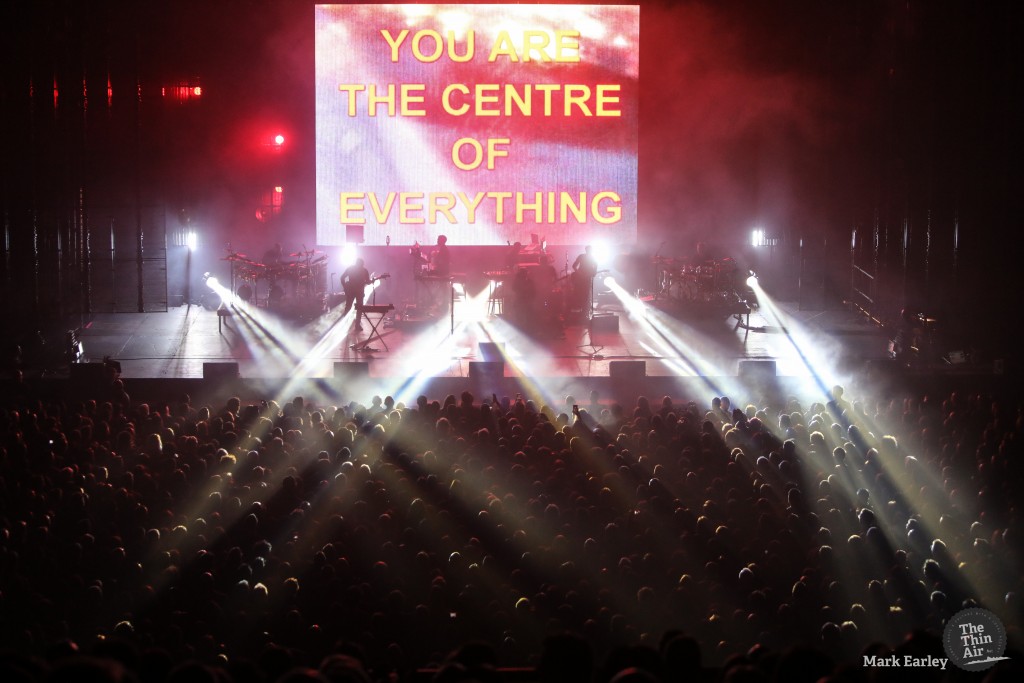 The trajectory of tonight's set is, in itself, something of an exhibition in sublimation. Rather than drop straight into the iconic sub-bass groove of 'Angel', 3D, Grant Marshall and co. immediately buck expectation by slotting the anxious, darkly trip-hop of 'Risingson' at either side of two covers: 'I Have a Reason' and The Cure's '10:15 Saturday Night'. On paper, it probably shouldn't work; in reality, it's a genre-spanning, nigh on celebratory glimpse into the songs that proved catalytic for Massive Attack post-Protection. This upsetting of Mezzanine's fêted flow is a constant tonight: a masterful take on Bauhaus' 'Bela Lugosi's Dead' bleeds into the blissed-out lounge of 'Exchange', the thunderous 'Dissolved Girl' gives way to a rendition of Pete Seeger's 'Where Have All The Flowers Gone', while – most inapropos of all – a brief cover of Avicii's 'Levels' bridges two Fraser-fronted gems, the arena-silencing 'Teardrop' and closer 'Group Four'. A risk? Certainly. But it comes off.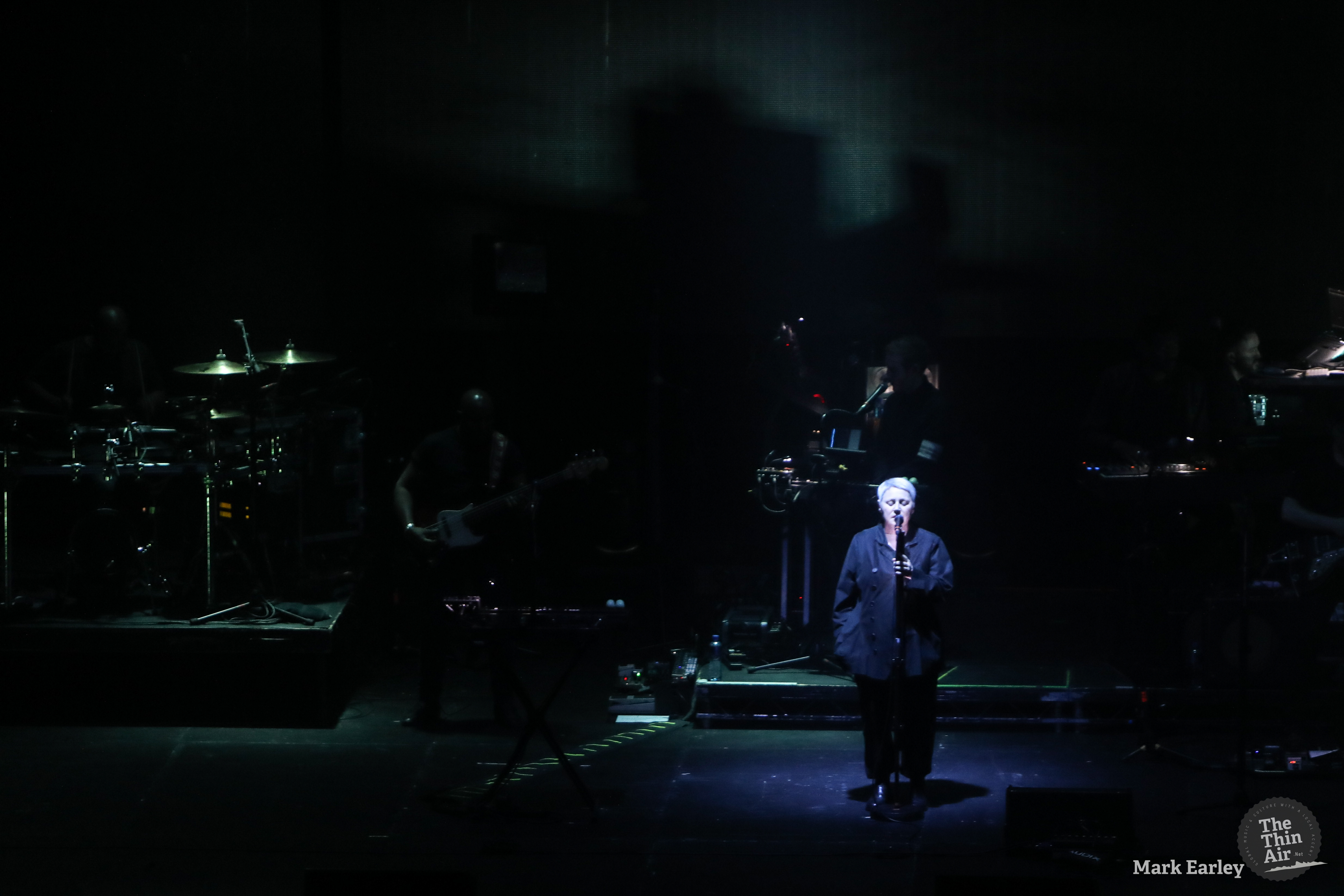 Highlights abound: single 'Inertia Creeps' is nothing short of sorcerous. 'Man Next Door', featuring the unmistakable vibrato of 68-year-old Horace Andy, is all but note-perfect. 'Teardrop', meanwhile, is expectedly show-stealing. Cloaked in beams of white light, Elizabeth Fraser seems to bound forth from the recent past, a flicker of lucid calm in a set that, at its best, feels akin to AV shock-and-awe. And while Adam Curtis' "Listen, lads: we're fucked" visual patchwork veers into overly familiar territory, tonight proves every bit as much about the V as it is the A. Even for a band who have spent 30 years faring resistant to second-guessing (Mezzanine, after all, was an internal reaction to its predecessor in Protection) Massive Attack's "very own personalised nostalgia nightmare head trip" is a reminder that looking back needn't be uniform or comfortable. Brian Coney
Photos by Mark Earley