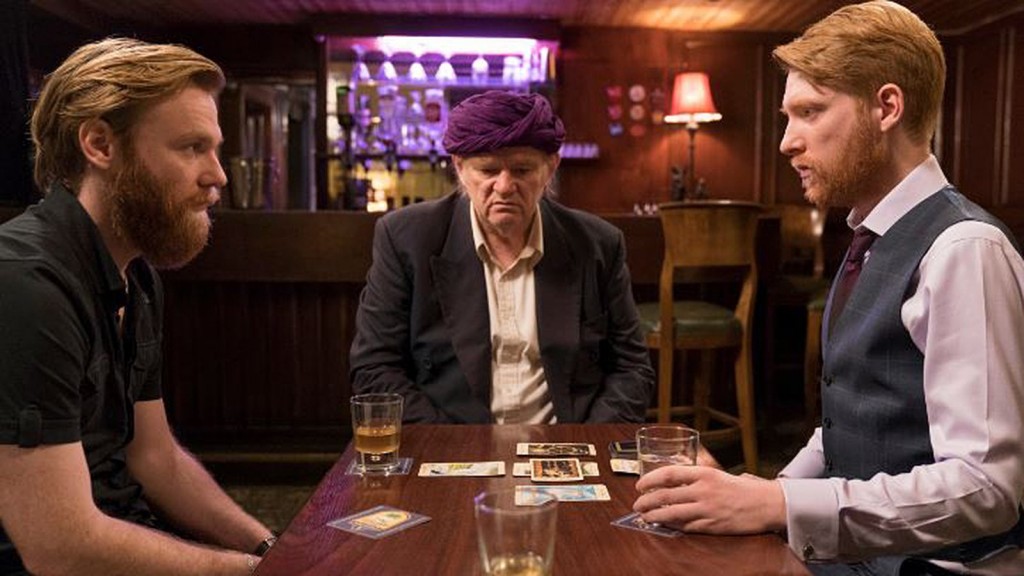 Brendan Gleeson is one of Ireland's most acclaimed actors, having starred in films as varied as In Bruges, 28 Days Later, and Paddington 2. Now he's trying his hand at directing with a short film called Psychic. The film follows the titular psychic, played by Gleeson, whose conniving sons bring him out of retirement to make a quick buck. It's a family affair, co-starring his sons Domhnall and Brian, and written by their brother Rory.
Following Psychic's premiere in the Dublin International Film Festival, Jack O'Higgins spoke to Gleeson about his directorial debut, his recent collaboration with the Coen Brothers, and the possibilities for filmmaking in the streaming era.
What made you want to direct your first short?
I was always interested in trying it. I had been smelling around, trying to find a project for a long time that I wanted to do. So I thought maybe I should just try something short to make sure, because everyone had told me you start on a short.  It wasn't just to see if I could direct – I knew I had learnt enough over the years to be able to handle it. I wanted to see if I actually enjoyed it.
How did it feel to direct for the first time?
There's a lot of stress getting it all together but it's only on set that you know if you should be doing it or not. And I actually did enjoy it, I felt at home behind the monitor.  I said if I was out of my depth I wouldn't want to do it ever again, but I didn't really feel that.
And it felt like a bit of a weird piece to do. It's one of those films that I hope people will be able to watch again. But how many people watch a short twice? That's something that I'm gonna have to come to terms with!
Even respected actors have to deal with the fact that very few people watch shorts…
I don't mind! It's not really about how many people see it because I know that a short is a short. It's more about if I made a piece that I can stand over. And I believe I made what I wanted to.
What were some of the challenges in directing Psychic?
There are always questions about how much you need to spell stuff out. How much is better left as a mystery. I hate spoon-feeding people and at the same time, I hate leaving people out in the cold. That was really the issue. But I did want it to be a bit of an interpretative piece that people can take what they want out of it.
It was interesting because I'm acting in it too, so that was a bit of a challenge. I had no problems with it as an actor, I knew what I wanted to do. It was the distraction of not being behind the monitor as a director that bugged me. So when I was off screen I was having a great time. It's just the rest of the time you're a little anxious. You just want to get on with it and get in charge of what you're doing.
You've worked with an incredible array of filmmakers over the years like Martin Scorsese, Steven Spielberg and Danny Boyle. Did any of these directors inform you when directing for the first time?
I found myself going back a lot to John Boorman. We've done four or five films together so he's the one I would have had the most intimate collaborations with. He's a huge influence on me. I'm very aware of the way he likes to tell a story elegantly with the camera.  I learned so much on The General because he allowed me into the whole editing process. I could see how small changes could make such a difference in the film.
But everyone does it so differently, there are so many approaches to it. I remember the way Paul Greengrass made Green Zone was amazing. He'd allow things to develop and spend a whole morning finding something. He'd write a whole bunch of new stuff over lunch which you had to assimilate, and then you'd do two days of work in the afternoon. It was incredibly intense.
You recently worked with the Coen Brothers on The Ballad of Buster Scruggs. What was that experience like?
It's was the Holy Grail for me, even though I was only working on it for four days! They say you should never meet your heroes and it's kind of nonsense. The Coens have this wonderful kind of leadership that's very collaborative. If an idea comes from the floor, either from you as an actor, or from the cinematographer, or from whatever source, they give it a go. You know and they know after one or two takes whether it was a bad idea, Or else, they never mention another thing, and that's the way we're doing it from now on. So their vision is very, very clear. They're totally in sync with each other.
And the actual format of it is so interesting. You can come back and have a go at one of the stories since it's just little segments. Some people were ripping into the movie for that, but for me it's fantastic. It's a new format. You're getting some really interesting things on the streaming services.
They seem to be producing films that would be virtually impossible to get made in a conventional studio system.
Yeah! Every time you look at an independent film these days, about fifteen companies are involved in the opening credits. It's just getting so difficult. At this stage it's a cliché, but it's a bit like the 70s where they handed things over to these auteurs because they weren't sure which way cinema was happening, if it was happening at all. There's a definite window there.
I think we're in that now with TV and all these streaming services, that people are looking at things differently and the whole medium is up for grabs. An awful lot of creativity is happening, and there's a huge amount of great stuff being made. Jack O'Higgins
Brendan Gleeson stars in Mr. Mercedes, which airs on RTE1 and Starzplay, and has been renewed for a third season. The Ballad of Buster Scruggs is available to stream on Netflix.
Psychic will be shown on Sky Arts on Sunday, March 17th.