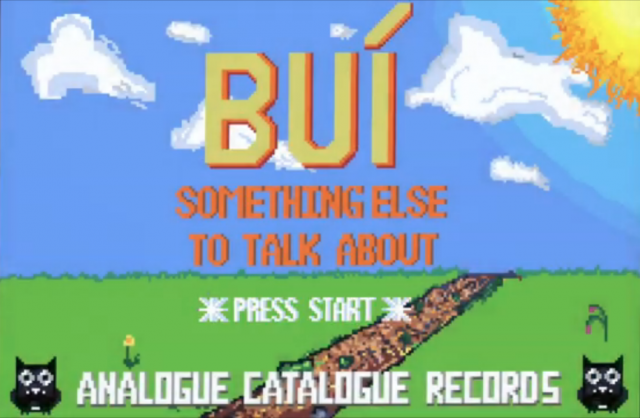 Despite their relatively young age, kitchen sink indie rock five piece Buí have been crafting some of the most earnestly well-crafted power-pop tunes around. Not ones to tread the beaten path, they debuted with a fully-fledged long-player in 2017's Eugene, and have since been built their DIY profile from the ground up.
The video for new single 'Something Else To Talk About' is an astounding feat – an 8-bit video game animation that not just acts as an apt visual companion to the song, but functions as its own winsome arcade fable. As if the band were collectively assimilated into a Scott Pilgrim fever dream – each member with an avatars – our hero repeatedly battles along some of Belfast's most noteworthy facades leading to a climactic showdown. It was created entirely in-house by the band's resident software guru, Adam Sloan. He told us a bit more:
"The video took me about four months to animate and has over 1000 individually drawn elements included in it. There's definitely a couple of nerdy game references in there, for example you have the Master Sword lookalike and the end of the video mimicking Mario running into the Castle. There's also a bit of an 'Easter egg' at the scene with Underground Records which you'll see if you look hard enough."
Their finest release to date, 'Something Else To Talk About"s skeletal, Pavement-esque guitar lines lilt in and out concord, while the band's bleeping retrofit keyboard hooks and frontman Josh Healy's empathic pathos recall Grandaddy's warm, yet wistful embrace.
Healy told us more about the space he inhabited for the song: "It was written about having problems with body image and everything that come with that. It's not written from my own point of view but the idea of trying manically to distract yourself from a thought you don't want to have in your head is something myself and I'm sure a lot of people can relate to."
With 'People Don't Think' the other track on the double-A release, the single is a result of a recent session in Northern Ireland's premiere tape recording facility, Julie McLarnon's Analogue Catalogue Studios (Lankum, Brigid Mae Power) in her newly-built 16 track studio. Released through the studio's label Analogue Catalogue Records – pre-order here – it will be launched on 7″ with a series of four Irish shows:
29.05 – Oh Yeah Centre, Belfast w/Shrug Life & Larry
30.05 – The Workman's Club, Dublin w/Shrug Life & Larry
31.05 – Upstairs @ The Róisín Dubh, Galway w/Cruiser & These Are Atoms
01.06 – Pharmacia, Limerick w/Casavettes & Kayleigh O'Brien