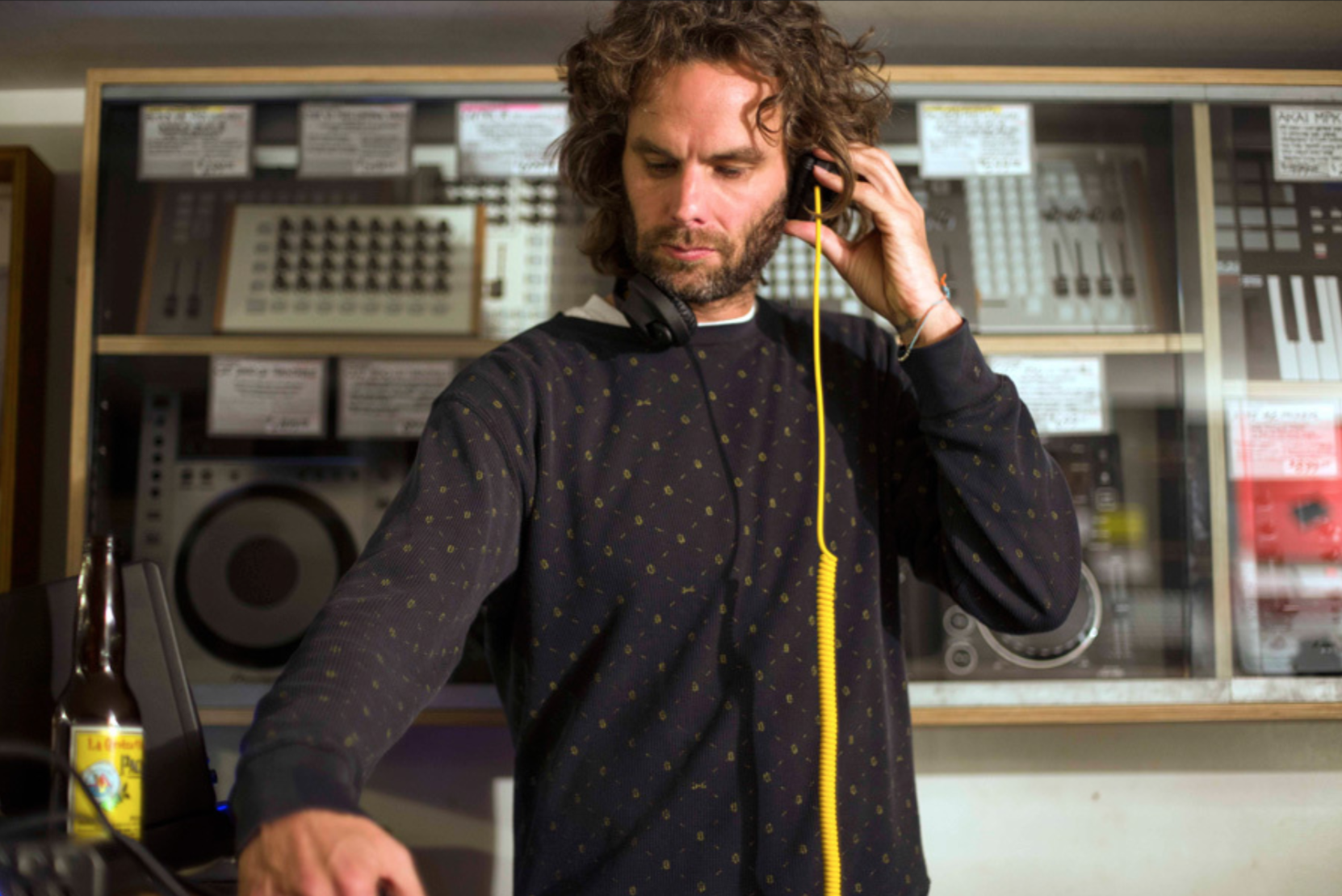 This Saturday (June 20) discerning party-throwers Belfast Music Club invite DJ and producer Eric 'Dr Dunks' Duncan to the Ulster Sports Club back room. Disco nerd and friend of BMC Jonny Carberry had the pleasure of firing a few questions Dunks' way.
___
JC: Hi Eric, big thanks for doing this – excited to catch you on Sat! We'll chat about what you're currently up to, but to rewind to 2004/2005 a little and early Rub N Tug mixes like 'Live at Rui's' and 'Campfire' – I really loved these mixes, they seemed deeper than other things I was listening to at the time but had this crazy sense of adventure as well. Charles B into Bronx Dogs, Bumblebee Unlimited, Chaplin Band, Harari, Linda Law – I hadn't heard these jams before and now they're staples. I also loved the 'All skips, feedback and distortion are just part of the night so make it nice!' ethos.
What are your strongest memories of this time? I personally think you can approach your Sports Club gig with a similar sense of abandon, ha.
Dunks: Oh man… Can go on for days about those Rub N Tug parties. We started the Rub N Tug parties at Rui's loft around 2000 and did them just about every month for a few years. It was an after hours anything goes that started at midnight and ended whenever we wanted or if the police busted us… but even when the cops would shut us down, everyone new to just cruise the streets for half an hour and come back and we would start up again. Because the cops shift change at 4:45/5am and there's new life… that would sometimes last til noon the following day.
It was $5 to get in and there was a makeshift bar but you could also bring whatever you wanted inside… Really anything goes… It drew all sorts of downtown NYC people to 59 Canal St. It was jus me & Thomas playing from start to finish… never any guests… I don't think our crowd would've allowed any guests… for real haha.
That Live at Rui's was recordings from a few those early days 2000, 2001 but was released in 2004 on streetwear brand aNYthing. It really captured the vibrations of the RNT experience.


JC: I also remember scrolling through the aNYthing website every night and seeing all these interesting people and parties that you soundtracked. (If you've any spare aNYthing CDs floating around I'll happily grab those off you.) You've worked at A1 Records, made many (fun!) appearances on Beats in Space and Know Wave, and released on DFA, Rong Music, Golf Channel – what's your relationship like with New York at the moment? Someone's written on Discogs 'One of the best disco mixes ever. Priced accordingly' under your 'How we Do in NYC' mix.
Dunks: Ah yeah man. New York was my home for 20+ years. So I got around a bit… "How We Do In NYC"


JC: Bali, Japan, Brazil – very happy that you've now added Belfast to that exotic list of places you frequently visit. Those first three places must be so nice to play in? How does your experience of playing slightly more down-to-earth spots like Belfast compare? Do you have much of a connection to any Irish or Northern Irish music? I'd currently recommend the wicked reissue label Allchival; some new, odd electronic NI sounds from Touch Sensitive Records; and the bold disco/industrial edits of Black Bones.
Dunks: Every "city, country, city" has its own "exotic-ness". For me it's more who your with than where you are.
I don't know any Irish Northern music… I'll check those links. Thanks!
JC: Tall, handsome, beautiful mane of curly hair, fond of a party, exquisite taste in obscure disco records – did you cut your hair so you wouldn't constantly be mistaken for Mark Manley? Also, can you tell us a little about how you lads met? I believe it might have been a Love International affair. That place seems quite special to you as well?
Dunks: That was it. I was tired of the tap on the shoulder. "Mark?" … No! It's me Eric!… Fuck this. I'm cutting my hair!
Mark and I met maybe at Love International. It's a special place. This will be my 11th straight one so that says something. Mark is such a hunk.
JC: One of your records that Mark and I really love is on C.O.M.B.i: 'You Got Love Song/It a Late'. I sold a lot of my records recently (proper disco dad now) but this is one I kept. We also bonded over 'No P's' on Keep it Cheap. Do you play many of your older edits out much? Mark often refers to you as a 'peak time party starter' but I know you've never been hugely pinned to a particular sound – what do you enjoy playing most at the minute? I particularly enjoy your Bali-Eric moments…
Dunks: Yeah, I don't really ever know to be honest. For myself, it really depends on where I'm set. Is it a backyard BBQ or Panorama Bar? Or a wedding? Am I on a beach or in a bunker? All those are factors in what direction I'm gonna go. Sometimes a few of my old edits make it into the rotation.


JC: What about production and remix-wise at the mo? Have you much on the go? Or do you only lift the phone if Bryan Ferry or Daniele Baldelli call? Or maybe Mick Jagger after last week's Horse Meat Disco!
Dunks: Haha yeah, man. Mick was in the house the last HMD I played.
I have been doing some remixing of late. Here's whats out and coming out this year.
This on on Public Release outa San Francisco.
Not an Animal Records out soon:
Brand New Label King of Kong out soon.
Also, I have one for Jac the Disco coming sometime this year. And did a weirdo jam for Paramida's label 'Love on the Rocks' anniversary compilation out soon as well.


JC: The label that most Thin Air readers will be familiar with is DFA. Are you proud of being part of the label at perhaps its peak? I'm thinking the Rub n Tug remix of LCD's 'Too Much Love' and the fact that 'Still Going Theme' is considered a modern classic by many. I heard a young chap DJ it out recently and he said to me 'This one of DJ Harvey's favourites' and then I tragically schooled him on Eric Duncan. Also believe you DJ with James Murphy from time to time?
Dunks: Yeah, me and James go way back.  We met late 90s but not in a music way. We had a mutual friend who brought "Big Game James" to our weekly basketball game. So we met on the basketball court and had no idea what either of us did. Of course it all shook out later and we been friends ever since.
James and I used to do a sort of regular 8 hour one & one at Output Club in Brooklyn which was really really fun. But then he got the band back together and we haven't played since.


JC: Just last night I saw something on the Test Pressing Instagram from your pal Danny Wang (Danny the Dancer). He was rallying against the 'confirmity and 'commodification' & 'auditory monotony' of much of today's DJ culture, fearing the loss of a 'disco heaven' or 'techno utopia'. Do you think that's fair? Or do you still believe in the joy & spirit of dancefloors?
Dunks: I saw that… GO DANNY! It's all gone cookie cutter hasn't it. This is what money does. But I think with this brings new underground and everything should be fine, just different.


JC: You're being joined on Saturday by Hugo Capablanca, who I think has a similar no-boundaries, far-our approach to music & collaboration. Are you pals? Looks set to be a wicked night. Shout to Mark and the BMC lads for staying true and to your good self for the inspiration over the years.
Dunks: Me and Hugo are good buddies, yes! Can't wait to see him and Belfast. Let's party!