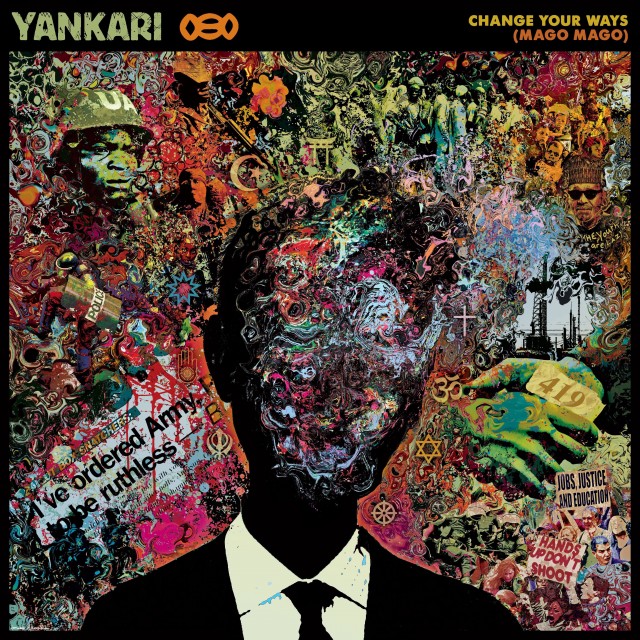 Far be it from us to make a sweeping statement, but no one – and we repeat: no one – in Ireland can hold a live audience captive to rhythm quite like Afrobeat collective Yankari. We played their 2017 single 'Enyimba' to death, and at last they're back with 'Change Your Ways (Mago Mago)', the first single taken from their debut album, set for release through Hipdrop Records later this year.
Masterful in their updating and expanding of Fela Kuti's Afrobeat, the band offset its infectious groove with loaded cultural symbolism; the band sought out kids from Dublin's inner city to sing Mago Mago's refrain, and its striking video – directed by Darragh Foy – celebrating their Nigerian heritage while highlighting the universal nature of injustice, with an incredible for dancer Michael Chanda.
Over the last two years, the band has had growing involvement with social initiatives in Dublin and beyond, lending support to MASI – Movement of Asylum Seekers in Ireland. Through their platform, they've been raising awareness of the difficulties faced by asylum seekers in Ireland – often forced to exist in a real life purgatory, sometimes for years, in glorified imprisonment at privately-owned Direct Provision camps, unable to seek employment or independent living.
Mago Mago is a Nigerian phrase used to imply "a person or action of a deceptive or untrustworthy intent". Dedicating the song to those in power across the world, the band had this to say: "Attitude, mentality, philosophies and habits will always need to be re-evaluated because change is ever constant. Collective change begins with the individual. So change your ways so that life doesn't change it for you by force."
Watch the video for 'Change Your Ways (Mago Mago)', below, and catch Yankari live if you get the chance. They play Trenchtown at Electric Picnic.