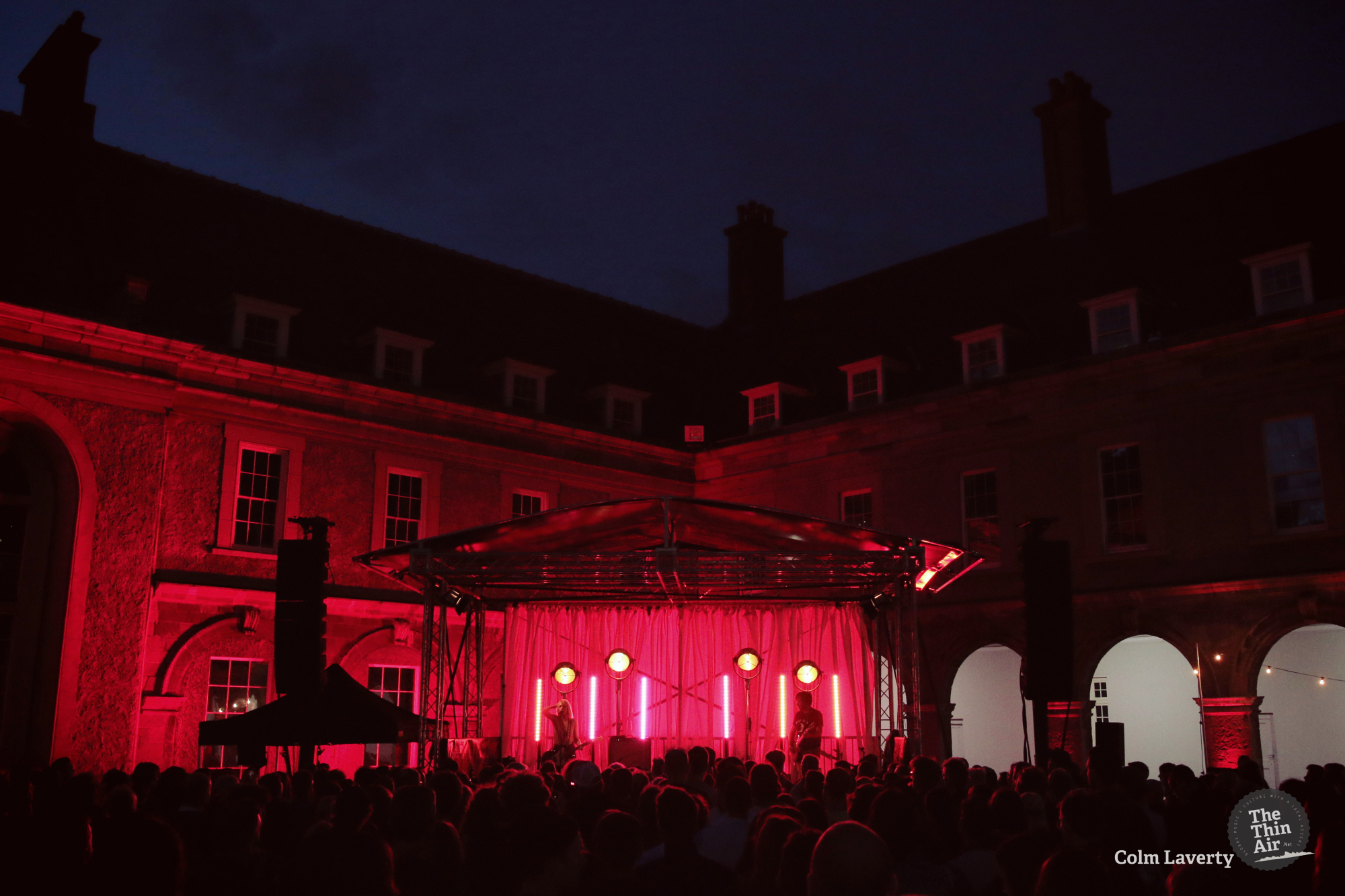 The end of Sonic Youth's 30 year career in 2011 was the end of an indie rock era, but it's been some consolation that the band's remarkable consistency has largely carried across to each member's post-SY projects. Thurston Moore and Lee Ranaldo's solo careers have both largely carried on where their contributions to the band left off, both even sharing joint custody of drummer Steve Shelley. But it's arguably Kim Gordon who has remained most in touch with Sonic Youth's avant-garde roots. Since forming experimental guitar duo Body/Head with Bill Nace, their three albums of freeform guitar exploration so far have felt like both a return to SY's early no-wave leanings and a continuation of the band's later SYR series that captured material too esoteric for their studio albums.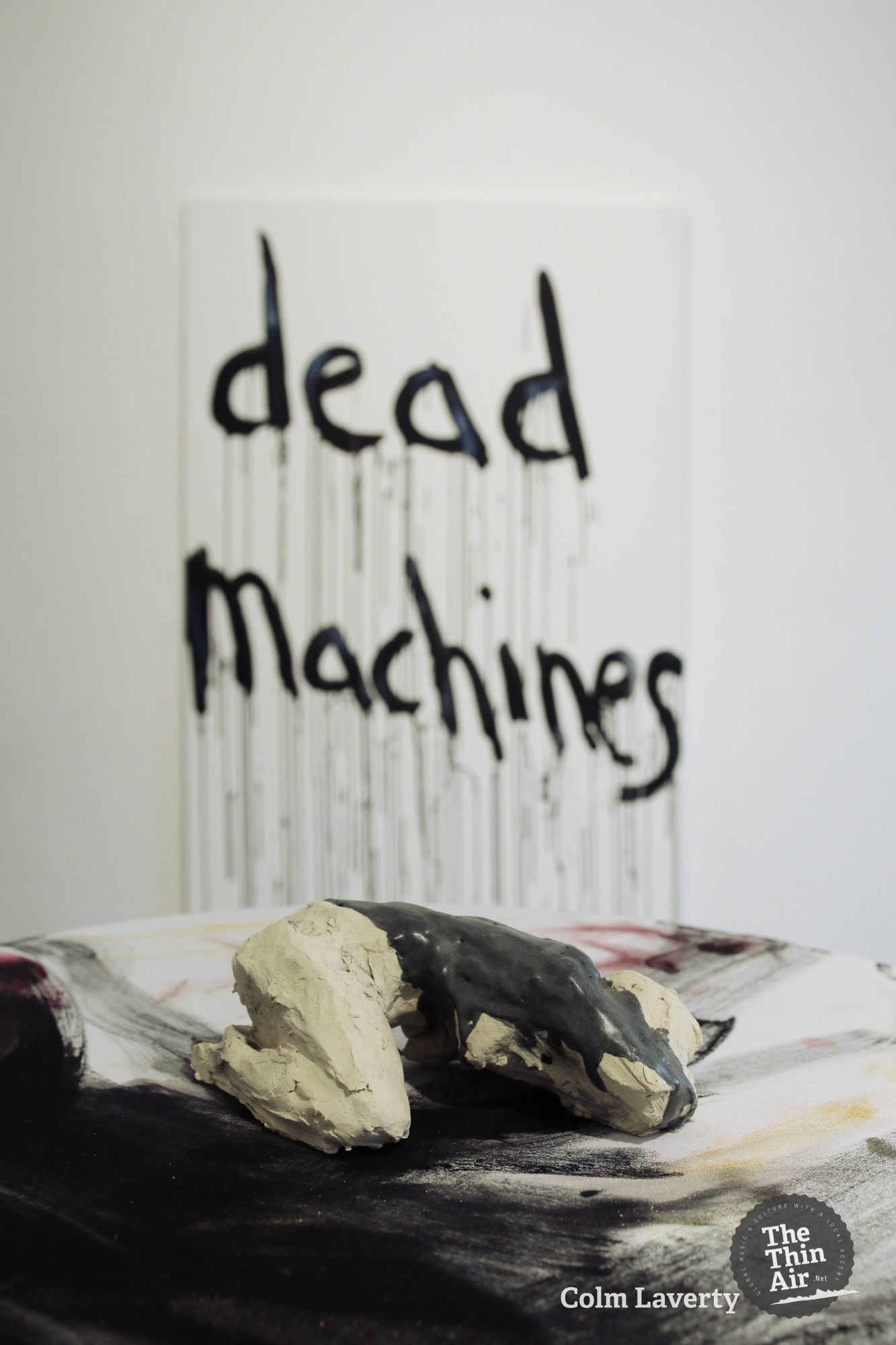 Gordon's also had time to pen her best-selling memoir Girl in a Band and continue her career as a visual artist, and it's the latter that brings her to the Irish Museum of Modern Art tonight. It's the opening night of her new exhibition She Bites Her Tender Mind, which runs at the museum until November. Across four connecting rooms you'll find rough figure paintings, single words violently painted across white canvas where the paint has been allowed to drip and run as it pleases, and paint-covered denim skirts, capturing her usual themes of punk and femininity. In one room, a giant circle of black glitter on the floor ironically enough falls victim tonight to a careless man's shoe, while a dark room at the end shows a 2012 performance entitled Proposal for a Dance from different angles on 3 immersive screens. In this performance Gordon and Eleanor Erdman prove to be an even more experimental guitar duo than the one we'll see later on, as the two writhe around the stage with their instruments, bashing them off of walls, amps and each other, creating a cacophonous drone of feedback and noise while the pair "spoof the traditional, heroic gestures of the male rock guitarist".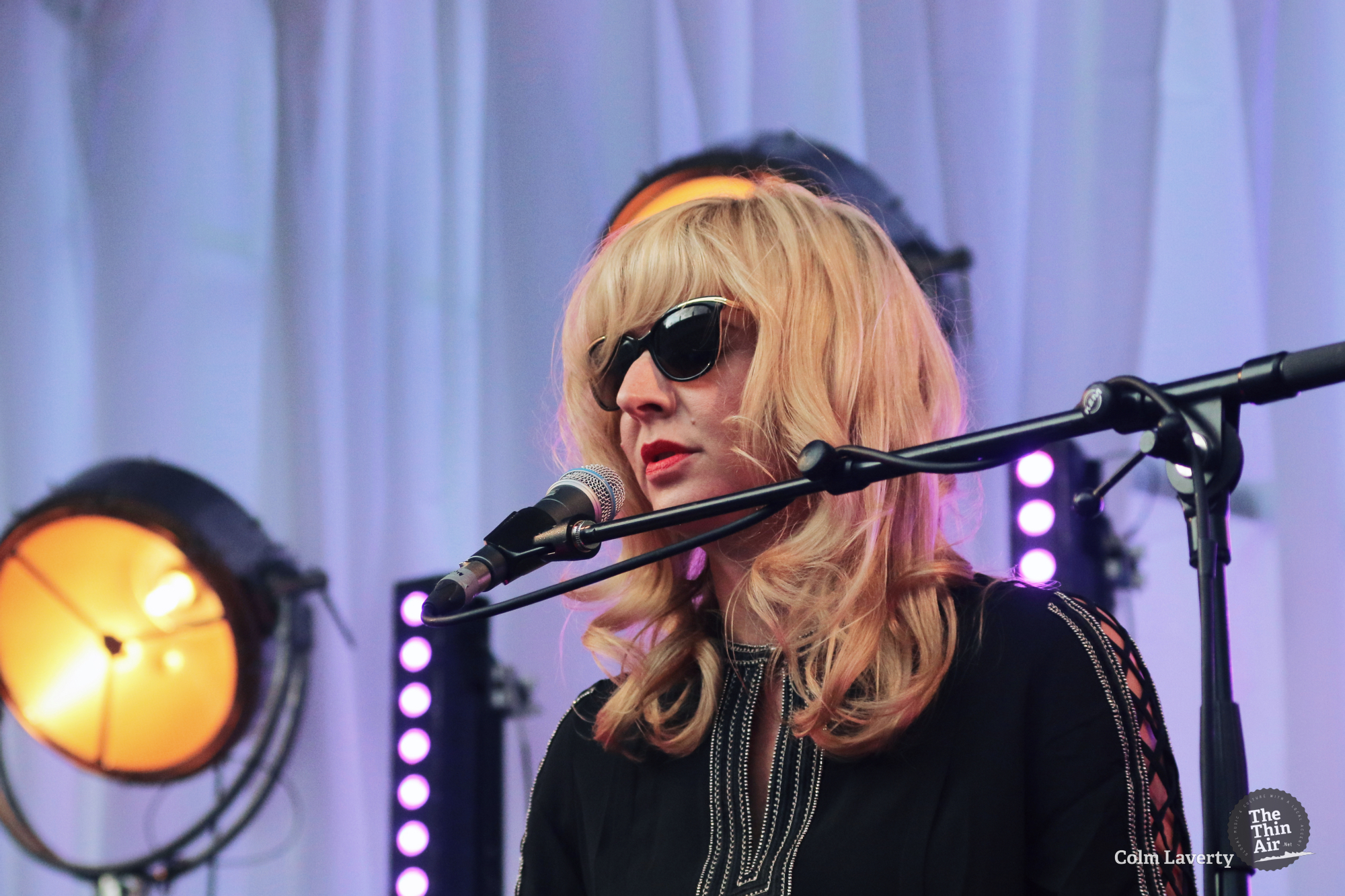 Out in the museum's courtyard, a stage is set up in the corner and Heather Leigh (above) opens tonight's proceedings with wandering improvisations on a pedal steel guitar, at times coated in a thick distortion with her voice floating atop like just another instrument. Elaine Kahn (below) follows with the difficult job of fitting a poetry set in between two musical acts on an outdoor stage, but manages to win over most of the audience's attention with both the strength of her work and enough self deprecation to puncture any perceived pretension, enlisting Gordon and daughter Coco as co-readers at one point.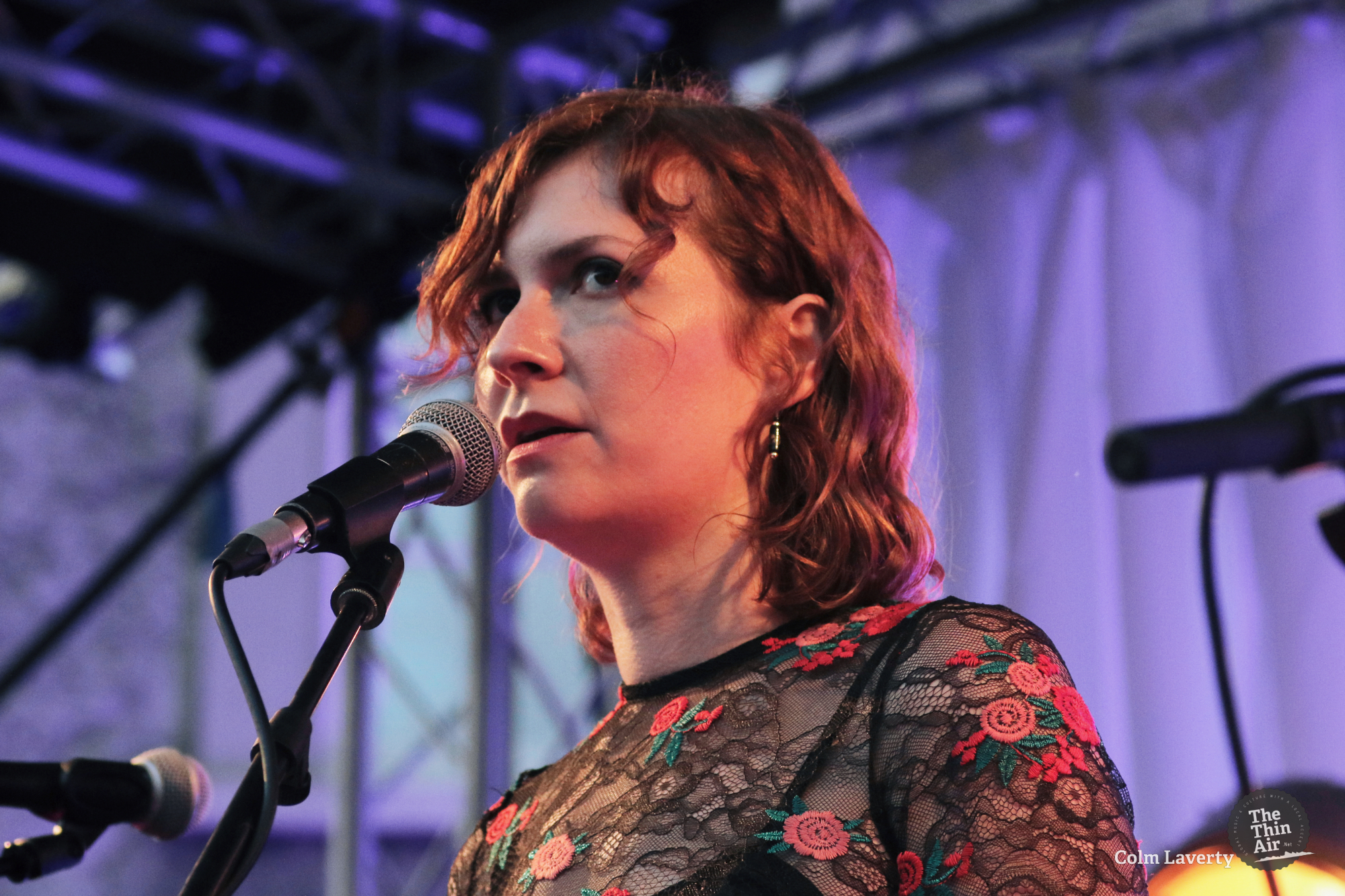 Body/Head take to the stage just as the sun is setting, their dissonant guitar interplay standing in stark contrast to the beautiful historic surroundings of the Royal Hospital building. Their set consists of a single long piece full of droning guitars and Gordon's seemingly freeformed vocals drifting in and out. Somewhere in the middle she begins blasting on a harmonica in such a way that, paired with Nace's apocalyptic guitar and against a backdrop of bright orange lights, sounds eerily like some kind of messenger at the gates of hell.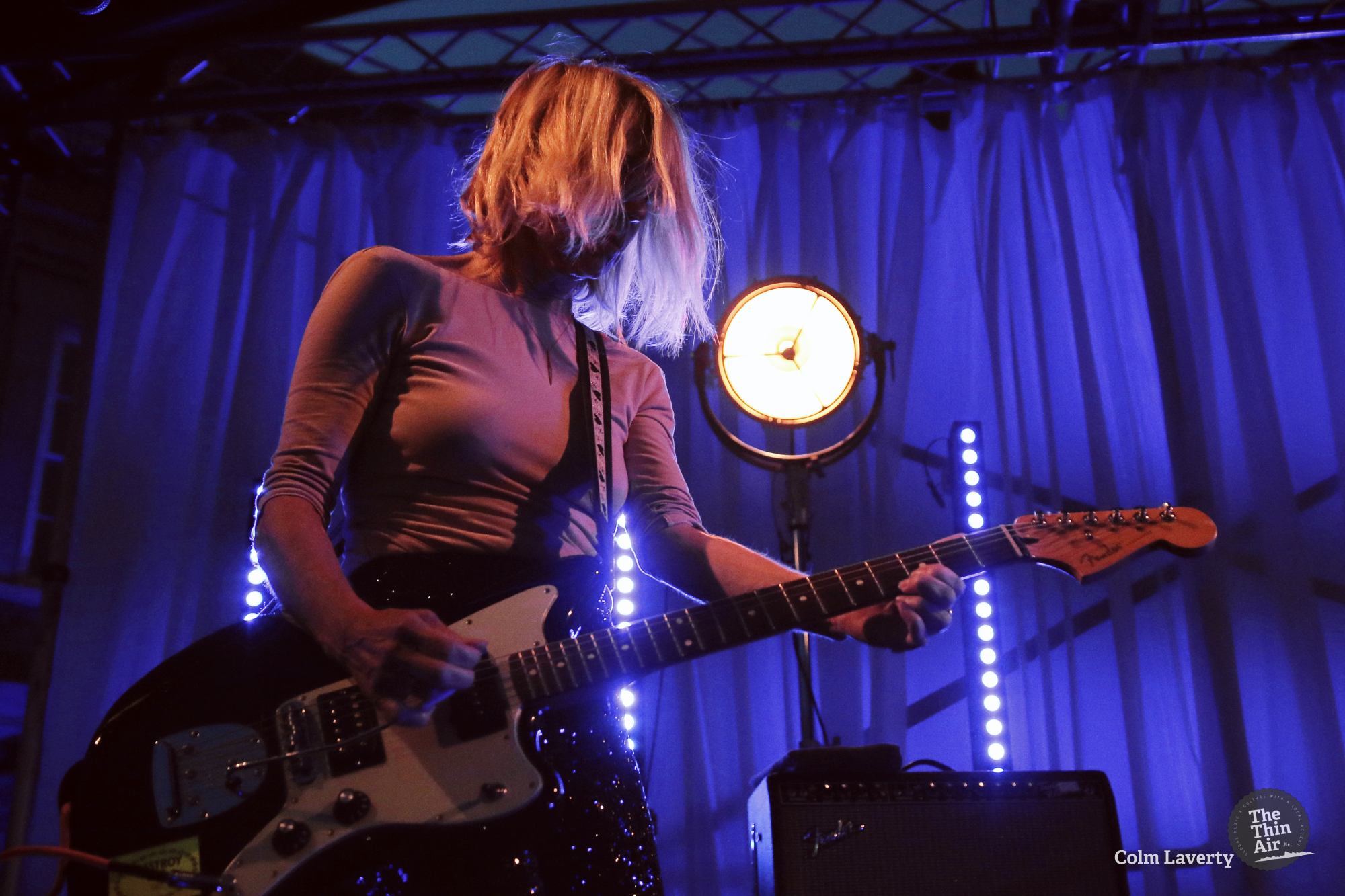 It does feel somewhat like watching Bad Moon Rising-era Sonic Youth in the mid 80s, full of the same doomy experimentation rather than traditional song structures, and Nace impressively proves himself to be just as effective a foil to Gordon as Moore or Ranaldo, the pair riffing off each other with an easy chemistry.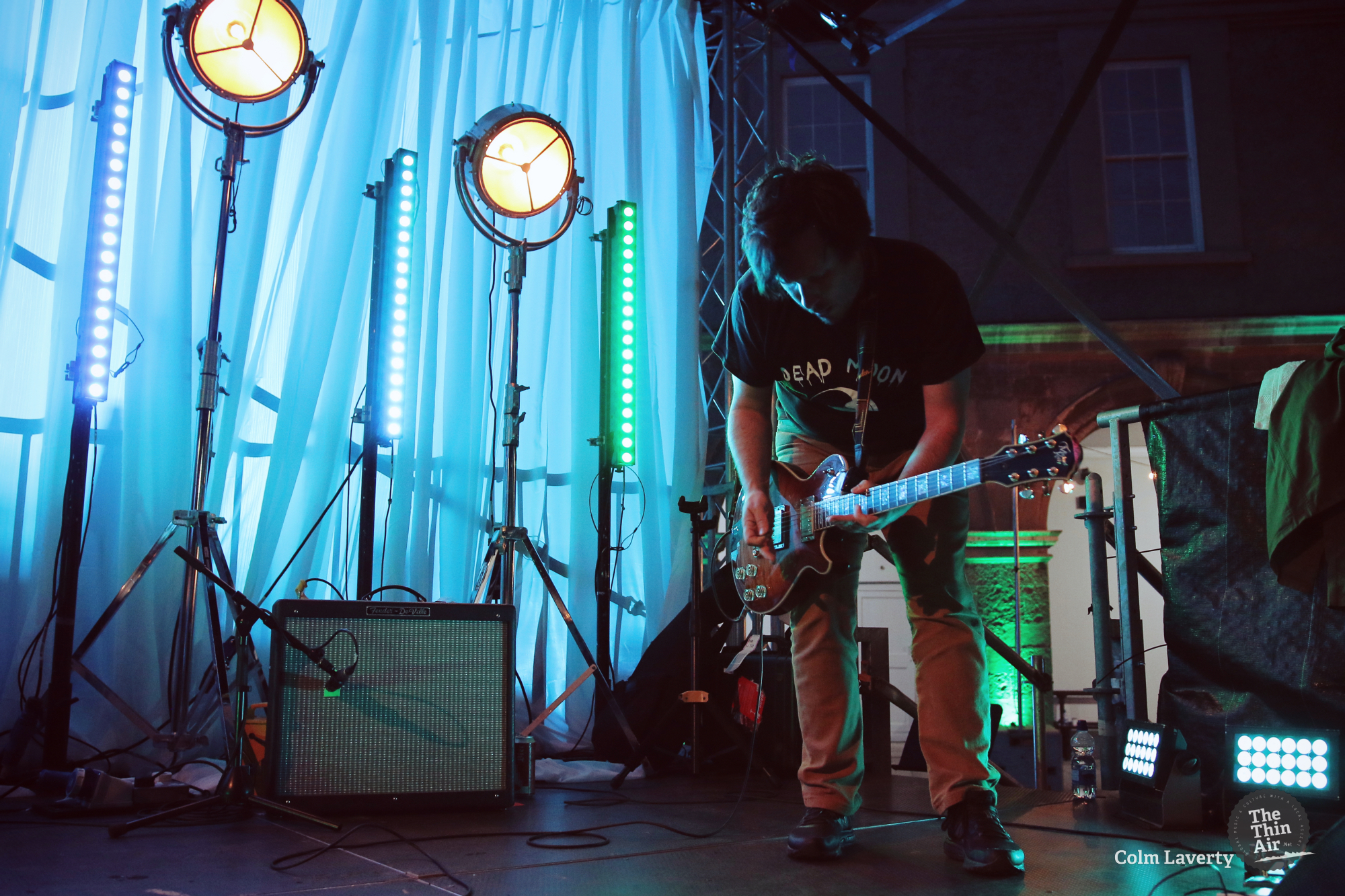 Things start to wind down around 45 minutes in as Gordon takes the mic to the front of the stage while Nace gradually brings his guitar back under control. It's a short set but well placed to avoid outstaying their welcome, wrapping things up long before that natural point where experimentation drifts into indulgence. But as the audience begins to file out into the Kilmainham streets, it certainly feels like no other art exhibition opening any of us have been to before. Cathal McBride
Photos by Colm Laverty