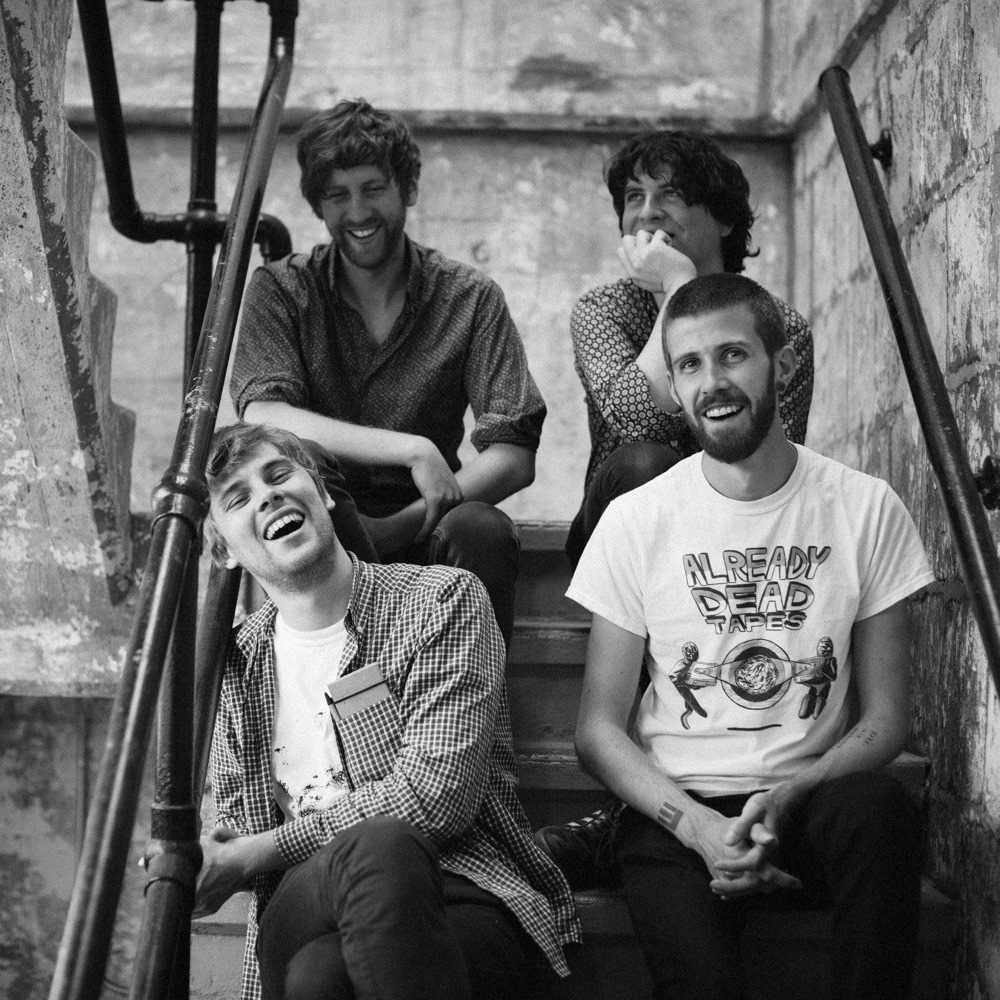 Was June the strongest month in Irish music this year so far? By way of Girl Band, Yankari, Uly, Roisin Murphy and more, Colin Gannon makes a strong case in his monthly round-up.
Girl Band — Shoulderblades
Girl Band (pictured) are back. Dara Kiely's ungodly, contorted howl is back, as exorcistic and scabbed as ever. In the same month that Two Door Cinema Club made their excruciatingly ghastly comeback, Ireland's revered purveyors of shadowy, techno-informed noise rock arose from their slumber. Kiely's health problems led at least in part to their lack of visibility over the past few years, creating a gaping hole in Irish music that this year's new album, The Talkies, is braced to satisfy.
There's nothing distinctly new about Shoulderblades—which is not to say that it doesn't fucking rule. It's a sneaky, serpentine tune. Guttural guitars brood forebodingly like an overcast Dublin winter sky for almost two minutes as Kiely's terrifyingly intense voice makes the referenced Dutch Gold sound like a lava-like liquid that the Devil pisses endlessly into your eyes for eternity after you die. You can practically hear his face gurning. Then comes the sonic wall of heavy, robotically programmed percussion and coiled, feedback-ripped guitars as Kiely wails—literally—over and over. "Patience now, please," he interrupts, cutting through the industrial clanging, before namechecking American TV's Ricki Lake and screaming some more. These brutalistic dynamics are the band's calling card—and I can only say I'm humbly gracious that they're back.
They are, after all, one of the only groups active today who can collapse the distance between bristling noise and expressive songwriting so effortlessly. Listen to the end of this paroxysmal track where, like a deep exhale after a long and arduous climb, the feverish electronics wilt. Torrents of gnashing guitars and squealing electronics have vanished. Yet the band's seething spectre wafts around your brain long after the song ends. Anxiety in song, pain as noise.
Chuks — Profit
Drill honcho Chuks cemented his place in June as Ireland's hardest rapper ever. Self-preservation underpins everything in underworld criminality, and the Dublin rapper's fearsome new track 'Profit', released on British rap channel Mixtape Madness, is unceasingly cold-blooded. If you show weakness, you're bound to get rushed, crushed, snuffed out, reduced to a footnote or a funeral notice. The song is an object lesson in how to rob, finagle, stack bundles of cash, flip pounds of class-A drugs, and wipe out enemies. When he professes his love for his knife, you really believe him, such is the brute effectiveness of his supremely confident voice. This is not a song destined to be played aloud at confirmations or under marquees at 21st birthday parties in the Midlands.
Roisin Murphy — Incapable
Roisin Murphy is Ireland's most underappreciated, undervalued and understated musician of the past decade or so. Incapable, her latest single, is burning, luxurious, magnetically funky dance music. It's cathartic deep house swimming in disco confetti, as Murphy muses heartbreakingly about her incapacity—or perceived inability—to actually feel heartbreak. "Never had a broken heart / Am I incapable of love?" Murphy asks over burbling bass and handclaps, her voice loud and unguarded but tinged in resignation. "Never seen me fall apart / I must be incapable of love." It resolves—and evidently succeeds—to be the melancholic soundtrack to a furnace-hot summer.
Lee Kelly — Our Place in Time
Dublin's First Second Label are on a roll. Cork's ELLLL recently dropped Febreeze there, one of the year's best electronic releases. But equally as impressive last month was Lee Kelly's Excerpts From Layers of Identity, an EP awash in lush production work, drifting all the while from ethereal ambient to more crisp, human, and concrete moments of futuristic electronica. The DJ Koze recalling, bass-slathered 'Our Place in Time' (originally came to release on an Odd Ned compilation last year) is the project's most convincingly wistful song. As beautiful orchestral strings hover, driving kick drums give it force, leaving some negative space to allow Kelly's skyward synths to flutter like butterflies. It's cerebral yet dancefloor-worthy, cultivating intimacy where many less capable peers fail. It's one of the year's best songs, regardless of genre.
Yankari — Change Your Ways (Mago Mago)
Translated to English, the Nigerian expression Mago Mago refers to a "person or action of a deceptive or untrustworthy intent". In 2019, in a country viewed from overseas (and from within) as an avatar of social progression, this rings especially true. Direct Provision centres—the callous, inhumane, private pocket-filling system Ireland uses against some of the world's most vulnerable people—are a stain on our national conscience.
Yankari was formed by Uché Gabriel Akujobi and brothers Segun and Michael Akano, all multi-instrumentalists who played drums in Lagos churches. Over 20 years later, Akujobi and the Akano brothers created the afrobeat collective Yankari after meeting at a refugee centre in Dublin. This struggle personal to them.
In tone and mood, the Dublin-based collective's 'Change Your Ways (Mago Mago)' parses through darkness and injustice in search of hope. Taken from their upcoming debut album, the politically and socially instructive song has shades of the more traditional Afrobeat acts of the 60s and 70s—incorporating elements of jazz and funk by way of bright, sultry guitar lines and sweltering bass and saxophones—but feels aware of its own timeliness, musically and thematically. A transcendent chorus, sung in part by inner-city kids, give it heft. "When we gonna change our ways," the song bellows out, as wild, vibrant tapestries of jazz and traditional Nigerian music fold into one. This may well be Ireland's most important protest song in recent memory, even if this wasn't its intended purpose.
Bonniesongs — Barbara
Australian-based Bonniesongs writes the kind of tense, sylvan folk songs that snap you into another reality. 'Barbara', lifted from Bonnie Stewart's forthcoming debut album, Energetic Mind, is strange and haunting, slow-burning and zig-zagging. Her idiosyncrasies bear resemblance to many contemporary musicians: the oblique lyricism of someone like Cate Le Bon; while her voice, conventionally warm and elastic, springs Jessica Pratt to mind. The songwriting's largeness make Big Thief another obvious lodestar.
The Barbara in question was imagined after Stewart watched an old horror movie, and witnessed the puny helplessness of the sheepish female character as the males around her, unafraid and brave, soar into action to save the day. "They're coming, they're coming / They're coming for you, they're coming for you Barbara," she murmurs plainly with quiet intensity, the monsters at her back. Large, swooshing cellos enter the song later, giving the song a panoramic feel: You can almost see Barbara's inner-strength and will build up as the diffuse instrumentation and Stewart's drifting voice arrive at a unique alchemy. At this majestic stage, Barbara has flipped the script and become the heroin.
Stewart's debut is now firmly in my radar.
Uly — pak it in
Uly is something of a known quantity in Dublin's music milieu. He writes exquisitely sun-kissed, heartfelt songs, the kind that saunter and meander—jazz-indebted vignettes plucked from some insanely picturesque dream sequence. A pair of new songs, 'pak it in' and 'mama', are his best yet. 'pak it in' reminds me of some of Unknown Mortal Orchestra's poppier moments, hinging on tuneful crooning, sunny guitars, and a floating sax—all refracted through a light psychedelic lens. Better still, the song trails off with glistening keys and hip-hop drum slaps. It replicates that light, wayward buzz you feel inhaling your first cigarette. It's off-kilter jazz-pop at its finest.
Polytunnel — Time to Time
I don't know what can be said about Polytunnel's Time to Time EP that the comic-like cyberpunk cover doesn't already scream: it's an otherworldly slab of woozy, acidic, low-key techno whose dynamism is centred on arpeggiated pads and stunningly frantic drum breaks.
Peter Lawlor, the founder of Moot Tapes, outdid himself with this new project, recording under the Polytunnel alias having previously released music as Replete. The results are spacey and gelatinous, his most expansive and passionately lived-in music to date.
Arvo Party – T a y l o r w a v e
Arvo Party's playful chillwave reimagining of Taylor Swift's gigantic 2014 hit 'Shake It Off' somehow strips soul from a pretty soulless pop excursion (apart from its sticky hook, of course). Just press play and let it melt.
Auxiliary Phoenix feat Leo Miyagee — Tarmac Practice
For all its zooming madness, Auxiliary Phoenix's thumping production here at heart is dreamy. Belfast rapper Leo Miyagee sounds at home over this kind of production—his rap flow more of a trickle over the urgent, pacing beat.
Little Gem Band — Corolla Pinions
I don't know what this cosmically rip-roaring, saber rattling shit is, but I knew once I heard it that there was no going back. Glorously extemporaneous and proggy as fuck, without being pretentious, it's a ten-minute ride worth taking.