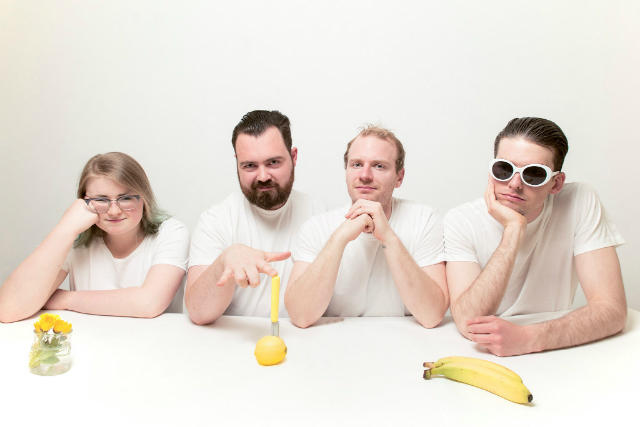 It's long been the contention of this publication that if any songwriter could claim to be the voice of Dublin it's Danny Carroll, lead singer and guitarist for Shrug Life. Since 2015's The Grand Stretch EP, the indie trio have consistently floored us with earworm hooks and existential despair with an empathetic smirk. The songs encapsulate so much of what it means to be alive in Ireland at the moment; the ennui, uncertainty and the oddly humourous nature of it all.
With their latest single, 'Strangers', having dropped, Will Murphy has a little chat with Mr. Carroll to see where his head is at.
In the 2 years since the release of your last album how has your approach to writing songs with Shrug Life changed?
We were collectively conscious of varying our approach.  Early on with our first EP and debut album, we did establish a 'Shrug Life sound' or template we were comfortable in – lots of words, fast hi-hat patterns, all of us playing with an itchy, urgency that sounded ready to break. There's still lots of that in what we do, but here and there, we've started giving things more breathing space.  There's less to hide behind.  Inevitably we started to pull from different musical sources as well (A Tribe Called Quest, Andy Shauf, Cat Palace) without becoming indebted to impersonation.  Lyrically, I'm indulging more introspective narcissism – the self-obsession that comes from sadness.
Did you encounter any second album syndrome anxieties? How've you been managing them?
Thankfully, given our complete anonymity and lack of audience we didn't feel encumbered by expectation.  The second album has evolved at its own pace, with a healthy amount of demoing before we pressed the big red button.  There was one dodgy review of the first album that bemoaned our reliance on four-chord guitar riffs – for better or worse I've tried to take than on board and adapt my habits.
You mentioned that the album is fully mastered, what particular cuts on this album are you most proud of? Any lyrics that jump to mind?
The opening song is called 'Hobbies' and feels like a companion piece to 'First World Problems', which opens the first album.  Both of those songs indulge in verbal diarrhea – stacking images on top of each other in a dumb, satisfying way – "Join the meditation class, run by your cousin's hippy friend – dropped out of business at last, now he's totally zen.  Just put your trust in his pan-pipe authority, for 20 euros a week he'll teach you how to breathe properly.  Try new hobbies, try by happy".
It also features our first use of bongos – so there's something to be proud of there.
Your words have always been such a major part of the band, what is your process for devising them? How much comes from a lived experience and how much is pure creation?
On occasion songs come from a very direct singular experience and other times they're a response to several triggers – usually I'm pulling from a mix of observations, conversations, and accumulative conflicts.  'Strangers' is definitely a composite piece – a kind of 'best of' – Now! That's What I Call Social Anxiety.
Musically, what are the chief influences you've got on this one?
Myself and Josh had a jam in early 2016, involving this drum beat and a more cack-handed version of the riff.  It sat in a dropbox folder for about 18 months before we thought about it again.  I enjoyed the broken, mechanical nature of it and wanted to channel something like DEVO's Satisfaction or Girl U Want.  There's probably a connection with Parquet Courts 'Everyday It Starts' as well. Elsewhere the lead guitar lines are inspired by The Strokes 'You Only Live Once', and the chorus backing vocal was arranged to do something grand and poppy like those on Blur's 'Beetlebum;, where the song's brittleness is suddenly replaced with overwhelming melody.  Buuuut, I also appreciate it's just us responding to each other.  I can't speak for what made Keith come up with that great disco bassline in the bridge or Josh's initial inspiration with the drums.
Lyrically, what are you drawing from? In light of Ireland's 2015 and 2017 referendums, what do you think will be the next big cause for the youth to rally around?
I can only hope and assume people rally around climate change, the housing crisis and homelessness epidemic.  Dublin in particular has become increasingly inhospitable and it's hard to know where the tipping point is.  Looking at the housing crisis and by extension the homeless issue, we're at a point where willful ignorance is the government policy – the lack of impactful intervention, the lack of new builds and social housing is a deliberate choice.  Our government is more concerned with tax-breaks for tech firms and hotels for tourists.
What was the impetus for bringing in Laura as a keyboardist?
I've always wanted keys and backing vocals in Shrug Life. From the earliest 8-track demos, those elements were in our songs.  Laura's a force of nature, an excellent songwriter in her own right and really brings an extra musicality and buoyancy to our apathetic existence.
Last year you put out the Anthology of Irish Tunes, also known as A Litany of Failures 2. What's the story behind that? Can we expect a volume 3 or even some kind of label?
Litany feels like it was borne out of necessity.  A collective strength in numbers of the kind cultivated by Popical Island, The Richter Collective and more recently the DIY LK collective or Pizza Pizza Records.  Litany volume 1, was a four-track EP comprised of Galway's Oh Boland, Belfast's Junk Drawer, and Dublin's That Snaake and Shrug Life.  It was a good excuse to gig swap and share a fanbase (scant as that might be).  Volume 2 featured 18 bands with acts spanning genre and province.  It allowed for a five gig tour and a greater sense of community.  Volume III should hopefully arrive next summer.  We're hoping to include artists/bands that haven't featured so far and further document the vibrant goings-on of our excellent independent music scene.  Once again, it will feature stuff that's not concerned with being showcase or export-ready.  It exists above and beyond that contrived, bandwagonesque bullshit.


Having immersed yourself in some of the cream of the Irish crop, who in your mind is primed for the next level?
Ughghgh.  What does that mean?! Who is going to be invested in by a UK management team or MCD?  Who has the best 'hot right now' dangerous fella promo shot with wide trouser and requisite rollie?  Here are some people I've gigged with or gone to see in 2019 that I've been inspired by – Junior Brother, Careerist, CMAT, Larry, Robbie Stickland, Junk Drawer, Icebear, Laura Ryder, Naoise Roo, Kynsy, Postcard Versions and handsome eric.  May fame and fortune reign down upon them all – obviously there's loads more besides.
How would you describe the legacy of a one Mr. Joe Dolan?
I work in the National Concert Hall.  A couple of years ago, there was a week that saw two nights of Magnetic Fields 50 Song Memoir, quickly followed by two nights of a 'A Tribute To Joe Dolan'.  The Magnetic Fields show (excellent as it was, and genius that he is) only sold about half of the auditorium both nights.  The Joe Show tribute however packed out that 1200 seat venue both times.  At one point a woman approached me at the box office asking if she could bring her teddy bear into the concert – "his name is Joe Dolan too".  Suffice to say, his legacy looms large.  It was this interaction that really solidified my obscurity and the futility of indie-rock in general.  The same night I unlocked the mythical power of 'You're Such A Good Looking Woman' and realised where I've been going wrong.  The Shrugs have covered it and included a verse from David Berman (of the Silver Jews).  I'm currently figuring out how to release this and not get sued, but you can expect it to emerge sometime in November.  Until then we will continue to dwarf our original material by covering this song at the end of our gigs.  Come on down, bring your teddy bear.