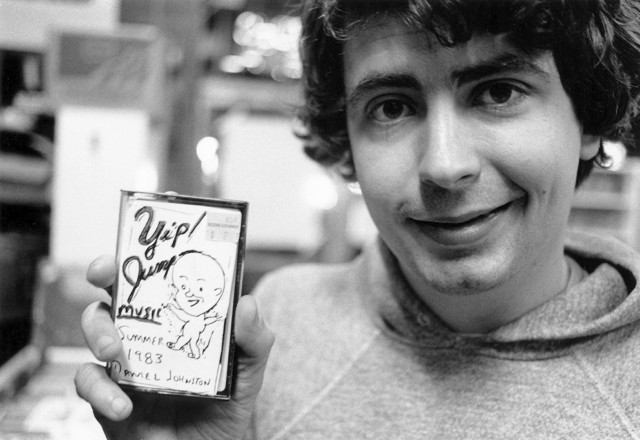 On Tuesday, 10th September, 2019, cult singer songwriter and outsider art iconoclast Daniel Johnston passed away at the age of 58 due to a heart attack at his home in Waller, Texas.
The singer was best known for his 1983 album Hi, How Are You?, which he recorded alone, on a cassette recorder. The album has gained cult status since it's release and has been cited by many important musicians (perhaps most notably Kurt Cobain) as being of major influence.
In fact, Daniel Johnston has been a major influence on many different people. To some he was something of a folk hero, a renegade that fought his way into the music industry with his unmistakably innocent style of songwriting and a charming DIY ethic. To others he was just a guy playing an out of tune acoustic guitar. You could ask 100 people what the name "Daniel Johnston" meant to them and you would get 100 different answers. 


After hearing of Johnston's death, I myself reflected on the meaning and relevance of his music in my own life. The first time I heard the name Daniel Johnston I was 8 years old. My family and I had just moved house and one day I found myself sat on the living room floor watching the television with cardboard boxes in the corner and my Dad working on his laptop, sat on the couch behind me. We had just gotten a few new American channels on the television and whichever one of these channels I happened to be watching was showing a documentary: The Devil and Daniel Johnston. I sat there and watched the entire documentary without moving while my Dad chimed in intermittently with what he thought of Johnston.
For many years after this I forgot about Johnston, until I was maybe 15 or 16 years old, after seeing Yung Lean wearing a "Hi, How Are You?" T-shirt during a Nardwuar interview. I went and rediscovered Johnston's music and found myself for quite some time obsessed. In his music I found a deep and powerful feeling of nostalgia as well as a sort of sympathy. Sympathy for this man that felt misunderstood and alone in the world that surrounded him, but despite this tried to spread a message of hope. In songs like True Love Will Find You in The End, Some Things Last a Long Time and No More Pushing Joe Around, Johnston assured his listeners that in the end things would always work out, even if it took them forever to do so. This message of hope was always all the more powerful considering Johnston's lifelong battles with both mental and physical illnesses.


Now, in the midst of Johnston's passing his message is tinged with a powerful poignancy.
For me, Johnston was always a reminder of what it feels like to be a child, his music always transported me back to the age of 8 and allowed me to reflect on how much things have changed since first discovering him. I'm sure there are countless others that feel similarly. For many, he was the patron saint of the alienated and despondent, a pure and true symbol of carrying on benevolently in the face of misfortune.
From the thousands of people that loved the man and his art: Rest In Peace Daniel Johnston. The world is a little less bright without you. Jack Rudden