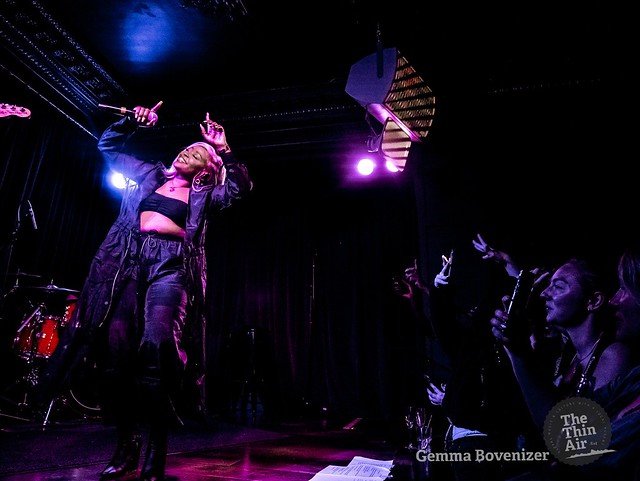 Off the back of a very successful year, young Balbriggan artist Samantha Kay aka Soulé upped her game at the end of September by headlining her own show at one of Dublin's newest music venues, Lost Lane. Soulé's music has achieved huge success on Spotify with 'What Do You Know' notching 2 million streams to date, and one of her latest tracks 'Love Tonight' garnering over 4 million, as well as hitting No.1 on Irish radio charts last May.
The electronic pop artist was opened up to a wider audience in April 2019 when she performed 'Love Tonight' on the Late Late show. Soulé was also put on the map during the summer when that same track featured on an ad played during Love Island. Obviously, Soulé is not new to the Irish music circuit, having debuted in 2016 with 'Love No More', and steadily making her way up since performing at various festivals across the country including Body & Soul, Electric Picnic, Beatyard, Longitude and the brand-new LGBT festival Love Sensation. 
Ahead of her headline set at Lost Lane, proceedings kick off with a mood-setting performance from supporting act Kehli. The Dublin singer performs a string of beautifully executed covers alongside original cuts, 'One Last Kiss' and 'Believe It', making for a fine introduction to an artist we are sure we'll be hearing a lot more from.
Soulé enters through the side door, kicking off her set with the bubbly 'One Two Three'. The former Choice Award music nominee goes on to perform 'Done Loving You' from her Love Cycle EP. The upbeat song sets the tone for the rest of the night. Midway through the performance, she comes down from the stage to join the crowd for a bop, making it clear that she's enjoying herself just as much as the crowd are.
'Troublemaker' incorporates different musical styles to make something truly exciting. Incorporating elements of dancehall and afrobeats with her own distinct take on pop, reminding everyone in attendance of her versatility and confidence as a songwriter and performer. 
'What Do You Know' goes in a slightly different direction for Soulé, and live it gives the most bite of the entire set. It is an anthem for being an individual and being happy in yourself. Soon, the whole crowd are jumping up and down to the track's energy.  We also get treated to tracks 'Coming Back Around' and 'Don't Hold Your Breath',  as well as a beautiful, reserved rendition of her latest track, 'Butterflies', a collaboration with Sorcha Richardson and Elaine Mai. The set is rounded off with 'Love Tonight', before the crowd cheers its headliner off stage to the chant of "Soulé Olé Olé Olé", a fitting, triumphant end to a landmark gig for the breakthrough artist. Kayley Hardiman

Check out Gemma Bovenizer's full photo gallery from Soulé's sold out show at Lost Lane here