Film / Theatre Reviews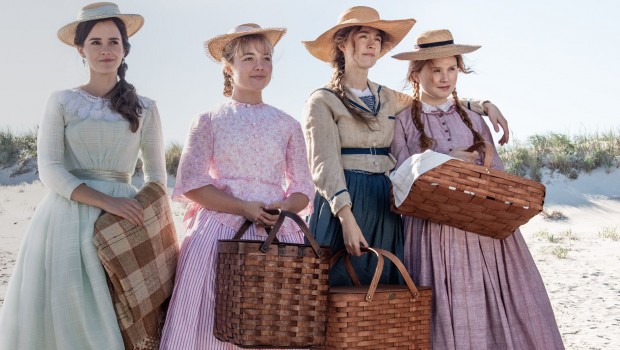 Published on January 3rd, 2020 | by Conor Smyth
0
Little Women
Grab the green bin. Greta Gerwig's dropped in one last gift.
Little Women, the seventh cinematic (re)telling of Louisa May Alcott's much-loved novel, is a perfect film for the dark, weird, listless days that trot along right behind Christmas. It's Gerwig's third directorial effort, and the second time she's written and directed, after the slow-burn brilliance of 2017's Lady Bird (Saoirse Ronan's best movie). The ensemble domestic drama follows the troubles and triumphs of the March's, a contented but economically limited household in Civil War-era Massachusetts, as four sisters and their mother await their pastor patriarch's return from the conflict, and negotiate the demands of looming womanhood.
With its ribbons, bonnets and generous hearts, Little Women is a perfect piece of Christmas confection, even if its less festively rooted than Gillian Armstrong's 1995 film, in which Winona Ryder seemed to schlep around in perma-festive snow. Outside the walls of the March house there are brisk walks, the unvaccinated poor, telegram dread, and the occasional dash of frost (watch out for the ice). But inside, the air buzzes with the warm, chaotic affection of sibling proximity. The film manages to be familiar, and fresh; comforting, sad and idealistic. It is abundant in its good will toward wo/men.
Most of you know the outlines of the quartet. Jo (Ronan) is tempestuous, boyish, strong-willed and independent, with some of Lady Bird's growing pains. She is conflicted and a writer, eventually leaving home to pursue literary ambitions in New York, and she is, naturally, the one Gerwig is most drawn towards. The March narrative is gently bent and layered like a bow, filtered through Jo's memories and selections, a distancing effect that upsets steady emotional through-lines, but endows events, good and ill, with yearning, melancholy and something like a nostalgia. And through Jo's vocation the film makes the case for writing, as a limited but redemptive attempt to gather up the shards of life and give them meaning through attention.
Gerwig's vision is alert to the vexed question of how a woman may make her way in the world, but its modernity lies in its movement. Compared to the 1995 film, the sisters, and Timothée Chalamet's 'Laurie', the idle dilettante in their orbit, are more youthful and dynamic, lighter on their feet. The character distinctions are clearer too: Meg (Emma Watson) is traditional and domestic in her desires, and falls in love with kindness. Florence Pugh returns to period attire after her one-woman warfare against patriarchy in William Oldroyd's under-seen Lady Macbeth (2016) as Amy, maturer than in the source, if only in years.
Amy is prone to wildness, passionate about painting, but convinced of her diminutive creative status next to the marriage-scorning, ink-fingered Jo. And there's Beth (Eliza Scanlen), sensitive to failings in virtue, who burrows her wants deeper down than the others. Presiding over the brood is Marmee March, displaying the sort of layered, intensely likeable nobility Laura Dern excels at. The sisters bicker and joke and put on little plays in their house, textured and buoyant portraits of frivolity's last gasps.
Jo and Laurie are united by natural chemistry, and a shared resistance to the weights of adulthood. For her, the prospect suggests marriage, confinement, and compromise. The bluntest realism on the question of matrimonial economics comes from Amy, who lays out her limited options for the privileged Laurie, a world-class lounger. The question returns later, in the meta-framing of the novel and its publication, with creative and financial control marked as key girders for self-actualisation.
Like any good Christmas movie, Little Women is interested in, and animated by, virtue. It is a celebration of sisterhood in the literal and broad senses of the word; it's beautifully rendered, with a rich sadness that still makes room for the miraculous. Life is hard. We won't get exactly what we want. We might, in fact, be much, much luckier.
Little Women is out on general release.

Summary: Dir: Greta Gerwig, 135 min, certificate U