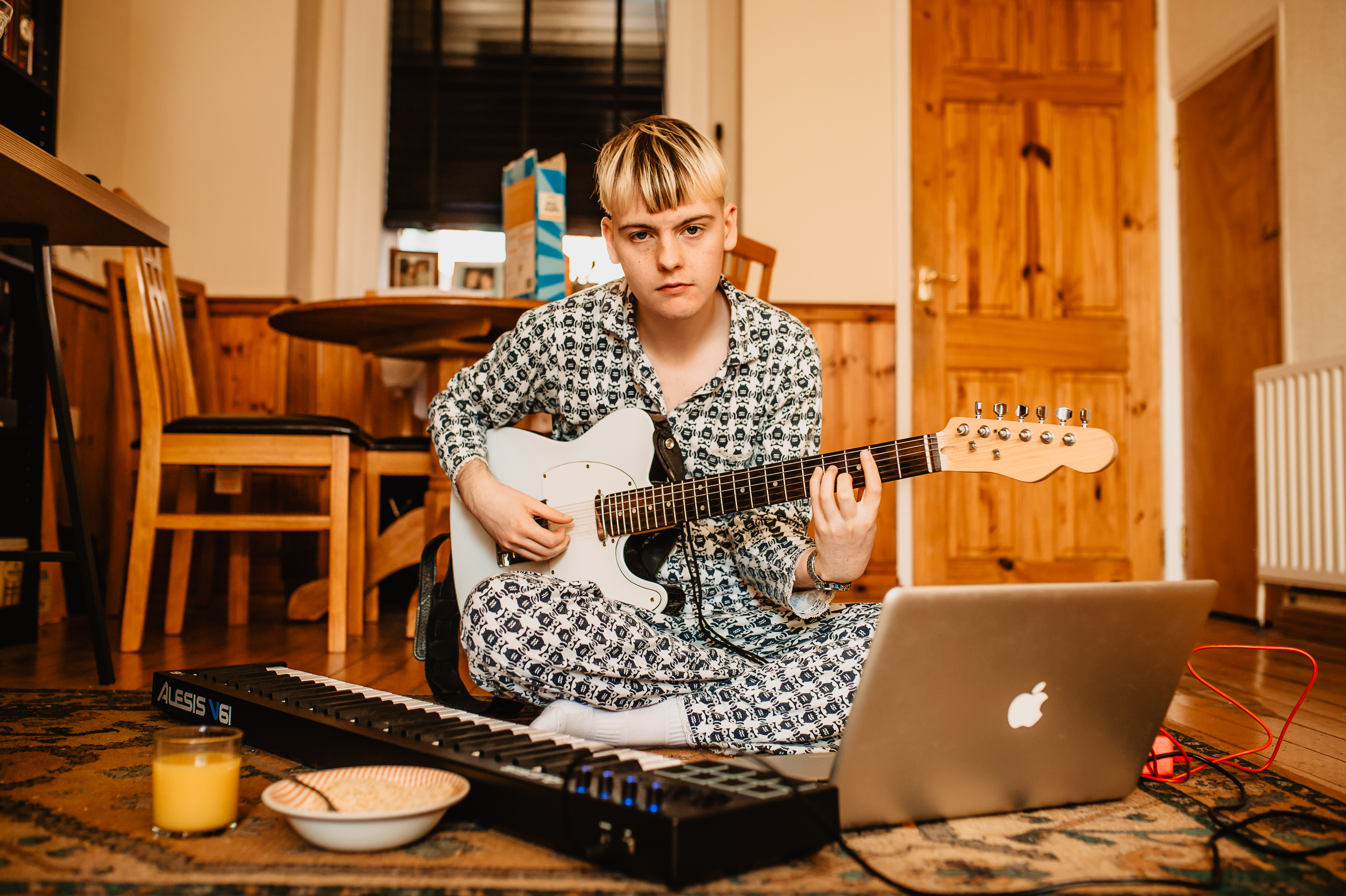 In the latest installment of Monday Mixtape, fast-rising Letterkenny alternative ambient folk artist Joel Harkin waxes lyrical on some of his favourite songs, from Phoebe Bridgers and Kitt Philippa, to John Martyn and SOAK.
John Martyn – Small Hours
I really like how if you didn't know that there would be singing later in this song that it would surprise you, it doesn't give you much indication from the start that there will be. It's very relaxing and it feels very poignant. I love all of the ambient sound and the interesting vocal style.
Kitt Philippa – Moth
This song makes me think of a very well made anime. It gives me the same feelings as when I am being very moved by a score. I love the chords and the nice ambient/field sounds at the start. KP's voice is perfect and when that horn comes in I feel so full of hope and joy. I love how it ends and the ambient sound comes back in again running water and clicks and a lovely wee run of descending chords. It feels complete. "You make me forget we're temporary." What a line.
Gregory and the Hawk – Oats We Sow 
I first heard this song on the first album it was on (In Your Dreams). It was a very lofi recording with a different arrangement but this is my favourite version. I love the addition of the drums and the strings, but how it remains true to the original versions lofi aspects. I love the hiss off that guitar. And can I talk about the drums? Myself and my mates have been working on an album and this track is my reference for most drum takes. I love how different the drums are played from what I'm used to hearing in real life. I think the opening lyrics in this song may be the best opening lyrics that have ever been written in any song.
Phoebe Bridgers – Smoke Signals
This song is what solidified Phoebe Bridgers in my mind as one of my favourite artists. I first heard it when she was opening for Conor Oberst in the Bord Gais Energy Theatre in Dublin in 2017. Deirdre and I had a big cry. For some reason I was able to buy tickets half an hour before they were supposed to go on sale so we got the middle two seats in the front row. I love the production and the songwriting. It's so melancholic and twangy. I love how the strings seem to mimic the reversed audio that is heard earlier in the song. I love that big Danelectro '56 Baritone (I think it's the baritone version) that she plays on this. It has a lovely music video as well, pure creepy sham.
SOAK – Oh Brother
This song is my favourite from SOAK's first record and the song I listened to the most from it, I'd say. The reverb is so present and I love how it seems to be as loud as the long-held vocal notes at certain parts of the song. The strings are dark and sinister and the tom drums add to this unnerving vibe. Beautifully textured and dynamic, I love how it moves from delicate to powerful. This is what great music sounds like in case you where ever wondering.
Modest Mouse – Little Motel
Isaac Brock can write a song sham. This was the first Modest Mouse song I ever heard. It was on some random Tumblr page I stumbled onto in like 2012. I didn't properly dissolve myself in the rest of their discography until a few years after that but I always come back to this song. It's so beautiful. The layering of the guitars and the build-up of emotion across all the instrumentation but especially in Isaac's vocal from a hushed whisper to loud calling out vocals and back to quiet lushness once again. I always think of the line "Remainders of a shooting star landed directly on our broke down little car. Before then we had made a wish that we would be missed." Gorgeous imagery. It feels very real and very profound. Deirdre says she thinks it sounds like light hitting off glass.
Bright Eyes – Light Pollution
This is my favourite song about a fictionalised version of an 19th-century economist and social scientist. The concept of the song is so different from anything else I've heard really. How you can take a figure from history and reimagine him as a modern, working-class, American man with his own new story but original core values still in place. It's kind of like what would happen if the same person was born in the late 1900s instead of the mid-1800s. I don't even need to comment on the production, it's masterful. Every aspect of this track is perfect.
Elvis – Good Time Charlie's Got The Blues
A song from my childhood. I grew up mostly listening to Elvis and so its his version of the tune I'm chatting about but the original is so beautiful as well. Elvis has loads of sad songs but this one is the one I liked the most. So poignant and delightfully miserable, it is necessary listening for sad boys in the making.