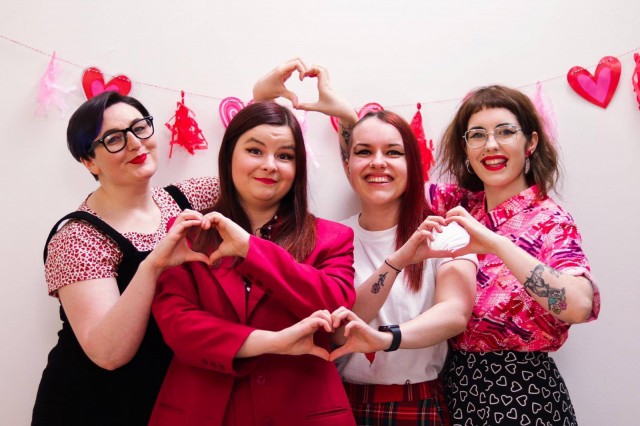 A silver lining to the three year cloud of political deadlock in Northern Ireland, today marks the first Valentine's Day with equal marriage laws, with the first same-sex marriages having taken place earlier this week. Belfast punk quartet Problem Patterns have chosen to celebrate that fact with a video for catchiest single to date, 'Gal Pals' whose bubblegum exterior belies an incisive social satire – or in their own words: "Part social commentary, part potential theme tune for a cult queer romcom".
Each member of the band – which comprises Alanah Smith, Ciara King, Beverley Boal & Bethany Crooks – leads a verse, each of which deals with various stages in the lifespan of the relationship between two queer women; childhood crushes and games of truth or dare, jealous teenage best friends, young adulthood, marriage and all that comes with building a life together, and finally: the golden years.
It's a bittersweet message, refuted by the song's chorus. As they tell us: "A sentiment that queer
women hear no matter their age, no matter the seriousness of their romantic endeavours is whether
casually dating or married for a lifetime, many people will always just see them as "Gals being pals".
Its charming video was directed by Elspeth Vischer, cheerfully chronicling the said relationship. Check out their 2019 debut EP Good For You, Aren't You Great? EP on Bandcamp.
You can catch Problem Patterns at any of the following dates:
February 27th / A Litany Of Fundraisers – Strange Victory Records, Belfast w/Junk Drawer & Chris Ryan's SORBET
February 29th / A Litany Of Fundraisers – Anseo Bar, Dublin w/Slouch & Golden Cleric
March 7th / The Big IWD Gig – Oh Yeah Centre, Belfast
March 28th / Black Box, Belfast w/Organs & Aeon Appropriation