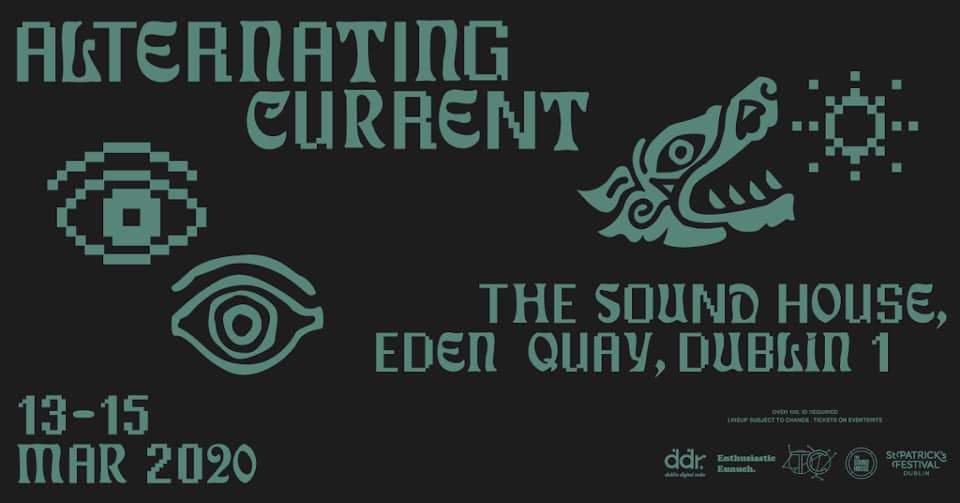 Alternating Current is the latest Irish festival to be postponed due to concerns relating to the global spread of coronavirus.
Following on from news that Vantastival will now take place later in the year – and with the likes of SXSW, Coachella and national St. Patrick's Day celebrations at home being postponed or cancelled – it's been revealed that the inaugural three-day celebration of Ireland's musical underground won't go ahead at Dublin's Sound House this weekend as planned.
Posting on Twitter, Dublin Digital Radio (who along with Enthusiastic Eunuch are behind the event) said:
"We've thought, debated and agonised over this for the past couple of weeks but we've decided to postpone Alternating Current. This has been a very difficult decision but we think it's for the best. In the past number of days, it's become increasingly clear that preventative measures are necessary to contain the spread of the virus.
Looking at evidence of the speed by which the virus spreads, we feel at this moment in time, having an event that we're meant to be celebrating a community of music makers and music lovers does not make sense when some attendees, performers and organisers have a very real fear of infection, or passing it on to vulnerable relatives, friends and strangers. They are not unique in knowing vulnerable people – we all have potentially high risk people within our circles. The public health risk of infection outweighs the cultural merits of our festival.
To be clear, we are just postponing Alternating Current. We stand by the festival, the lineup and the St Patrick's Festival organisers for giving us the opportunity to put this together.
We want to sit back for a couple of weeks before announcing the festival again but rest assured, we expect to showcase the lineup to the audience it deserves as soon as is possible.
This was not an easy decision. It became almost a daily meeting among organisers discussing how we should respond to the virus, what our responsibilities are – whether to heed advice that small scale events such as ours were wise to run or follow advice that has come from other quarters, less driven by other interests.
Ultimately, it comes down to feeling that we have some sense of responsibility and solidarity to those that are vulnerable. To everyone that bought tickets, thank you: we will be offering refunds but all tickets will be valid for Alternating Current when it does actually happen. We need a few weeks to see the lay of the land before making concrete alternative arrangements.
One final note, all of our artists were expecting a paid gig this weekend. That isn't happening now, so we ask you to please consider supporting the artists by perhaps buying some of their music if you can afford to do so."

We can't support that final point enough. If you can, please support these artists – buy the music, pick up some of their merch.