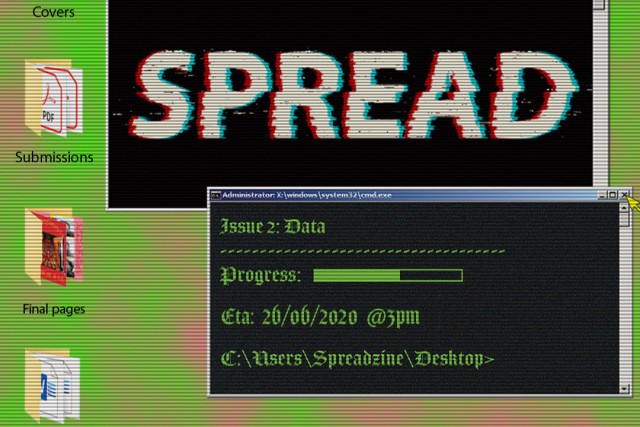 Feminist zine Spread was introduced in December 2019 as part of the Sex Workers Alliance Ireland Art Exhibition, covering themes of  music, sex and DIY culture in Ireland. Initially intended as a March release, editors Yvonne Kiely and Mairead Mullan decided to push back its release in order to effectively engage with the Covid-19 crisis. Spread #2 is available online at Lazer Guided Reporter, as of 3pm – completely free to read and download.
Parallel to this, one of our favourite DIY artist spaces on the island, Stoneybatter's JaJa Studios have recently been given the unenviable task of finding a new location in Dublin. In addition to this, Spread have generously agreed to donate 50% of the own proceeds in the fight to save JaJa, with all remaining proceeds guaranteeing Spread #3 – you can donate to their GoFundMe here.
This issue of the zine features writers and artists who responded to an open call for works that deal with the theme of 'data' from a variety of perspectives. Issue two is a collection of narratives around the topics of sexuality, gender, technology, music and the cultures that we interact with and create, with contributions from writers, performers, poets and visual artists. Appropriately, the issue's feature is a conversation with one the finest glitchy electronic acts in Ireland, Rollers/Sparkers – listen to their phenomenal 2016 LP, Interior Ministry.
A live discussion will take place via Spread's Facebook and Instagram at 7pm, with JaJa Studios in conversation, as well as Spread editors, as well as bonus musical performances from Craig Cox and Darragh O'Brien. Read the issue & sign up for more here.