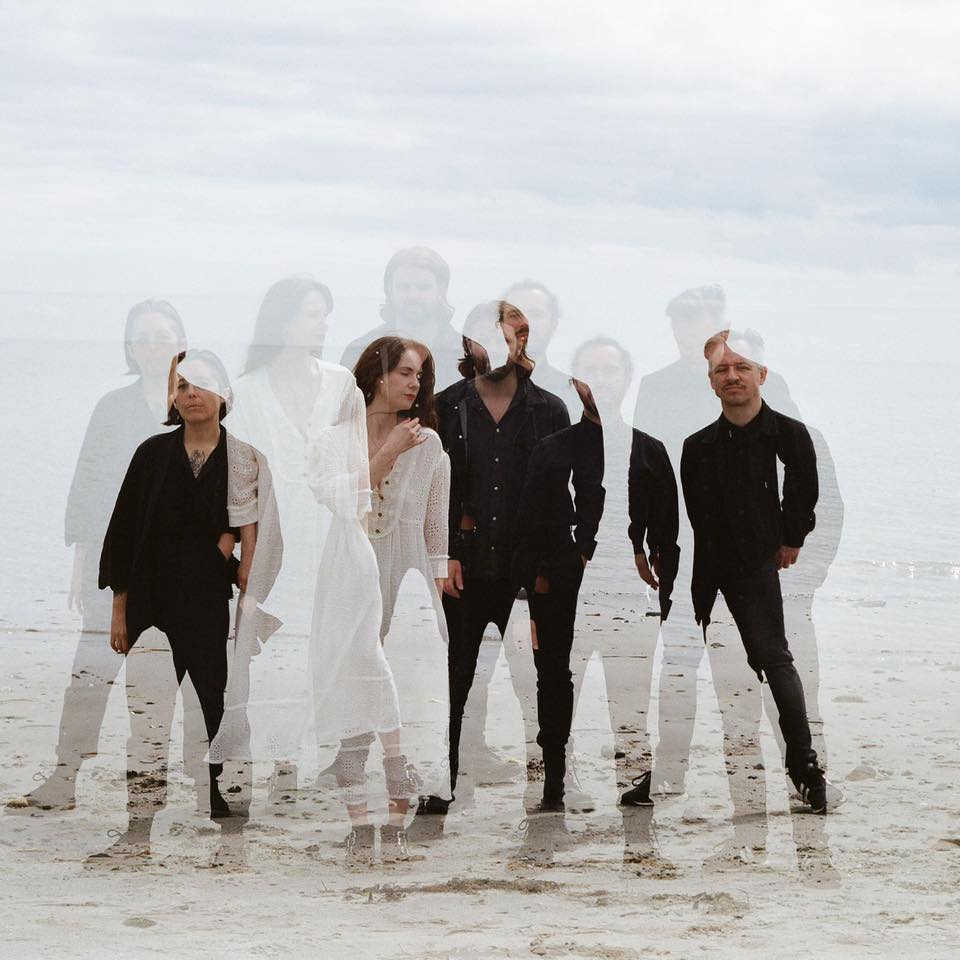 Belfast's New Pagans make evocative music, using the tried-and-tested soft-loud dynamic to marry massive riffs with socially-conscious, challenging lyrics with a view to starting important conversations. Catching up with vocalist Lyndsey McDougall over Skype offers just such an opportunity.
Forming in 2016; Lyndsey's recollection of the band's formation makes it sound like it was an inevitability.
"I met Cahir (O'Doherty, guitar and vocals) years ago. We eventually got married but I had been a massive fan of his music (Jetplane Landing and Fighting With Wire). He knew that I had written or had always dabbled in music but I went to art college and just kind of forgot about music and focused on visual arts. A couple of years ago he was writing some songs and was talking about starting another band and our now manager turned around to him and asked "why don't you and Lyndsey write stuff together?" We looked at each other and thought "yeah, that's actually a brilliant idea" so we started.
I was really nervous working with him because obviously he has all these years of knowledge but he was really good and we just started writing songs and sharing those ideas with friends of ours, which included Claire (Miskimmin, bass) and Conor (McAuley, drums). Claire turned around and as soon as she heard the first song ("Ode to None") and said "I want to be in this band" and Conor was the same so it just sort of happened. We had a few ideas, they loved them. It was a four-piece for a year or so and then we got Alan (McGreevy, guitar) on board as well because Cahir kept writing two-guitar parts. He wanted me to learn the guitar parts and I had enough going on in my life so Alan came on board and he's been great. That's how it all started."


As well as fronting New Pagans, Lyndsey is an artist and scholar, studying for her PhD in Irish embroidery, "looking at the woman's role in history through their needlework and organisations like the churches and the Freemasons."
The woman's role in society and throughout history is obviously of importance to Lyndsey. One of the band's earliest releases, 'Lily Yeats', was a tribute to the sister of poet William Butler Yeats and artist Jack Butler Yeats. Lily Yeats was an embroiderer who, despite laying the foundation for an important historical social enterprise in Ireland, was ultimately overshadowed by her brothers.
Describing her research and its influence on the release, Lyndsey says "I'm coming across these really interesting stories continuously. A lot of the stuff is lessons we can learn by not writing women out of history and making sure we can talk about these people, telling our daughters that they can be amazing women and the hero doesn't always have to be a man. All this stuff is really important. Feminism is important to all of us. We believe women should be equal and men can also be amazing. Men can be really supportive of the women of their lives. I think that's important as well."
Support for women is imperative to Lyndsey's life – not just as an artist and as part of the songwriting partnership that formed the nucleus of New Pagans, but also as a mother. Lyndsey and Cahir have two children together, and a support system that Lyndsey is extremely grateful for.
"The reason we can be in the band is because my parents and his parents are great supports for us. They help us, especially when we're doing live shows. They take over and take the kids. We want them to be involved, come to shows, be around the music and enjoy it, but they're so little at the moment that it's really difficult."
Of course, motherhood not only affects the logistics of New Pagans, but the creative process, too. "How that affects me is time, but I am really quite a motivated person. Cahir and I work in the evenings when the kids are in bed. We write the stuff mostly then. During the day he has the kids and looks after them while I write my thesis. If he has another project on, we negotiate but I have the kind of partnership with him that we can do that and I know a lot of other people don't."
The role of motherhood in the music industry and society at large is one that Lyndsey feels is undervalued. "We can see that through the motherhood pay gap and lack of structural support for childcare and discrimination in the workplace and all that stuff but in the music industry, I think, especially if you're in a rock band there's an idea that you have to be this young carefree person that enjoys themselves to the full and doesn't have any responsibilities. I think when you try and change that to "oh this is a mother who has two kids" and she's going to rock out on stage and you're going to enjoy it, if people think about it that way, they struggle but it doesn't matter. It's good to challenge this conception that there's only one type of person who makes this type of music."
The topic of motherhood in relation to her role as a musician is something Lyndsey is deeply passionate about. Compelled to use her platform to showcase that it's okay for mothers – and fathers – to be in bands, Lyndsey cites Kim Gordon and Kurt Cobain as her inspirations in this category.
"One of my biggest heroes is Kim Gordon, I love her stuff. I read her book Girl in a Band a couple of years ago. She talked about having her baby Coco, how hard it was and how they took her on tour. I really enjoyed that as a woman who hadn't even had kids yet. I enjoyed the prospect that I didn't have to stop doing what I loved once I had kids, which is kind of what I'm trying to perpetuate through talking about motherhood. Cahir and I were talking the other day about Kurt Cobain and Courtney Love. I know they weren't model parents, but when they brought Frances Bean to the 1993 VMAs. We were talking about how we didn't know each other at the time, and I was only a child, but he loved it. I remember seeing the photos when I was a teenager and saying "that's amazing". There's something about how a family can be in music, and it can be still really raw and important and relevant, but they're also parents. I always think of that photo when I'm having a bad day."


This in part inspired the creation of New Pagans' latest single and music video, 'Yellow Room'. Based on the short story The Yellow Wallpaper by Charlotte Perkins Gilman. The story has been identified as an important piece of early American feminist literature. Many believe it is about post-natal depression which, a topic very close to Lyndsey's heart.
"I read Gilman's book when I just had my first baby just after that I loved it weirdly. It was very comforting for me. I started writing the lyrics [to 'Yellow Room'] and then realised that it was about this book."
Not only is the place of the mother in society of great importance to Lyndsey. The support available to mothers in Northern Ireland in the face of motherhood was a topic she elected to address head on with the new single and video.
"I realised that in Northern Ireland, we don't have a perinatal health unit. If a person who's had a baby feels reals really awful, they have to go into a general psychiatric ward and are taken away from their baby, and that is really detrimental to their recovery. I even heard that some women hadn't seen their baby for a couple of months. The fact is there's no plan to have this unit in Northern Ireland. We're the only place in the UK that doesn't have one, so the least we can do is highlight that this is an issue. It's just the start. We need to do more. It's just to highlight that this is something that's really wrong with our healthcare provision for women in Northern Ireland. So hopefully if we've even highlighted it to a few people, that's good for me."
In spite of this, Lyndsey does take some time to highlight some supports that are available in Northern Ireland. Help Musicians, for example, support parents who apply for funding to pay for childcare in order to complete creative projects. The Oh Yeah Centre had likewise planned to rollout a program to help carers create music. However, the ongoing issue with Covid-19 has seen this effectively postponed.
2020 has seen a lot of interruption to the flow of everyday life, not least to the music industry. For New Pagans, however, it hasn't all been negative. Having released their debut EP Glacial Erratic earlier this year, a solid collection of post-punk, alternative and indie rock tunes of which the influence of Cahir's former bands Fighting With Wire and Jetplane Landing cannot be denied, the band also completed a UK tour. While some dates in the south of Ireland had been cancelled, Lyndsey reflects on the pros and cons of the band's downtime due to Covid-19.
"It felt like we just gigged the whole end of last year start of this year we just were gigging every weekend so we've had time to write which has meant that we're now recording our debut album which will come out early next year so that's really positive but I think at the moment we're all just dying to play a gig or go to a gig. Anything. I'm getting those pangs myself and dreaming about setting up and driving somewhere. We'll get it eventually. We just have to be patient."
In the meantime, with such an important topic discussed, no doubt a by-product of the wider gender imbalance in the music industry and in society, one can't help but ask what we can do to improve the muting of parenthood in artistry. As already established, Lyndsey reiterates the importance of having the conversation.
"I think it's just about challenging our unconscious bias. Making sure that we don't think "that's a mum, that's a parent, they can't do it". Ask them to do it, see if they can negotiate and get it done. Talking about it is really good, and asking questions about it and not being nervous. I know not all parents will want to talk about this stuff, but they might be thrilled if you ask them "how do you do this? How do you practically make this happen?" Even if you're not a parent, it could be something that happens to you in the future, and it's something so important to our society. We need the next generation of people coming up, so we need to support the parents. Never be biased towards them, even though it's easier said than done, and talking about it and not making them feel like it's something they should be ashamed of or embarrassed about. In some interviews I have felt that. They've been very dismissive if I try to talk about motherhood. In the past I've mentioned it, it was written out and it wasn't included. In a way it was indulging my idea that people had a problem with it." Danny Kilmartin 
'Yellow Room' is out now
Photo by Aaron Cunningham