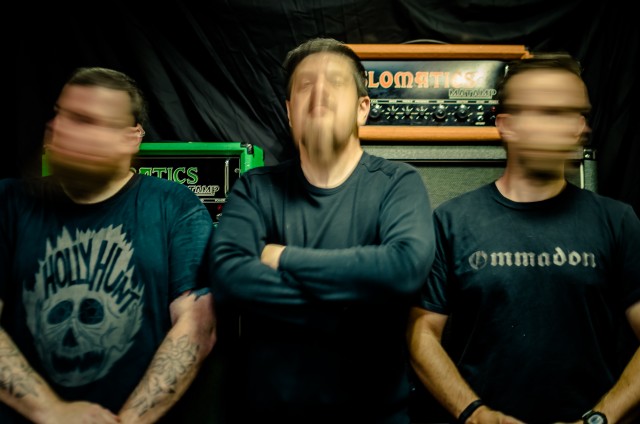 Belfast's primary exponents of titanically heavy sludge, Slomatics, give us a rundown of some of their all-time essential tracks, from krautrock through to horror OSTs. Hawkwind – The Watcher
Live Hawkwind albums can be a real mixed bag, and even for fans with as low a quality threshold as me they can be fairly disappointing. I'd avoided The '99 Party Live for years as I assumed it was recorded in 1999, a bit of a low point for the band, but this was actually recorded during Lemmy's last tour with the band in '74 when the concept of 1999 was still very futuristic, and therefore very Hawkwind. It's the band in their absolute prime and the turbo-charged version of ' The Watcher' is an absolute highlight.

Can – Mushroom
I know this is from the one Can album everyone chooses, and I could easily have gone for any of the other early ones, but this is the first Can record I heard so I'm still transported to that place every time I hear 'Mushroom'. Eerie, weird and absorbing – if there is another band that sound like Can I have yet to hear them. Even today they sound totally unique and timeless. Genius!
Part Chimp – Dr Horse
A hugely inspirational band for me, I first saw them opening for Mogwai in the Mandela Hall about 15 years ago. They sounded like their amps were about to meltdown under all the fuzz, volume and feedback, and their songs seemed to all be just one riff that just slowly disintegrated over about four minutes. They somehow sound as skull crushingly loud on record as they do live which is some trick. This song is from their split with Torche, and is a perfect example of that dying amp tone in action.
Amon Düül II – Eye Shaking King
Back to Germany for these psych-rock maestros. They get lumped in with Can but sound nothing alike, I think what I like most about this album (Yeti) is that it is a guitar record that was recorded in 1970, but has no basis whatsoever in the blues. The song structures are all over the place, almost folky in places, and this song has the title I most wish we had come up with in 'Eye Shaking King'.
Osees – Upbeat Ritual
During our last studio session at Start Together we had a discussion with our producer Rocky about whether any band had ever released more than six truly great albums. I'd argue that Osees are one of the very few who have, and even more impressively this is their 23rd. Their insanely prolific output, often two albums a year, is equally matched by their consistency. This is just the latest in long line of psych-garage-kraut-
experimental-unclassifiable classics, and this song sums up their weird eclectic sound really well.
The Fierce and the Dead: Dug Town
We came across this band playing at a festival in Germany. Lovely people, but we missed their set due to delays and even after having a great night talking about our shared love of Voivod and Celtic Frost with them, I was a bit wary of the prog tag. Their music is certainly grounded in prog, but isn't at all retro or overtly showy, and feels like it could have been released at any time over the past 40 years. This is my favourite song from the The Euphoric album which has soundtracked lockdown in my house.
Stereolab – Des Etoiles Electroniques
What I love about Stereolab is that they are a band for all occasions, like there's never a time I don't want to hear Stereolab. As essential as Black Sabbath are, there are times when they just don't fit the mood, whereas this song is as perfect the morning after as it was the night before.
Saint Karloff – Interstellar Voodoo
This one is included at the insistence of our drummer, who has just paid an outrageous amount for a double studio/live version of it. It's seems like every time we think we've reached saturation point with Swedish retro-doom rock, up jumps another banger. We played with these lads at a festival in a sand quarry in the Swedish forest, where their trippy fuzz rock was just the perfect soundtrack. 40 minutes is an impressive feat for any song too!
Sinoia Caves – Run Programme: Sentionauts
I like a lot of soundtracks and could easily have picked almost any Carpenter or Goblin, but this one has a creepy undercurrent that just makes it such a compelling listen. It's a great example of a soundtrack being integral to the film, not just providing a background. The atmosphere this song creates in 3 minutes is unbelievable, and utterly transformative. Absolutely beautiful!
Sonic Youth – Female Mechanic Now On Duty
I have almost no critical faculty with Sonic Youth, but the 'A Thousand Leaves' record could well be my favourite of theirs. At the time it felt like a bit of a departure from the more direct Dirty/Goo era which seemed to confuse some SY enthusiasts, but the meandering and at times fragile sounds of this album, and in particular this song, really resonated with me. It feels like a band utterly unmoved by commercial influences, something for all musicians to aspire to!
Check out Slomatics' phenomenal, extensive discography on Bandcamp.