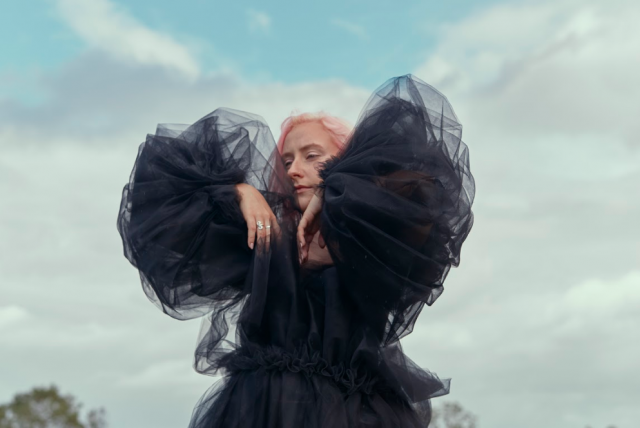 We can almost count on one hands the acts who've truly pushed against boundaries and thrived in the most challenging year for creatives in modern history. One such person is Constance Keane, who – aside from recently reuniting feminist punk act M(h)aol – has started her own record label (TULLE), made some of the most interactive underground radio shows in Ireland, performed several live sets, released single 'two_' with top-notch remixes, and today she rounds her year out with the release of 'tonnta'. The song and video have already started to gain global traction, with plays on KCRW and NTS, and had a bespoke Dublin-wide scavenger hunt for a PR campaign, complete with custom QR codes and Easter eggs.
Self-directed, and shot by her brother Colman Keane,  the video features eight dresses created by Constance during lockdown, worn by close friends and family. Combining electronic and textures, 'tonnta' is another wonderfully minimal, yet powerful slice of the kind of experimental pop she's come to master over the last few years. A celebration of her grandmother's life, it explores the nature of caring for someone with dementia, and lasting connection. 'tonnta' is one of the most restorative pieces of music you're likely to hear all year. We had a chat with Constance about the single, her new label, 2020, and how next year is shaping up for her.
So, the first time we really chatted to you was around the subject of mental health when one of our favourite Irish tracks of TTA's lifetime, 'h_always', came out. You've come a long way since then – not least reuniting your post-punk band and starting an international label in the TULLE collective over lockdown. Today, you're releasing a new single 'tonnta'. There has always been something of a cleansing element to your music, and 'tonnta' underscores a five year journey taken as a person and artist. How do you feel about that?
Haha that's very nice about h_always, thank you. I really appreciated the support you guys gave me with that release. It's been a very eventful few years alright. I feel like releasing' h_always' was a bit of a turning point in my music and my approach to my work in general. It's such an open song lyrically, my vocals are much higher in the mix than my stuff before, and releasing something I wrote and recorded in less than an hour was definitely new for me.  It's interesting for me to listen back on, and to perform, because I was in such a different space when making it to where I am now. Since my breakdown and inpatient treatment in 2017, I've moved country, started new projects, picked up old projects again, worked with artists I love, and most importantly gotten to a space mentally where I feel quite capable and excited about life and my work. Life isn't smooth sailing or anything, but being able to enjoy the special moments and approach things with curiosity again is wonderful. 
I'm really glad you get the 'cleansing' sense of my music, because that's exactly what it is for me. It's my way of sitting with, and processing things. 
What was it that brought you to create something as ambitious as TULLE, and how it did come together?
Yes, so I've started a record label in a pandemic. TULLE came about while I was in London, having countless conversations with amazing women working at various labels. I knew I wanted my music to come out on a label owned and run by womxn, due to the subject matter and vulnerability of it. I was recording some vocals with Katie O'Neill in the Domino Recordings' studio in Brixton, and she suggested I start a label myself. My instant reaction was "absolutely not, I don't know what I'm doing", and all the other things that often spring into a woman's mind when these things come up. We got the tube back from Brixton to North East London after one of the sessions, and half shouting over the noise of the Victoria Line, I was like "maybe I'll do it?". 
I had been having conversations with women pretty much the whole time in London about ways to improve the gender imbalance in the industry, so once I started saying "I might do this thing" to people, everyone was really encouraging. Emily Kendrick and I went for ice cream, sat in a park, I told her what I wanted to do and she said "I'll do it with you". Emily is the Director of Project Management at XL Recordings, and I met her and Katie while I was working at Young Turks. I also met Melika Mills and Hannah Partington there, who I am so lucky to have working on TULLE with me. When I talk about it I get so excited. I just feel so lucky to have amazing people around me. Fabia Jones Russell at Young Turks gets a special shout-out because I actually can't count the amount of times I've texted or called her being like "WHAT AM I DOING". I think it's really important to have spaces run by people with underrepresented voices in music, whether that's physical spaces or things like record labels. When you're dealing with an industry that is absolutely dominated by straight white cis men at decision-making levels, there's a real need to offer something else. 
And has the label's refreshing ethos been met with the kind of support across the industry as we'd hope?
It's been really encouraging to see the positive response to the label. I mean, yes, we've had some people (straight white cis men) who are upset that something in the world isn't made for them, but to be honest across the board it's been a very positive response.

The musical component to your music has always been intrinsically linked with the visual – and more recently, fashion. Do both sides come together during the creative process in tandem, or do you find one informs the other?
The visual aspect of the album is incredibly important to me. Making the videos, and telling stories with textures and imagery is as important as the songs. With Fears, I try to blur the lines between music and visual art, especially in my live performances so I'm really excited about how I'll present it to people when we can do that again. 

Sometimes both visual and musical elements will happen at the same time. Some of my visuals, for instance, are filmed when I take breaks and go for a walk while writing music. I'm generally walking around thinking about the track I'm working on, and if I see things that I think match up with the mood or feeling, I like to capture things then and there. I also work a lot with footage and images from my archive. I think as my music is generally quite reflective, it makes sense in my brain to look back on photos and videos taken at the time I was going through things. I have heaps of footage and photos collected. Some of it will never see the light of day, but I like having visual representations of experiences or emotions I had. 
Other times, things are much more planned. The video for tonnta had been in my mind for quite a while before pressing record. I think because there are so many layers to contextualising my nana, and what she was about, I wanted to take time in advance to do it correctly. 

So obviously, 'tonnta' – Irish for 'waves' – comes out today, and even by your own standards, unlocks some deeply personal track than before. Could you tell us the story behind it?

tonnta is finally out, after me sitting with it for probably like four years. I wrote this track about my Nana, who has since passed away, and the experience of loving and caring for someone with dementia, while celebrating the deep connection that remains throughout. I had this idea of dementia being like waves. As each wave hits, the disease progresses, and it can feel difficult to stay above water. It's about when the carer becomes the cared for, but the love for each other stays the same. 
The video for tonnta is my highlight of 2020. It was inspired by a photograph of my Nana from the 1970s, which is the single artwork. She was incredibly fashionable. She taught me how to sew when I was a child in the box room of her house in Beaumont in Dublin. I started making these big dresses this year during lockdown, which was the first sewing I had done in years, and I felt connected to her through that. The idea of having a bunch of incredible women in these big dresses seemed very her. My Mam and my sister are in the video, I directed it, and my brother shot it, so it was really nice to make something together inspired by someone we miss. I designed and made eight dresses for eight women in two weeks, which upon reflection was a bit mad and I would probably leave myself more time next time, haha. 
Again, even in the run-up to today, you launched a poster campaign in Dublin, encouraging a safe, original way for some interaction, with QR codes scattered across the city, creating a scavenger hunt for adults. What sort of Easter Eggs did you include?
Yes, so I wanted to figure out a way of presenting my work in a way that connects people, at a time when we can't do a lot of the normal single launch activities. Bríd O'Donovan came to the video shoot for tonnta and took amazing portraits of all the women involved. Once I got to see the images, I knew I wanted to do something public with them. I came up with the concept of an interactive poster installation in Dublin, in the lead up to the single launch. Before the track came out, I wanted to contextualise it and start telling the story. Cathy Flynn designed the posters, and each one has a QR code on it that links to a different piece of work I've created each day, like videos, photos, audio recordings. It's been so nice to see people having fun with it, taking photos, sharing them, and having a laugh during  a time where everything still feels quite tense.

I think my favourite thing of the whole week is a photograph of a recipe my Nana wrote, for these buns we used to make together when I was a child. We'd always do pink icing on them but I'd usually mess it up and put too much red food dye in and then have to keep diluting it until there was way too much icing. When my Granda passed away, my nana's dementia had progressed quite a bit. I was trying to think of things to do in the week of his death to keep her feeling safe and connected. During his wake, I made the buns and me and her and my sister sat at her kitchen table icing them with pink icing. It felt very special to me. 

There's also an audio recording of my sister talking to my Nana, which I really love. We were sitting in her greenhouse out her back garden a few years ago, and they were talking about her childhood, so I just clicked record on my laptop. I didn't have a mic or anything, but I just wanted to try to capture what was happening. I'm so glad I did because I now have a recording of my Nana telling some of her own story.
You've managed to bring together a lot of people in a difficult time, and made the most of the limitations imposed upon you. All considered, are you happy with how 2020 has been for you? Were there any particular highlights?
That's really nice to hear, as that was the exact aim of the tonnta campaign overall. Someone asked me recently what drives me, and I think it's facilitating connection. 2020 has been absolutely bizarre for me, as it has been for everyone. With the pandemic, I ended up with no work and moving home to Dublin with not much notice. Where I live, I see basically no one I know, other than Róisín (the singer of M(h)aol), who I go for walks with like once a week. 
As 2020 comes to a close, I feel kind of proud of what I've managed this year, but any of the stuff that people might mark as "success" has been done from my childhood box-room, so to be honest, a lot of it doesn't feel very real yet. Maybe this single release will be the start of it feeling real. The release of tonnta, and the experience of doing that with my family around me, is probably the highlight. I feel so supported by my friends with this release too, they've been amazing. It's been a bit mad like. It got played on KCRW the other day and that blew my mind. I'm sitting in my bed in Ireland listening to someone in LA play my song that I recorded in my bedroom. 
Can you tell us what you have in the works for next year?
The first full length release on TULLE will be in the first half of 2021. That's all you're getting for now. 
Watch 'tonnta' below, and buy it on Bandcamp.