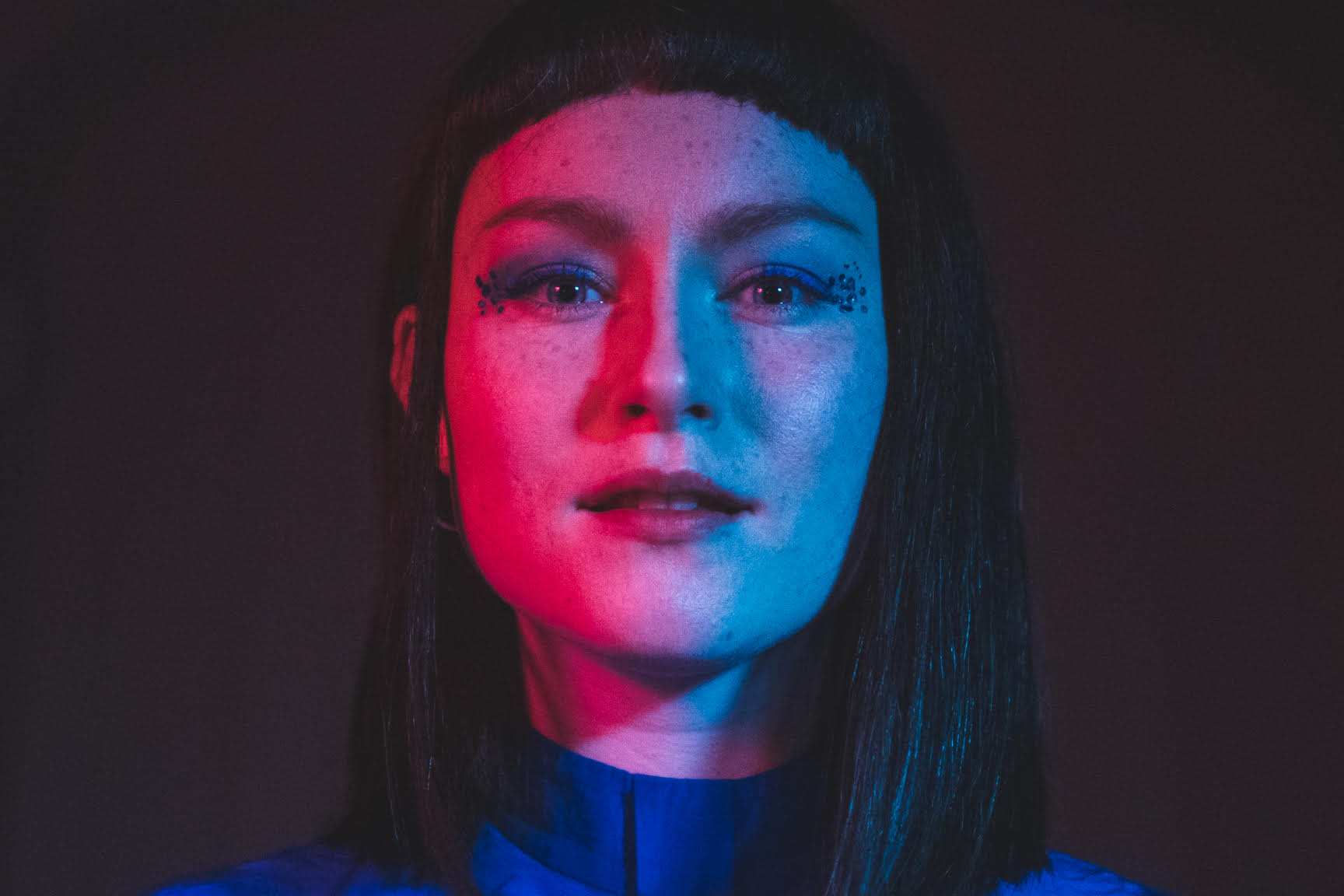 Over the last few months, Dublin-based artist Aoife McCann aka Æ MAK has well & truly ramped up her perfectly unpredictable brand of future pop. Off the back of her class Class Exercises EP, and the euphoric visuals for 'New Friend,' Brian Coney talks to her about the cyclical nature of pop, winning the praises of Jamie XX, her upcoming debut album & more.
Photo by Anastasia Metluka
Hey Aoife. Congratulations on 'New Friend'. For our money, it's easily one of the Irish tracks of the years so far. How was the writing and recording of this track for you?
Thank you! I made it in my bedroom last October. I started with the beat after watching CLTV Films bombing around the ring of Kerry on Instagram – they were bouncing to Jamie XX's 'GOSH' in the car – I was like I wanna make a song to a power drive beat like that. The song is about a new relationship with a woman and not wanting to commit to anything real because of the fear that comes with labelling your sexuality and coming out – so musically I wanted to keep it in this dark sexy rebellious dreamscape, with the choruses like a satirical soundtrack to that fear. Recording-wise I made it all on Ableton with a MIDI keyboard – the only organic recordings are my voice and the rain pattering outside.

Not to jinx it but it's been a while since I've seen a well-received music video have zero thumbs down on YouTube. Was it as fun to make as it is to watch?

There is now one thumb down, was this you? The shoot was mad, yes. First off it was the first time we'd been around a group of people socially in months so that was exciting in itself. We shot it in Zanzibar Locke Hotel and got to set up camp there for a couple of days – Mark Logan, the director and the CLTV team turned the hotel into a carnivalesque world, some lava lamps, taxidermy, ball pools, m&ms, vagina paintings and a Gerry Adams cake in there. They hired a 1940s Mitsubishi convertible and we drove around the motorways with our clown chauffeur BOOSHEE, played by Caitriona Ni Threasaigh – driving with four police vans chasing us and pulling us over by the end of the night, nobody got arrested but that's where it got to. The team at CLTV are really special people to work with – it's more of a holistic artist retreat than anything else working with them. A lot of fun. Good clean fun, ye know yourself.


The single is taken from your recent EP, Class Exercises. The opening track, 'Jamie' is a great way to kick things off. Tell us a little about the curious titling of that particular track.

I made 'Jamie' during my Ableton classes last summer – we'd to pick reference tracks and one of mine was a Jamie XX song so I named it after him and wrote about our fantasy love affair while I made tunes down in my dungeon. He heard it! His mgmt mailed back saying, "He loved it, died". So I don't know, I think it's getting pretty serious between us now. 
Appearing on the Tommy Tiernan Show must've been a real trip. How was the experience for you?

It was very much in and out and keeping everyone safe of course, but it was exciting to perform with a live band again and feel that buzz, it's been so long. Was really nice being asked to do it – especially to play I dance in the kitchen which was the first song I made in the first lockdown to spread some hope about. 
It's obviously been a very uncharted, and uncertain, time for musicians and creators everywhere. In what ways have you tried to navigate things, in terms of taking care of both your art and yourself, over the last year and a bit?
In terms of making things, I've been lucky in that I've been focusing on learning how to produce and using Ableton as an instrument to songwriter with – if I hadn't had that over the last year I don't know what I would have done. So I had to adapt and change how I approached recording and creating songs which has had a massive positive effect on me artistically.

Taking care of myself has been harder, I think I've just been navigating it day to day, trying to find routine and not sticking to it and starting again and then feeling really guilty and riddled with self – doubt when I haven't been productive that week or written something that makes me excited. When you're not socialising, moving forward and being inspired by people around you – I've found it hard to embrace downtime and to embrace crazy productive time, just this limbo of filling out your own energy and learning to be content in your own company. Walking every morning and cooking yummy dinners has been the daily focal point. The happiest I've been this last year was doing an 8-week group exercise and food course with a PT before Christmas. Working out does crazy wonders for your brain so I'm trying to get back into that and make it a part of my life again but it still feels like January after Christmas, in May. Didn't learn how to navigate I guess haha, just riding the wave here along with everyone else. 
You've been described as a "future-pop auteur". What kind of pop music from growing up has made an imprint on how you approach your own singular take on the genre?
Yeah, that sounds good, doesn't it? Here's to the future, haha. My parents are big music lovers, my dad especially is a music encyclopedia – Talking Heads, Madonna, Neil Young, Elvis were house favourites, growing up Simon & Garfunkel's Bridge over Troubled Waters and The Beach Boys' Pet Sounds were two of the main albums I was obsessed with that were played at home or on holidays – I was always mad into harmonies and singing different melodies over the melodies playing in the car as a kid. I loved Britney and Amelie and Samantha Mumba and made up dances to their songs in front of bubble tv like all the other kids on the estate. I don't know what's had an imprint on how I make music but some of the above made me fall in love with it. 

On which note, in an ideal world, what would the future of pop look like to you?

I don't know. Maybe less fake bullshit. Everything comes in full circles and starts again, doesn't it? Electronic pop is very much now, I'd say that'll get more and more extreme like the PC Music world output and eventually it won't be cool anymore and back to basics pop will be cool again, maybe, I don't know. I was chatting with my partner about it, we were saying it'll move with technology and eventually young people will rebel against technology and social media and that'll change the energy and sound of pop music – back to bands at the forefront too.




Your music portrays the meticulousness of a very driven and focused artist. There's a sense that you're certain where you want to be and how to get there. Is that the case?
I don't know. I just know what feels good and right and what excites me and makes me laugh and makes me feel like me. I know I want this to be my life, yes. My definition of success has changed a lot over the last year, but if I get to make music every day and perform it for a living, I would be very happy about that. I don't know how to "get there" but I'm certainly hopeful and in terms of creative fulfillment maybe I've already buckin' arrived.

There's always been a real, almost tangible kinetic quality to your compositions. It's something that obviously manifests on-stage. For me, it calls to mind the likes of Confidence Man, but which artists, past or present, have informed this approach? 
I love Confidence Man, they're gas. I don't think any one artist has massively informed my approach, I think I create and perform in a way that feels most natural to me, but of course I admire and drool over the likes of David Byrne and Aldous Harding – artists who don't just make music but create a different world to fall into visually and energetically. I was a theatre kid, so that's been a part of me since a young age and is a big part of how I express myself on stage.

Insofar as any of us is able to predict the future, what does the next few months look like in the world of Æ MAK?
I'm finishing "the album", amn't I. It's quite good.