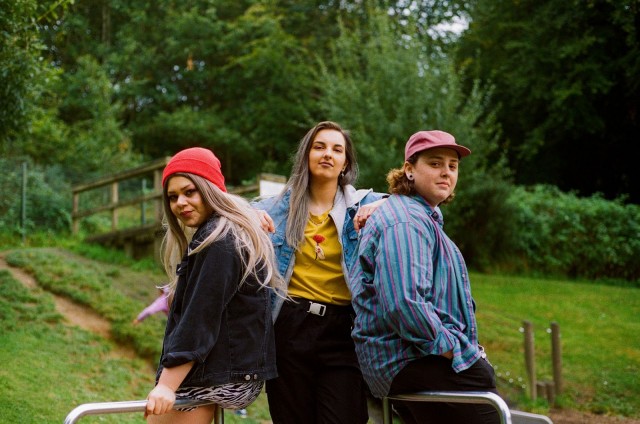 CHERYM are on the precipice of a monumental Summer. Hannah, Nyree and Alannagh have been locked away in their Derry practice space, crafting the tracks that will make up their new EP, spearheaded by new single 'Listening To My Head'. It's a short, sharp guitar attack, as immediate and exhilarating as the drink their record label, Alcopop! takes its name from. Taylor Johnson caught up with the pop-punk trio just days after their new single dropped to talk resilience, Blink-182 and the fight for their signature.
Hi gang! Thanks so much for talking to us today. Somehow in the most horrendous year, you've managed to elevate yourselves to a whole new level. You have a brand new booking agent, a new record about to be released, a new label and now this new single! How are you feeling?
Thank you so much for asking us! Even though the pandemic slowed things down a bit, it's been a really positive year for us, it feels amazing to have so much support from everyone we're working with right now and it just feels like a really great team. It looks like a lot of great things came out of such a sh*tty year.
I'm sure there were times things felt tough, success doesn't make up for such a widespread health crisis. What was the most difficult time you had to face this year?
As a band, the most difficult thing was really just not getting to see one another, everything we had planned for 2020 had to be put on hold and it was tough to accept the reality that our career had just been halted, suddenly at that. We couldn't write (as a band) for a while and we couldn't practice, so we just kind of had to communicate virtually and although it worked fine, it wasn't ideal and it was certainly tough. It's not the type of job where you can just kind of work from home.
In all the new press shots we've seen so far, Cherym look like a more united front than ever. Do you think going through tough times can galvanise a band?
100%! I think that we've been able to look at our lives in the bigger picture, although life had just stopped for a while, it gave us a bit of time to reflect on who we are and who we want to be as a band and I don't think we could have done that being on the road for so long. We've definitely become a lot closer over the course of this year and we definitely jumped right into this new era of CHERYM once we knew exactly who and what we wanted to be.
You made another incredibly exciting announcement recently, there is light at the end of the gigging black hole! Can you describe how it feels to have your first UK tour booked, alongside Cheerbleederz no less?
It feels absolutely amazing! We met Cheerbleederz at the Manchester Punk Festival in 2019 and we never worked quite closely with any other band before but it feels great to have some label buddies we know a bit better now through the course of planning this tour and just chatting to them and getting to know them, so it's very exciting to be going on tour with such amazing people.
What are you expecting from an English crowd, compared to Belfast and Derry? You get to end it with two dates in Scotland, which promises to be insane!
You best bet it will be insane! We're just expecting people to be able to get out there and enjoy themselves and a CHERYM concert is the best place to do that. They've been locked in their houses for god knows how long, I'd like to hope they'd go mental if they got the chance! But we're just expecting nothing but good vibes and great f*cking people!
It's something Lyndon Stephens (Quiet Arch/Champion Sound founder and NI legend) would have absolutely loved, do you often stop to imagine what he would be thinking of your continued success?
I think he would be proud, Lyndon was determined to see us do well and championed all of his artists massively! I think he would definitely be pleased we got to play the virtual great escape this year, every year he helped us apply and talked about the possibilities after playing a festival like that! We miss him dearly.
NME named you one of the top bands to catch at this year's virtual Great Escape Festival. What's it like reading about yourselves in a publication with that kind of history?
A little surreal I think. We all held NME on a pedestal considering this was the mag we all read as kids and had imagined what it would be like. It sounds cheesy but getting that feature was literally a dream come true and we're still not over it!
The new single then, 'Listening To My Head'. It's the kind of anthemic Summer banger we've come to expect from Cherym now, with tonnes of heart and an 'arms in the air' chorus. Can you remember writing it?
Yeah, I (Hannah) was in the middle of bingeing Dirty John on Netflix, (I get very easily emotionally attached to series' that I enjoy lol) and I remember thinking "Fuck, that guy is an absolute douchebag." For those who aren't familiar, it's a show based around an upper class couple Betty and Dan Broderick, where he ends up being a scumbag and the end result is that Betty ends up murdering Dan and his lover in their home. I felt like Betty was done dirty, and 'Listening To My Head', I guess, is a product of that.
For a track with so much joy radiating out of it, there's a definite sadness under the surface. How therapeutic was writing that tune, and what does it mean to you when you let that first riff loose in the practice room?
I think we had a lot of fun arranging it in the practice room, it was SUPER fast that's the first thing that stands out to me looking back. I remember not having lyrics and just shouting the melody with the type of rhythm flow I wanted for it into a mic and thinking "this sounds great". I suppose given what it's about there is a type of sadness but it's definitely not ours, we love this song and it's probably one of my favourites when it comes to playing it live!
It gives me the same kind of feelings as when I hear anything from Blink-182's self titled album. A song like 'Feeling This', it's beautiful – but it fucking hurts! Does that resonate with your music at all?
Yes! Blink-182 are definitely a major influence to our music, and yes I suppose that was the vibe when we were writing this song. People have always called us a punk band, but our music really isn't that punk. 'Listening To My Head' feels sort of punk though, and I guess it felt right to kind of have a song in the middle of the set that the audience could rock out to and dance like mad edjits. Give the people what they want, yeno.
Does the record have a definite message at its heart? Or is it more of a collection of short stories?
I think for 'Listening To My Head', it's a short version of our views when watching Dirty John. But it is also a big fat fuck you to Dan Broderick.
Alcopop Records are such a cool label, it must have been a dream signing that contract?
It was a dream come true honestly. We can't believe how lucky we have got with this label. Its totally for the artists and not to mention how fucking class Jack is!
Did it all come about naturally? How many labels were fighting for your signature?
Yeah well we were chatting back and forth and then when we went over to the studio, we said to Jack to land down and we'd hang out for a bit. Showed him the songs and that was that. The other 50 labels had to get lost then…
Finally guys, with all the hype this year you've only added fuel to the Cherym fire. Do you have any plans for 2022? A full length album, European shows perhaps?
We have big fucking plans (if Covid beats it). There could be a few more collective songs to be released this year… Ye never know hi. Everything else is secret so shh!