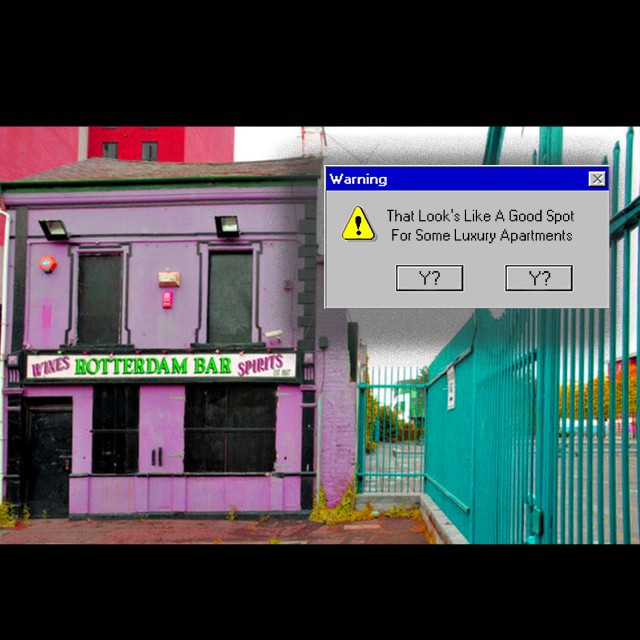 Fresh off the nihilism train and galvanised against unfettered capitalism and government-sanctioned mass property development, Donegal's finest, Tuath are back with 'That Looks Like A Good Spot For Some Luxury Apartments', the final single from their forthcoming Research and Development EP.
The band pushing the extremes and cranking tension between glossy production and pointed critique, it's drawn from all manner of establishment-bothering works – from Adam Curtis' culture-jamming neoliberal explorations and Mark Fisher's theory of the 'slow cancellation of the future' that's been happening since around 1994, through to one of the last truly anarchic and anti-capitalist movements in music, vaporwave.
The single's accompanying satirical cover artwork series features each major Irish city [Belfast pictured above] to highlight the rampant gentrification and property redevelopment endemic across the island. As seen in the lyric video below, Tuath have little interest in vagaries. Indeed, they tell us "Research and development itself is a corporate phrase. Like we've seen in vaporwave, the regurgitation of corporate culture has value as a means of critique. I like its simplicity because it doesn't mince words with metaphors."
Singling out the "Revival/Reboot"-addled loop we're stuck in, Mulhern's crooned vocal doubles as both a knowing wink to a culture hinging on nostalgia, and an unironic tribute to 90s R&B, as he tells us: "I sang this in the style of Boyz II men and the 90s cliché as it seems we're obsessed with looking backwards and not forwards, and I wanted to subvert that popular 'ironic' harking-back sound, but because I sincerely really like it. I just feel like we need to revolt against capitalism before cultural change happens and unfortunately, as Mark Fisher said: 'it's easier to imagine the end of the world than the end of capitalism'".
"The manufacturing of consent has made it so that during this process the cost of houses going up is seen as a sign of a good economy but what it really means is we are being robbed more effectively and with greater cynicism than before while the engineering behind the homeless crisis gets more efficient – the knocking down of prominent venues in Dublin to construct more hotels, for example. Galway being turned into one large Airbnb complex, for another. Swathes of foreign investment firms buying up newly-erected estates to rent out, morally propped up by our government."
Watch the lyric video below, and pick up the single here.