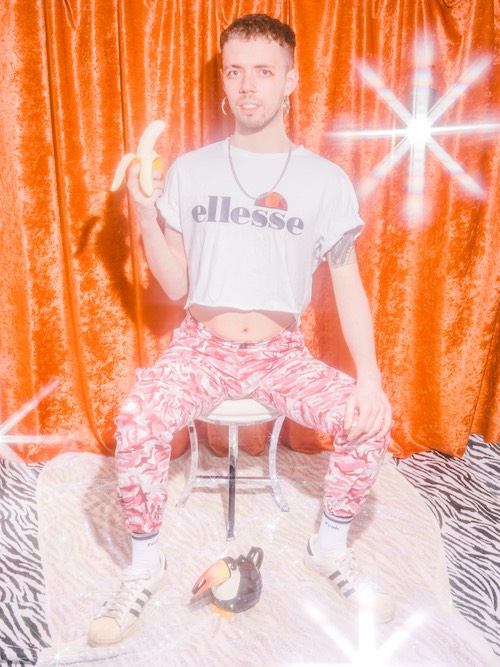 Arriving on the Belfast scene like a bucket of pink paint into white, Dan O'Rawe, aka F.R.U.I.T.Y. brings a chameleonic, singular blend of woozy, lo-fi electronica, hip-hop and experimental pop, underscored by the ingrained localised perspective of a queer person in Northern Ireland.
Following up on his contributions to Bangers N' Breakups, a darkwave cover of 'Bela Lugosi's Dead' and debut single 'Not Quite Exceptional', new single 'U.P.S.' is the first single taken from F.R.U.I.T.Y.'s self-titled debut EP, out 5th August. It sees Tobacco & Eels-esque hazy, kaleidoscopic synth textures frame off-kilter, identity-exploring pop in the vein of Ezra Furman, Jazmin Bean & easy life. All of this is underscored by O'Rawe's trademark conversational, deadpan vocal in his native accent, which equally channel the self-coined language of early Beck, and offer fragments of insight into his internal & external environs in the way Kojaque and Slowthai have done with theirs.
A labour of love for O'Rawe, it's on the surface a laid-back summer-comedown single, with an entirely more complex story: "I put it together over the course of two years because I simply couldn't finish it. I get easily distracted and tbh, fed up working on a lot of overly stimulating things, so I make my songs in many pieces – like a puzzle that stamps various periods of time in my life. I guess that also reflects in the lyrics, especially "insomniac days, they keep repeating". It's the summer loving comedown. The doubt, the reflection and the ending of those summer days" – something underscored by the blissed-out, yet tired mind we hear on 'U.P.S.' Stream it below.