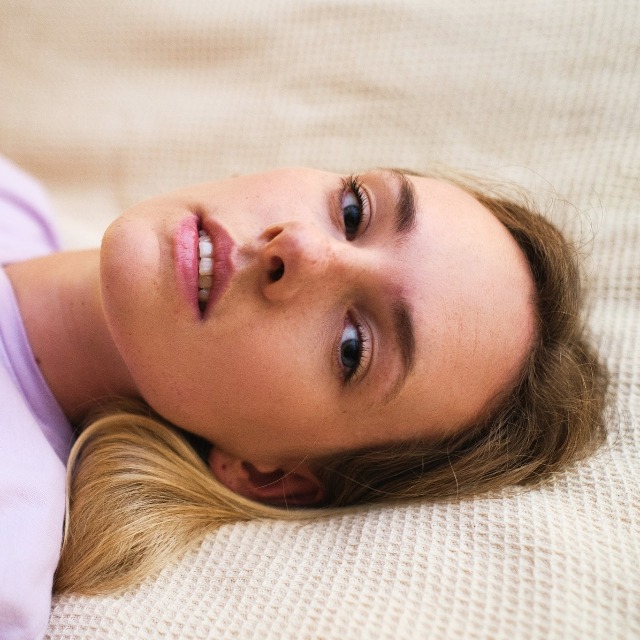 Off the back of her new single 'Temporary State' Irish indie-folk artist Jackie Beverly takes us on a tour of some of her all-time favourite songs, featuring Phoebe Bridgers, Laura Marling, MUNA and more.
Muna ft Phoebe Bridgers – Silk Chiffon
How could I not have this as the first track for this mixtape? I adore MUNA and I would definitely say that Saves The World had a major influence in my earlier releases. The fact that Phoebe Bridgers features on this though is just perfect. It's a great song to start your day with.
Laura Marling – Held Down
I love this track so much. Laura Marling is an artist that I often visit in winter. Her songs are the perfect accompanyment for evening walks when it starts to get dark really early, and the street lights are that gorgeous pink colour before they light up properly. I read in an interview that Laura allowed herselve to be more decadent with the production of this record, something that really comes to focus with the vocal layering and harmonies. It's a beautiful song.
Billie Marten – Mice
I remember hearing Billie Marten's voice for the first time when I was on the bus home from work. I was enthralled. I love when you discover an artist completely by chance and spend the next few weeks engulfed in their music. During this period I came to know every nook and cranny of Billie's first full length record – Writings of Blues and Yellows. It's a stunning piece of work. This song is from her second record Feeding Seahorses by Hand. Listen to the melody of the first line in the chorus. Oomph.
Little Wings and Feist – Look At What The Light Did Now
This is the song I used to learn how to play barchords on guitar. Whenever I pick up the guitar it is without fail the first song I'll play. I still don't know all the words. I also came across this song randomly one night sitting at my kitchen table just going from song to song on Youtube. I miss finding music that way.
In Tall Buildings – John Hartford
I wouldn't know this song if it wasn't for my brother and my mom. My brother will play guitar and my mom will sing along to it whenever we have a session at home. I think this is the first time I've listened to the original actually! The lyrics are so bittersweet and sum up perfectly how I feel about going to work. If I ever quit my day job in the city I'd love to go be a groundskeeper on a big estate in the country side somewhere and spend all quiet days working outside.
Phoebe Bridgers – Garden Song
I wouldn't be staying true to myself if I didn't feature Phoebe twice in this playlist. I will be the first to admit that I went through that really awful phase where people thought pop music was lame, and so I would try to only listen to "alt" music that no-one had heard of, while secretly blaring all the chart hits at home. Anyway, Motion Sickness got me out of that phase THANK GOD and I've been a huge Phoebe fan since. I would say she's been a big influence in the direction my music has taken, My favourite lyric from this song is "the doctor put her hand over my liver, she told me my resentment is getting smaller".
London Grammar – Hell To The Liars
Been a huge LG fan since day one. This is a track form their second record. I love the production on it, especially towards the end when it gets to that gorgoeus big build. I hate the idea of having to keep tracks short for the likes of Spotify and other streaming services. I struggle to keep my songs under 4 mins while trying to achieve a nice big build like this track. This song stands at 6:10 and it's perfect. It's also blatantly obvious that it's where I got a lot of inspiration for my recent sing Temporary State.