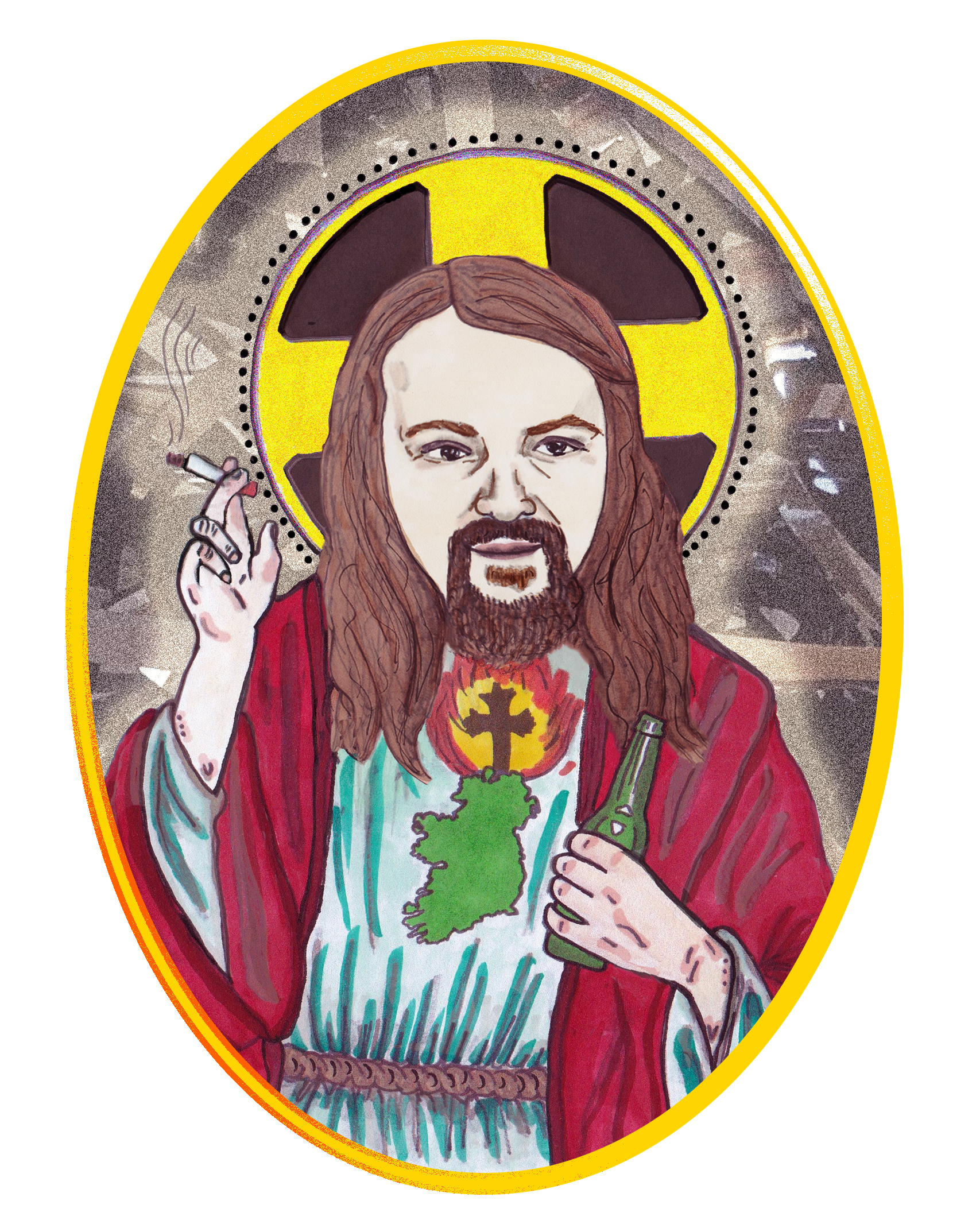 Jude Barriscale pays tribute to her close friend, and much-loved TTA favourite Aengus Friel Lawrence, aka Shammen Delly, who sadly passed away in February
Illustration by Loreana Rushe
We're at an afters house party, all of us sat in a circle in the living room. I ask for the acoustic guitar from someone who's just played a Fleetwood Mac cover to great acclaim. Ill-advisedly, I play a song I've been working on, which isn't ready and I'm far too inebriated to do it any justice. The cringe monster crawls up my spine as I approach the end and I trail away, mortified. No one looks up except Aengus, sitting cross-legged on the floor on the other side of the room. He smiles, winks and repeats a line of my lyrics back to me. All warmth. Giving me the strength to laugh it off, the permission to let it go. That's him.
He'd traverse the library of colloquialisms in his head for the exact thing to say to make sure no one felt bad. Delivered with charisma and deathly humour. Once I gave him some vegetables on the side of his dinner. Knife and fork poised politely, he cut a tiny triangle, nibbled it and said, "That's lovely there, hi." I knew he was lying and I loved him for it. So generous with his time and his character. He looked out for you in ways that he never felt the need to tell you about, always supporting you directly from a distance. I feel so lucky to be his friend. Everyone loved him. He loved them back.
The creativity was seeping out of him. He couldn't not be working on some deep-fried sounds or visuals up in his dark room covered in religious iconography, gig posters and tape reels. A sacred-heart-red warm glow off the place. Every night you'd spend with him in the dunge, as he called it, you'd wake up the next day with a heap of new tunes he'd introduced you to and hazy memories of laughing until your belly ached. His taste was eclectic, but usually with a colour of darkness, or grittiness, or something ethereal. Usually with a long yarn behind it. His humour was much the same. The man was a walking, talking, chain-smoking folk tale. Timeless, ancient, a part of the land.
I keep thinking "Honour him, honour him, honour him" like some kind of dodgy cult mantra and smiling because he'd think that was class. I think honouring Aengus looks like what you're doing right now. Or like the new music you're going to check out. Do, check it out. Or maybe it looks like leaving a lovely comment or sharing your friends' successes. Or going to gigs, festivals and parties and making sure everyone is having a good time. Turn the big light off. Scatter some warm ambient light around and make each other laugh. Like our Aengus. I will miss him so very very much. Jude Barriscale
shammendelly.bandcamp.com // soundcloud.com/shammen-delly