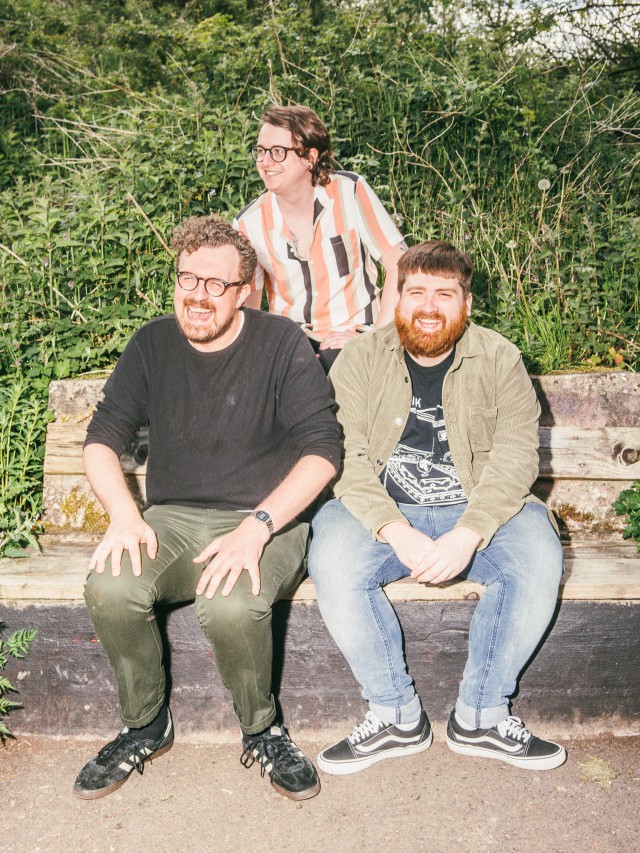 Chris Leckey, Carl Small and Wilson Davidson, aka Belfast indie-punk trio Mob Wife, share with us some of their strongest influences ahead of the release of their debut album Eat With Your Eyes this Friday. They launch their album at Ulster Sports Club for Asphyxia Promotions on May 12.
Thee Oh Sees – Ticklish Warrior
Carl: I first heard this song at a house party back in 2017 and instantly fell in love with this band and went out and bought a number of their records the following day. That very simple opening guitar line had me hooked and the band were very much a sonic inspiration for me when making our album.
Pile – Hair
Carl: For this track I just loved how delicate it was and wanted to incorporate some of that into our sound. None of our own tracks quite reach that level of softness but the inspiration of this track really comes out in the closer track from the album. I had a lot more of the natural acoustic space in the mix to try and let the song breath a bit more like 'Hair' does.
Metz – Mess of Wires
The drum sound for this album was probably my biggest sonic influence when producing our own album. This track was recorded by Steve Albini so I just tried to educate myself on some of his techniques and essentially tried to mimic them while still adding a few of my own things to give us the Mob Wife sound. This Metz album was mastered by Matthew Barhart who we got to master our album and I'm pretty fucking happy about that.
Protomartyr – Half Sister
Carl: I really don't have too much to say about this song other than it's just class! That ending! I was listening to a lot of Protomartyr when making our album so it would be stupid not to include them.
The Grateful Dead – Playing In The Band
Wilson: Although The Grateful Dead are a relatively new discovery for me (thanks Stevie), there are so many aspects I find myself drawing inspiration. The biggest of all however is the ability each member has to go off on their own during the song, and still find their way back effortlessly to join in on section changes. 
Playin' In The Band is so effortlessly in 5/4 that I can't help but love it too.
LaFaro – The Ballad Of Burnt Dave
Wilson: It goes without saying that LaFaro are the best band Belfast has ever seen. I remember discovering them with Chris around 2010 and instantly falling in love. Alan Lynn is, hands down, one of my favourite drummers of all time and this song in particular helped me fall into the "follow what the riff is playing" mindset when writing drum parts. 
King Gizzard and the Lizard Wizard – Spider And Me 
Wilson: KGATLW are undoubtedly one of my favourite bands of all time, and by proxy a huge inspiration. This whole album in particular was a game changer for me. The contrast between their heavily garage rock/psych sound to this chill/jazz album really helped challenge how to approach writing parts when the distortion is off. Any band who can release a jazz album, an acoustic album and thrash metal album is alright by me.
Pavement – Cream of Gold
Chris: Pavement are one of those Holy Shit bands where you hear them for the first time and audibly exclaim "holy shit". I've loved and listened to Pavement since I was around 16 but just around the time of the album I started doing some real deep dives into them.
The B-52's – Give Me Back My Man
Chris: I have to admit that I thought The B-52's were just the band from The Flintstones who also did Rock Lobster and Love Shack. I was wrong and quickly found myself deep in a hole with them. Their kitsch pop style is almost vomit inducing but it's so good.
Built To Spill – Made Up Dreams
Chris: This song is so good it's almost annoying; its melodies, chords, structure are all super simple but it's just genius. Built To Spill influenced the more fluid elements of the album and how to not be frightened of taking the song far away from the main melody.