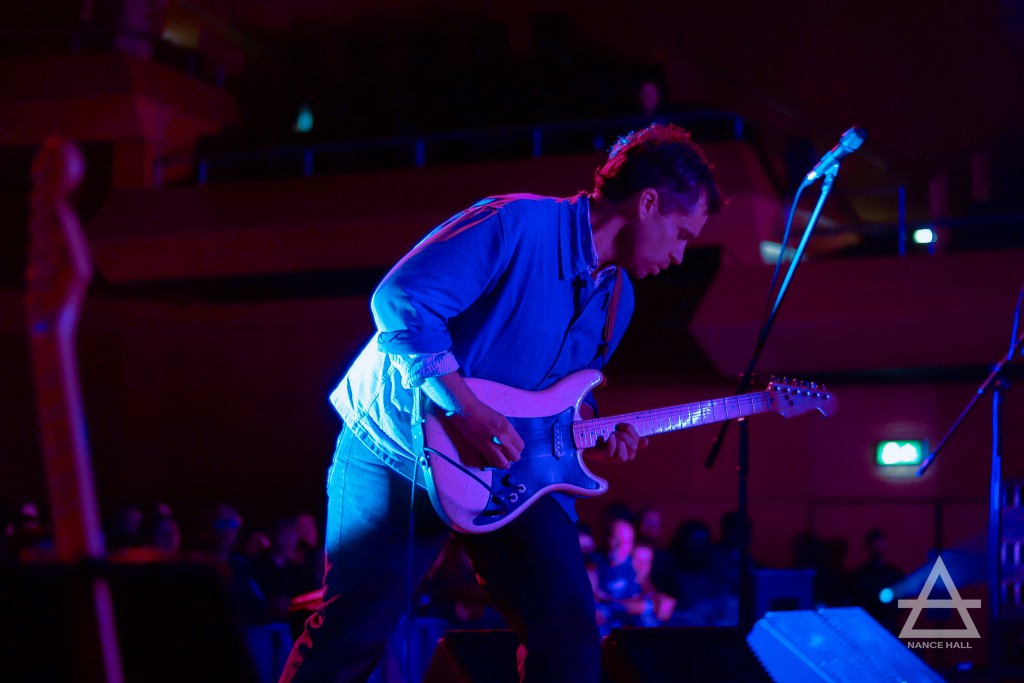 As the stage crew carry out the last of their tasks, the countdown to Parquet Courts' arrival draws imminently closer. The stage of Dublin's Helix is bathed in a low red hue, which gives off more of a dance club aesthetic to proceedings, as opposed to the fact it is about to host one of Brooklyn's foremost indie bands. With the crowd beginning to gather, the club vibe is emphasised even further as the sounds of Todd Terje's take on M's 'Pop Muzik', and a remix of Timmy Thomas' 1970s' song 'Why Can't We Live Together', pulsate from the PA.
The foursome appear and set up shop with Sean Yeaton (bass/vocals) centre stage, flanked by Andrew Savage (guitar/vocals/keyboards) and Austin Brown (synth/keyboards/guitar/vocals), with Max Savage (drums/percussion) set up at the rear. They start things off with the synth-driven 'Application/Apparatus', from last year's Sympathy for Life record, with its chugging bass, squealing guitar and pounding drums, merging seamlessly with Brown's array of reverberating sound effects.
Next up is a double helping from 2016's Human Performance, with the title track and 'Dust' highlighting the indie guitar-driven sound the band were initially pegged as being the rightful heirs to. Savage's vocals sounded a little muddled during the former, though thankfully no such issues arose during the psych-infused latter, which had the crowd, head-bobbingly engaged throughout.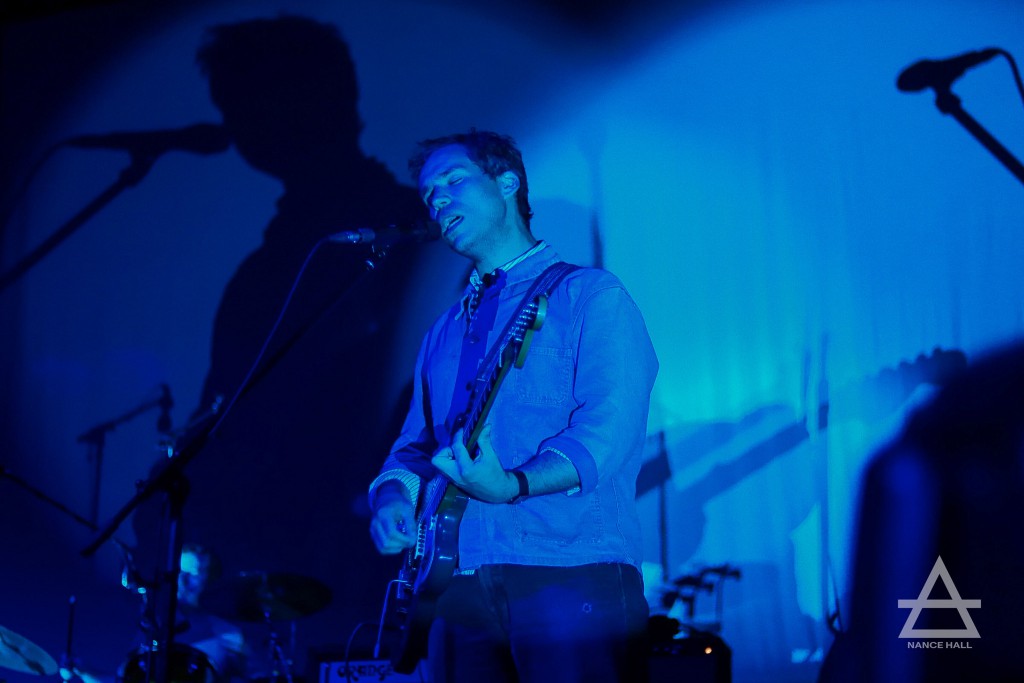 'Almost Had to Start a Fight / In and Out of' picks the pace up a notch, and the first five to six rows of the audience, particularly those in the middle, are pogoing as if their lives depended on it. 'Marathon of Anger' sees Brown join Yeaton on vocals, which includes a dash of Ian Curtis tones from the former.
With its dual percussion sounds, 'Wide Awake!' the title track from the 2018 Danger Mouse-produced album, gets the place hopping, while Brown bounds around with an energy that is positively enrapturing. It is a tune that highlights just how far Parquet Courts have evolved their sound, which at one point seemed destined to bubble just below the hyperbole surface, as it may have seemed they were content with the indie guitar slackers title that had been bestowed upon them by all and sunder in the music press.  But just like Talking Heads, the move from indie punk rock to more dance-immersed sounds, evident during 'Plant Life', has meant they are a band not prepared to rest on their laurels.
After Savage states how much he honestly loves visiting and playing in Ireland, they blast into 'Stoned & Starving', which sees all previous mosh pit attempts seem rather pitiful, as a large circle pit emerges, with all involved becoming a haze of flailing limbs. It is performed in such a gloriously messy manner, and received such a fervent response, it would've been the perfect way to end the show.
However this was not the case, as 'Pulcinella' was given the nod to see out the show, an odd choice in this writer's mind, as its near seven minutes plodded along and took the edge off what was a rather thrilling 85-minute performance. Conor Callanan.
Photos by Nance Hall.