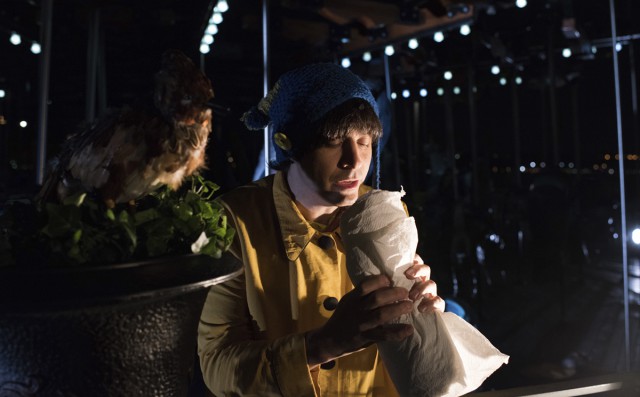 Formed in the 90s by Julian Koster of the hugely influential Elephant 6 collective's Neutral Milk Hotel and Olivia Tremor Control – experimental indie project The Music Tapes are set to perform their first shows in four years in Ireland this week. Blending musique concrète, narrative storytelling, homespun recording techniques and homemade instrumentation, the performance will see Koster accompanied by a 7ft dancing, trombonist polar bear.
Jerry Lewis – Boardroom Scene 
From the mid century movie the Errand Boy. Gosh it's a kind of genius at its peak.
Disiz – Casino
From his new Album. I really loved his last one. His music often makes me jump around. And it really helps with doing the dishes. Except I break them sometimes.
The Goon Show.
Any episode of the Goon Show is great. Very special stuff. I'm glad Spike Milligan toughed it out to make things as long as he did, so I can laugh at lines like:
WOMAN: Reginald! You're back!
MAN:Why yes, I brought it with me.
Ida Lupino – One For My Baby
From the 1940's film Roadhouse. I love her voice and what she is able to communicate with it. This and one other song are all that exist of her singing.
Elaine Stritch – The Ladies Who Lunch
Elaine Stritch brings it for all of us. May we all someday bring it so much too. Sondheim should've bowed down before her.
Yuri Norstien – The Hedgehog in the Fog
Something gentle beautiful and good.
Elza Soares – Deus é Mulher
I love her so much. I want to be like her in my 80's. I'm not sure I'll ever have a very convincing growl though. Then I want to be like Marshal Allan in my 90's, and also, live in a big house with donkeys and elephants who are allowed to sleep on the beds.
GZA & The Soul Rebels: NPR Music Tiny Desk Concert
Boy they're great!
Mildred Bailey – Thanks For the Memories
This is pure soul stuff and sweetness itself.
The Music Tapes play Belfast's Duncairn this Friday, July 8 – tickets here – and Letterkenny's Regional Cultural Centre on Saturday, July 9 –  tickets here – with support from Belfast indie rock outfit Buí on both dates.