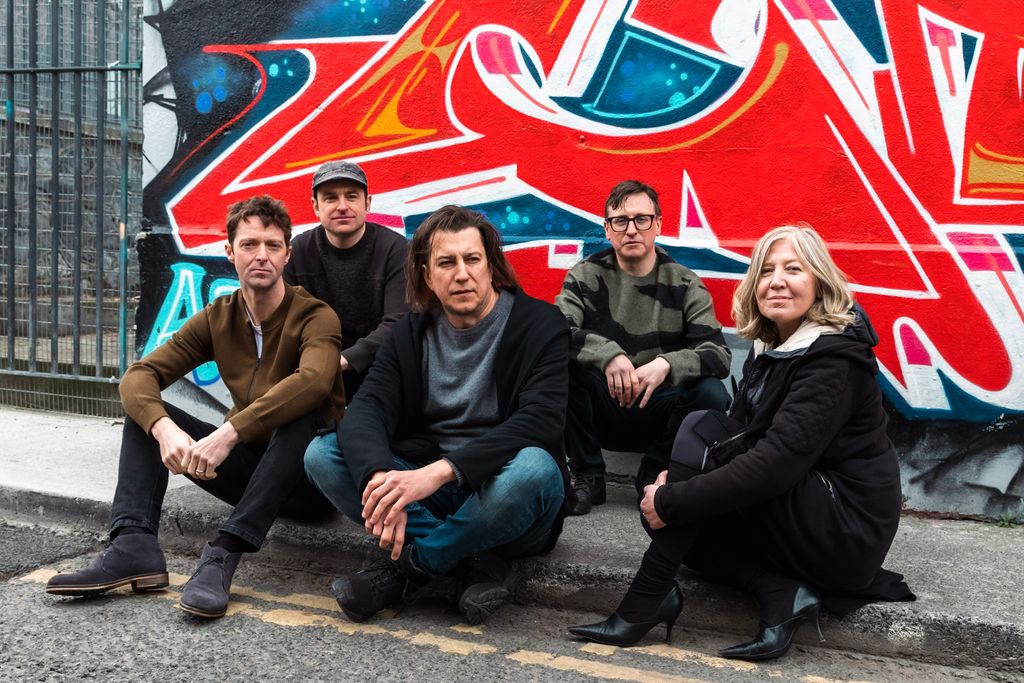 Ahead of the release of their debut single 'Basquiat's Widow,' Shane Regan and Paddy Lyons of Dublin indie/art-rock band Akrobat wax lyrical about some of their all-time favourite songs, featuring Sonic Youth, Charlotte Gainsbourg, Velvet Underground, Silverbacks and more
Sonic Youth – Kool Thing
This song bursts with gritty attitude and swings in Kim's understated lyrics and vocals, Thurston's wailing guitar lines and a bizarre cameo from Chuck D. It's what true indie rock should be and the song is an unapologetic flag for the counter-culture. It sounds as fresh today as it was way back in 1990. The song is quintessential New York City and a true masterpiece. A big inspiration for Basquiat's Widow.

Kevin Morby – City Music
Morby is one of my favourite songwriters out there today. This song is one of his best, and is quite dream-like in its construction, with no obvious verse or chorus lines. The lyrics are minimal and when I listen to the song I feel I want to get myself downtown and catch a gig before the lights go out. The guitar playing is sublime and floats in the air like a wave, looking to answer Morby's call to find some city music.

Patti Smith – Birdland
I saw Patti play at the Royal Albert Hall in London, and she turned a large auditorium into a Camden Town punk gig. It was all there – the sweat, the screams, the intensity, the vulnerability and the power. Birdland is the song that truly encapsulates a true artist and maverick. The song is an infused mixture of jazz and beat poetry, and whilst its meaning is open to interpretation the feeling of alienation is at its core. No wonder it has resonated with the generations since it was first released! Ageless.

Shuggie Otis – Inspiration Information
I discovered Shuggie through a friend more accustomed to house music than anything with a guitar, which is the magic of this song – it transcends boundaries. It's weirdly dark and loving, and kind of like funk music's equivalent to shoe-gazing! I can imagine a young Prince listening to it and picking up his funky guitar lines and beats. The song and album went under the radar when it was released in 1974, and Shuggie has never got the fame his talent deserved. But it's a cult classic, and I believe Jay Z is a fan!

Charlotte Gainsbourg – Deadly Valentine
It's hard to not listen to this song and not feel like dancing! Even though it's quite dreamy and in a minor key, it is full of energy and tension, funk and electronica, and oozes sensuality. The song is positively addictive and as you get lost in it, you afterwards realise it comes in well over 6 minutes! Some very cool synths, bass lines and keys pull the tune together and Charlotte's voice is sublime. It feels very post-modern, and something I can imagine as a dance scene cut from Blade Runner from an alternative universe (with Charlotte acting of course!).

dEUS – A Shocking Lack Thereof
This one is pure and loud avant-garde! A song that climbs out of the underground and drills a hole inside your chest. The lyrics are gritty and the vocal descends into a nightmarish and dystopian interpretation of the ridiculousness of modern comfort and suburbia. The use of the guitar is truly unique and on another plane to other alt bands of the time, or indeed, since. Often simple, but extremely artistic and musical. Another band that don't have the recognition they deserve, but with a true cult following, and an art-music visionary in Tom Barman. Paddy regularly rips off one of Craig Ward's guitar lines in this song. A free Akrobat t-shirt to anyone who can spot which one.

Lounge Lizards – Voice of Chunk
The Lounge Lizards were the outsider's jazz band. I mean, these guys could play with the best of them, and I picture people throwing away their tea-bags in protest. This song is maybe the pick of the bunch and is at once angular and melodic. The notes screech and wail, and somehow they knit together to form a knock-out tune. This organised chaos approach to music has certainly influenced some of our style, especially when we are trying to infuse seemingly different genres in the one song. These guys did it long before we arrived on the scene.

The Velvet Underground – I'm Set Free
The Velvets invented alternative and indie rock, and there are very few songwriters who can deliver a song with the emotional intensity of Lou Reed. Leonard Cohen once observed that one can always tell the lie in a singer's voice. There were no lies in Lou's voice, and "I'm set free" captures all that is great about the band – brilliant lyrics, an uncomfortable edginess, and melodic accompaniment that would lift any song. Like all great artists, Lou had vision. The line "I'm set free to find a new illusion" seems more potent now than it did in the 1960's. Come back Lou, we miss you.

Wet Leg – Being in Love
These guys have exploded and for good reason. They are damn good! I love their observations on daily life, and their mockery of expectations put on people to follow the conventional path. "Being in love" is a great indie-pop song, with an addictive bass line and vocal delivery, and a nod to some of the great songs from the 90's. In a strange way, these guys actually remind me of Nirvana without the noise. Simple chord progressions, ironic lyrics, and an ear for a very cool song.

Silverbacks – Dunkirk
We gotta have an Irish act on the list, and these guys are one of my favourites on the scene. "Dunkirk" (also produced by Daniel Fox from the incredible Gilla Band) fills your head the same way a great book flows off the page. This song is pure magic. Catchy lyrics with a brilliant delivery, and the guitar playing is from the same songbook as Television and Talking Head, with brilliant rocking changes in intensity. I'm not sure what the lyrics mean exactly – that we somehow got to be saved from what we are doing? I reckon so and whatever it is, this song is a belter.