News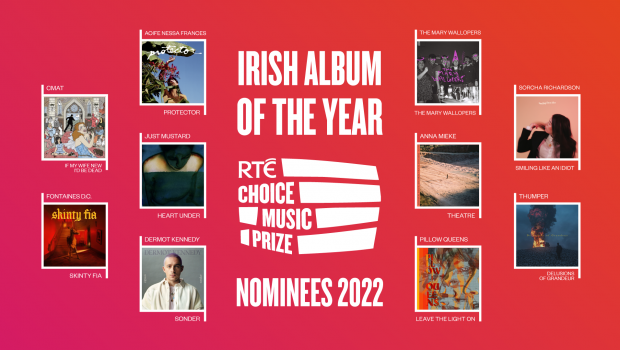 Published on January 9th, 2023 | by Stevie Lennox
0
RTÉ Choice Music Prize Shortlist Revealed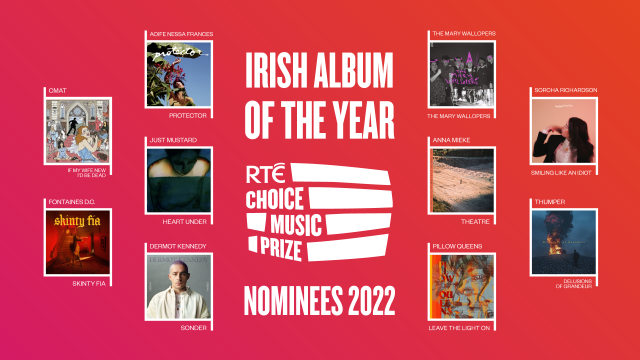 The shortlist for the 18th annual Irish Album of the Year in association with IMRO and IRMA has been revealed, as well as the announcement of three new prizes. The nominees for the main prize are as follows:
Anna Mieke – Theatre (Anna Mieke under license to Nettwerk Music Group)
Aoife Nessa Frances – Protector (Partisan Records)
CMAT – If My Wife New I'd Be Dead (CMATBABY)
Dermot Kennedy – Sonder (Island)
Fontaines D.C. – Skinty Fia (Partisan Records)
Just Mustard – Heart Under (Partisan Records)
Pillow Queens – Leave the Light On (Royal Mountain Records)
Sorcha Richardson – Smiling Like An Idiot (Faction Records)
The Mary Wallopers – The Mary Wallopers (The Mary Wallopers)
Thumper – Delusions of Grandeur (Eva Magical Music Sounds)
Adam Fogarty, Head of Music, RTÉ 2FM, said "It's been another year of quality music from Irish artists which we're looking forward to celebrating on 2FM. The new prizes, particularly Irish Artist of the Year and Irish Breakthrough Artist, along with Irish Song of the Year will ensure that we get to put an even bigger spotlight on incredible Irish artists and recognise their achievements over the last twelve months."
The winning Album of the Year act will receive €10,000, a prize fund which has been provided by The Irish Music Rights Organisation (IMRO) and The Irish Recorded Music Association (IRMA). All shortlisted acts will receive a specially commissioned award. The Irish Album of the Year award is selected by a panel of eleven Irish music media professionals and industry experts. The list of judges is listed on the Choice Music Prize website. 
Throughout this week, 2FM's Tracy Clifford Show will broadcast further announcements and activity around the event, scheduled as follows:
Irish Artist of the Year – shortlist announced Tuesday 10thJanuary
Irish Breakthrough Artist – shortlist announced Wednesday 11th January
Classic Irish Album – further details announced Thursday 12th January
Irish Song of the Year – shortlist announced Friday 13th January, with a public vote opening after the announcement
The ceremony will take place live at Vicar Street on 9th March, with an exclusive broadcast on RTÉ 2FM from 7-11pm, featuring performances from some shortlists acts. Tickets for the event are on sale now from Ticketmaster.