As expertly-curated boutique music festivals go, Beyond the Pale takes some beating. Returning for three days of top-tier sounds, art and food at Glendalough Estate in Co. Wicklow across 16th-18th June, the festival is well and truly doubling down on last year's stellar first outing. Better said, it's this year's most unmissable Irish summer festival.
First, and of course foremost, Beyond The Pale sets itself apart with its first-rate musical curation. Where last year more than delivered on a wonderfully diverse, genre-spanning bill, this year's edition comfortably inhabits a space that can't be rivalled on these shores. As well as era-crossing, genre-distilling world-beaters in the form of this year's headliners – Thundercat, Hot Chip, Jon Hopkins, Leftfield and a living legend to end all living legends, Miss Grace Jones – Beyond the Pale caters to a wide spectrum of clued-in music fans.
Scanning through this year's line-up reveals a trove of must-see acts, set to perform across three days and nights at the sprawling, heart-stopping Glendalough Estate. There are palette-bending auteurs like Oneothrix Point Never, Jape, Joy Orbison, For Those I Love and the fast-rising Jockstrap, homegrown indie rock, noise and psych from the likes of Pretty Happy, Pillow Queens, Just Mustard, Sprints and MELTS, and soul-affirming highlights including Little Dragon, Saint Sister, The Skatalites, Christian Löffler, Tolü Makay, Le Boom and the legendary Candi Staton, who performs as part of her farewell tour.
And that's all before even touching on a whole host of shapeshifting electronic heroes, from Mano Le Tough, DJ Seinfeld, Morcheeba, and DJ sets from Jungle, Flight Facilities, Maribou State and David August. And some more of the very best Irish artists and producers right now, including TTA favourites Ricky Chong, Bricknasty, Ezra Williams, David Kitt, and Daithí. Basically: from top to bottom, Friday to Sunday, it's another stacked, endlessly inviting line-up across the weekend.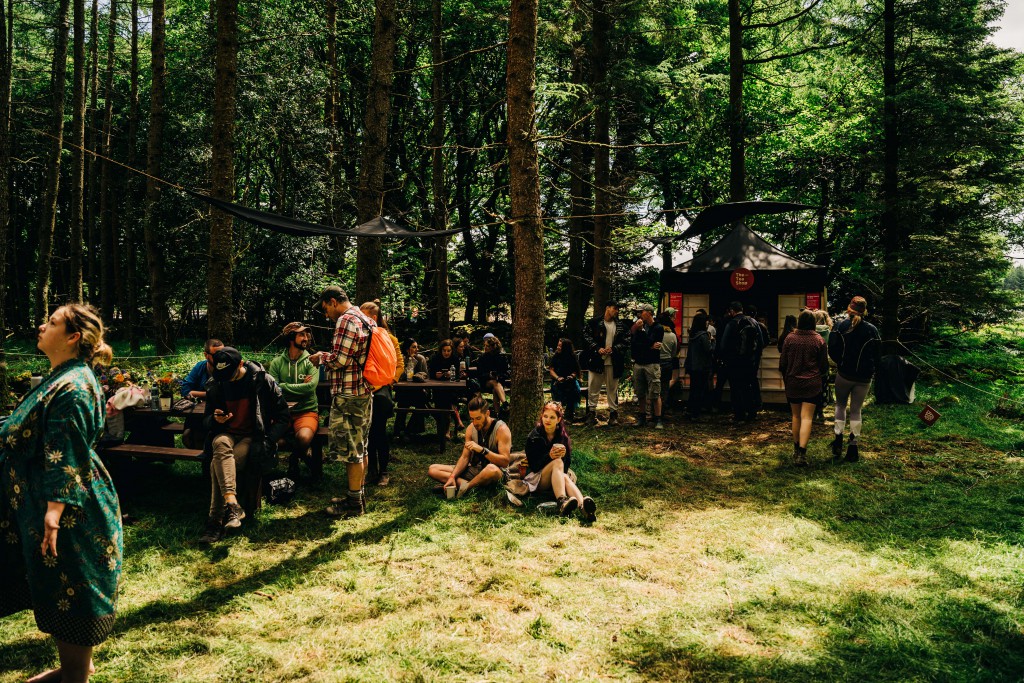 Such a blinding bill warrants a fitting beautiful backdrop and there are few more fitting than Glendalough Estate. Only a 45 minutes drive from Dublin, the festival's sprawling home is right on the cusp of Wicklow Mountain National Park, which covers over 23,000 hectares of mountains, lakes and rivers, and is the largest of Ireland's six national parks. This serene energy seeps directly into what Beyond The Pale sets out to do: create, and meticulously curate a genuinely integrated boutique summer festival that strikes a strong balance between its musical bill and everything else it has on offer.
Where better to begin with this year's arts line-up, which spans iconic installations, performance giants, circus legends, magical connections and more? There's shapeshifting artistry from the likes of Leah Hewson, Kev Freeney, Yan Takuz, and an act long beloved by us at TTA, Acid Granny. There are comedic titans like Panti Bliss, Deirdre O'Kane and Emma Doran. Cult cabaret is more than catered for in the company of Bourgeois and Maurice, Bonnie Boux and more. And you'll experience a whole lot more discipline-flipping brilliance from the likes of NCH Gamelan Orchestra, Louise McSharry, Small Trans Zine Zone, Mise FRESHIN' presents ENDTRODUCING, Sexy Sean-nós (you read right) and literal heaps more. It really is a case of which creative giant isn't performing as opposed to which is. Oh, and puc fada! We're predicting glorious things.
Tying it all together are various other escapist thrills for adults and children alike. As well as food and wine tastings, bird-watching walks, theatre, psychedelic therapies and soundbaths, there's free face painting and storytelling in family camping, an antique funfair, a Tailteann Tournaments games area, hula-hopping and much more besides. Sealing the deal is Beyond the Plate, Beyond the Pale's food tent, curated and hosted by food writer Ali Dunworth. Across the weekend, it will welcome some of the finest names in food and drink in Ireland. Revolving around the theme of food folklore, feasting and festivals, the tent will feature everyone from JP McMahon, acclaimed Irish chef Kevin Thornton, Graham Herterich, Hugh Cooney, Sheelan Yousefizadeh and more. Go here to get the full lowdown.
All that activity calls for all kinds of downtime throughout the weekend. Luckily, that's fully taken care of at Beyond the Pale, thanks to The Space In Between, its supremely-assembled programme of meditation, yoga, breathwork, sound therapy and more. Dig into what's in store this year here.
Whether you're hoping to camp, glamp or pop by in your campervan, the final remaining tickets for this year's Beyond the Pale 2023 can be bought right here. It's safe to say we'd recommend it. Note that from this Friday, 26th May at 10pm, tier 4 ticket prices increase from €225 to €245 – so best be quick.
As well as our Festival Mixtape featuring 30 of this year's most unmissable acts, check out the full day-to-day breakdown for this year's festival below