Features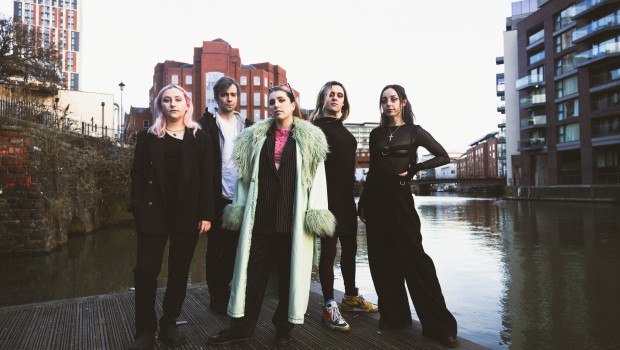 Published on May 2nd, 2023 | by Leigh Arthur
0
Redefining Themselves for Themselves: An Interview With M(h)aol

Off the back of the release of their debut LP Attachment Styles, fast-rising feminist punk five-piece M(h)aol talk fierce storytelling, breaking taboo, and representing their truth to the world
Words by Leigh Arthur
Photos by Jane Donnelly
"I didn't imagine eight years ago when I shaved your head this is where we'd be, but there's nowhere that I'd rather be." Constance Keane (also known as Fears for her solo work) is emotive as are the other members of M(h)aol as they make affectionate dedications to each other onstage in a basement in Dalston.

The strike of midnight marks the release of their debut album, Attachment Styles, which comes out as the band are in the middle of their co-headline tour with fellow queer punks Sprints and Thus Love. At this point in the show, they legally have to leave the stage in five minutes to adhere to late live music laws. There's a sense of urgency for them to play the last song before it's too late, but just when it feels like the lovefest has finished, their lead vocalist Róisín Nic Ghearailt can't help but launch into two more minutes of expressive thank yous while passing around a bottle of champagne.
The gig feels like a chaotic birthday party, with the friends you rarely see but when you do it's as if no time has passed, and in a way that's what this is. As each member lives in a different city across Ireland and the UK, they are genuinely happy to be back in each other's company. "It's a logistical nightmare and financially taxing, but it works," says Jamie Hyland, their star producer, now based in Belfast and known for her work on Gilla Band's records (yes, that Jamie from Holding Hands with Jamie). Their fierce vocalist Róisín has a pre-existing skin condition that prevented her from joining M(h)aol for their full support slot on the recent Gilla Band European tour. The remaining members picked up the slack and performed vocals in her absence, except that is for the introverted Sean Nolan who prefers to perform guitar-only with his back to the audience. An early review about the rest of the band seeming "solemn" in contrast to her performance irks Róisín: "These motherfuckers aren't solemn at all!" Now, they're all in it together and feel that having other voices on-stage breaks down a false sense of hierarchy. The embrace of this creative decision is indicative of the evolution of M(h)aol.
The band formed in 2016 and named themselves after the legendary Irish pirate queen Gráinne Mhaol, the pronunciation of which is a tongue-in-cheek nod to the 'male'-dominated landscape of bands in the music scene. During this time, Ireland was amid the Repeal the 8th movement where, for better or worse, "female-fronted" bands with guitars were asked to play countless Abortion Rights fundraisers. The country-wide uproar bound Irish feminists together and, likewise, M(h)aol began directing their anger in politically-charged songs like 'Clementine' and 'Laundries'. In 2018, after generations of protesting, the 8th Amendment to the Constitution was successfully repealed and there was a sigh of relieved exhaustion felt deeply within the community created around the movement. It was around this time that M(h)aol took a hiatus and several members left Ireland to pursue their other passions.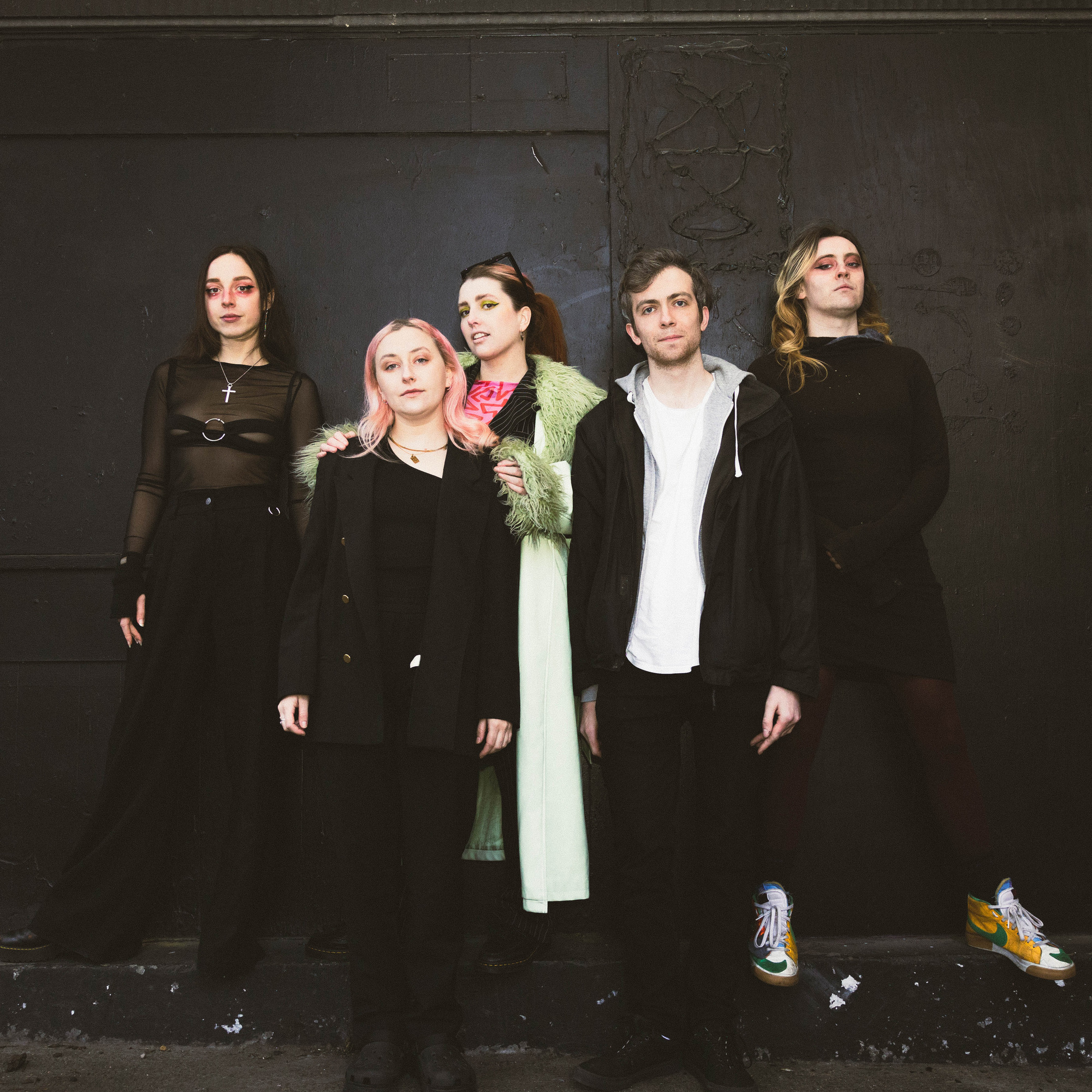 After a four-year break, they reformed with degrees in hand. A remarkable aspect in this new era for M(h)aol is each member has their own distinctive speciality: Róisín holds a Masters in Gender and International Relations, Zoë Greenway holds a Masters in Cinematography and Connie Keane has started a new record label Tulle Collective. Those years in between allowed them to grow and hone their voices as individual artists. Now, bringing those qualities into M(h)aol, it has kept them more focused than ever.
In speaking to them about this process, it becomes harder to simply define M(h)aol as a punk band. For the members, it has felt more like a collective where they reflect and respond to each other's art via written word, audio and visual output and through performance.
A prime example of how this collaboration works can be found in 'Period Sex,' the newest single from Attachment Styles. They had organised to write and record the new album in just eight days – a challenging feat for any artist. Róisín worked on the lyrics beforehand and her degree has given her a new perspective on how she goes about the writing process. "On day one all of your papers have to be addressed in the first person," she says. "There is no such thing as detachment from research." Later from the stage she continues, "If you're telling a story, tell it with your chest." Róisín pauses to laugh at her own chesty voice, which has acquired a mid-tour raspiness. "We are all the stories we think about and we are all the things that we report on… say it's your reason. Don't try to be subjective."
In 'Period Sex', which she wrote for her girlfriend – who also helped her write some of the lyrics – she wanted to show a more playful side to queer stories. "There's so much about queer pain and not that much about queer joy", says Róisín. Her love for direct communication means the lyrics don't require much explanation to be understood. For the band, this makes it easier to react to. This has led Zoë, the filmmaker behind all of M(h)aol's music videos, to match very real and raw topics with a distinctly dreamy visual style. Inspired by radical feminist artists like Carolee Schneemann and Barbara Hammer, Zoë too explores expressive representations of the body through her work, often with distinctive dashes of camp and horror. She prefers a non-linear narrative, leading the viewer to come up with their own interpretations of the work, by creating abstract and imaginative sequences beyond a literal telling of the lyrical content. Filmed between their friend Katie's parents' attic and Zoë's former secondary school in Kinsale, the 'Period Sex' music video is suggestive and steamy, but is kept light with a strong sensibility for the camp. During the shoot, the Community School's award-winning VEX Robotics Team even sneaked a look into the set, while Róisín posed as Venus and Sean played guitar in a lobster costume.

However, the response to 'Period Sex' has not gone down as well as they had hoped. "It's the only song that people walk out during when we play," reveals Róisín, "During Eurosonic about 40 people left." The band feel strongly that the single's music video was "shadow-banned" across social media platforms; when it came to releasing the video, they noticed a drop in engagement in contrast to their other posts and a "sensitive content" warning when linked on Twitter. The expletive-free song was also not approved to be played on a friend's show for BBC Radio 6Music. The title card on the music video asks, "If this song makes you feel uncomfortable, you should ask yourself why?" So, while they are disheartened at the pushback, the band are undeterred and unapologetic. "This is a political feminist band and this is a political issue," says Róisín. "How are we going to break taboos if you're not even being exposed to different kinds of narratives?"
Nowadays, "punk" in the mainstream has become a vague, catch-all term. It's a descriptor that can stir resentment from bands in underground scenes who rarely see the spotlight of Primavera Sound or SXSW Music Festival, like M(h)aol have. For Irish bands that have moved to the UK, there can also be a sense of resentment from bands who have stuck it out at home. M(h)aol's vision, however, has not been weighed down by these hang-ups. For them, living between Belfast, Dublin, Kinsale, Bristol and London has only solidified a deeply-felt connection to their roots. They revel in redefining themselves for themselves, and Attachment Styles is a cathartic channelling of Róisín's rage at the norms of society, the patriarchy, and queer shame. It's an experimental extension of their lives and their relationships with each other. From the nurturing safety of their collective, they have lifted each other's voices up and gained the confidence to represent their truth to the world. Leigh Arthur

Attachment Styles is out now