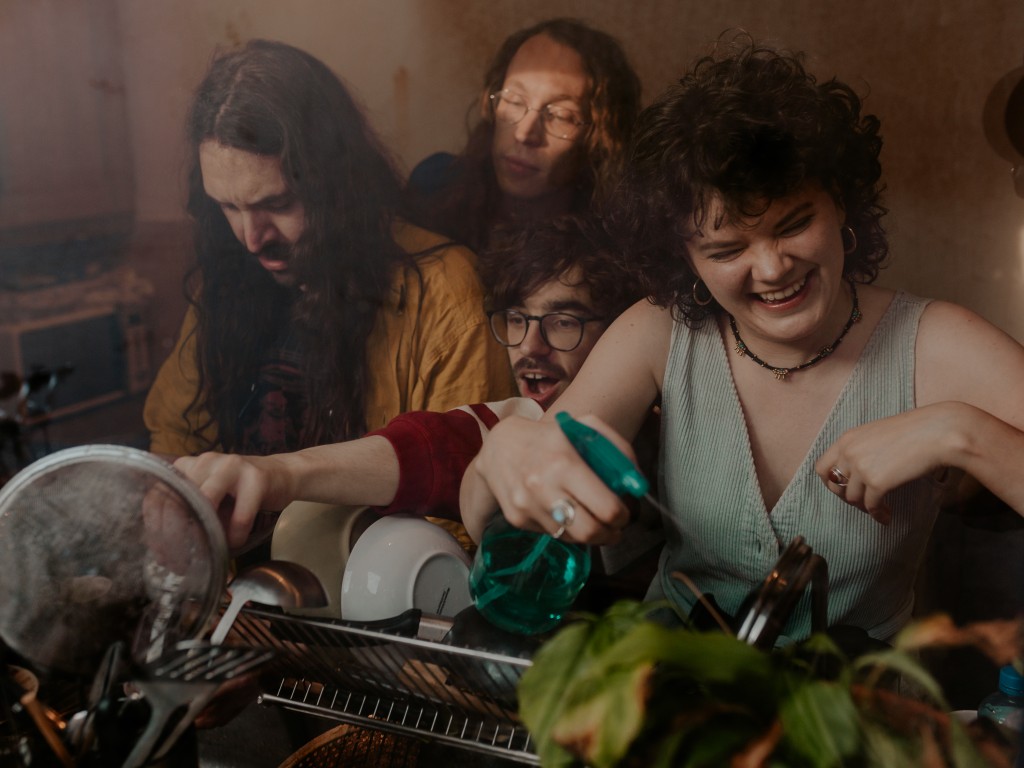 "I was working as a waitress when it came to me", says Jude Barriscale of the origin of her band's name. "It was really busy all the time, so I felt like a machine that brings you lunch. Lunch is also the break in the working day, the break we all look forward to." Apt, given how much there is to look forward to from the Belfast-based quartet.
Frontwoman Barriscale and company – guitarist Pearse Owens, Robert Mulhern of Tuath on bass, and drummer Kieran Devlin – channel disparate influences like Courtney Barnett, Deftones, Bicep, and "lo-fi hip hop to study/relax to" into something fresh, yet familiar. "Think Gang of Four and Devo energy", they tell us, "with some classic rock influences like the Stones, too."
Lunch Machine was formed in Letterkenny in late-2016 by Barriscale and Mulhern. "When I was playing acoustic music at parties, he ignorantly said, 'Can we have a jam, but like, properly instead, please?'" Living together, the band regularly rehearsed, wrote and recorded, releasing their debut EP, Alt Facts, in 2018, and single 'Mountains & Grooves' in collaboration with Tuath.
Since relocating to Belfast, the band have released 'Pipedream Graveyard', a 90s slack rocker that evokes early Built to Spill and Weezer in equal measure, that is rounded off with a chaotic 'Once In A Lifetime'-inspired music video. "The lyrics speak for themselves", says Barriscale. "We're tired, stressed and shattered. The world is fucked. How do you keep going?" 
That said, 2023 looks promising for Lunch Machine. Sitting on a reported "EP worth of solid material to release", the band will play alongside the likes of Pretty Happy and Arn throughout the remainder of the year. Danny Kilmartin
Photo by Aislinn McGinn