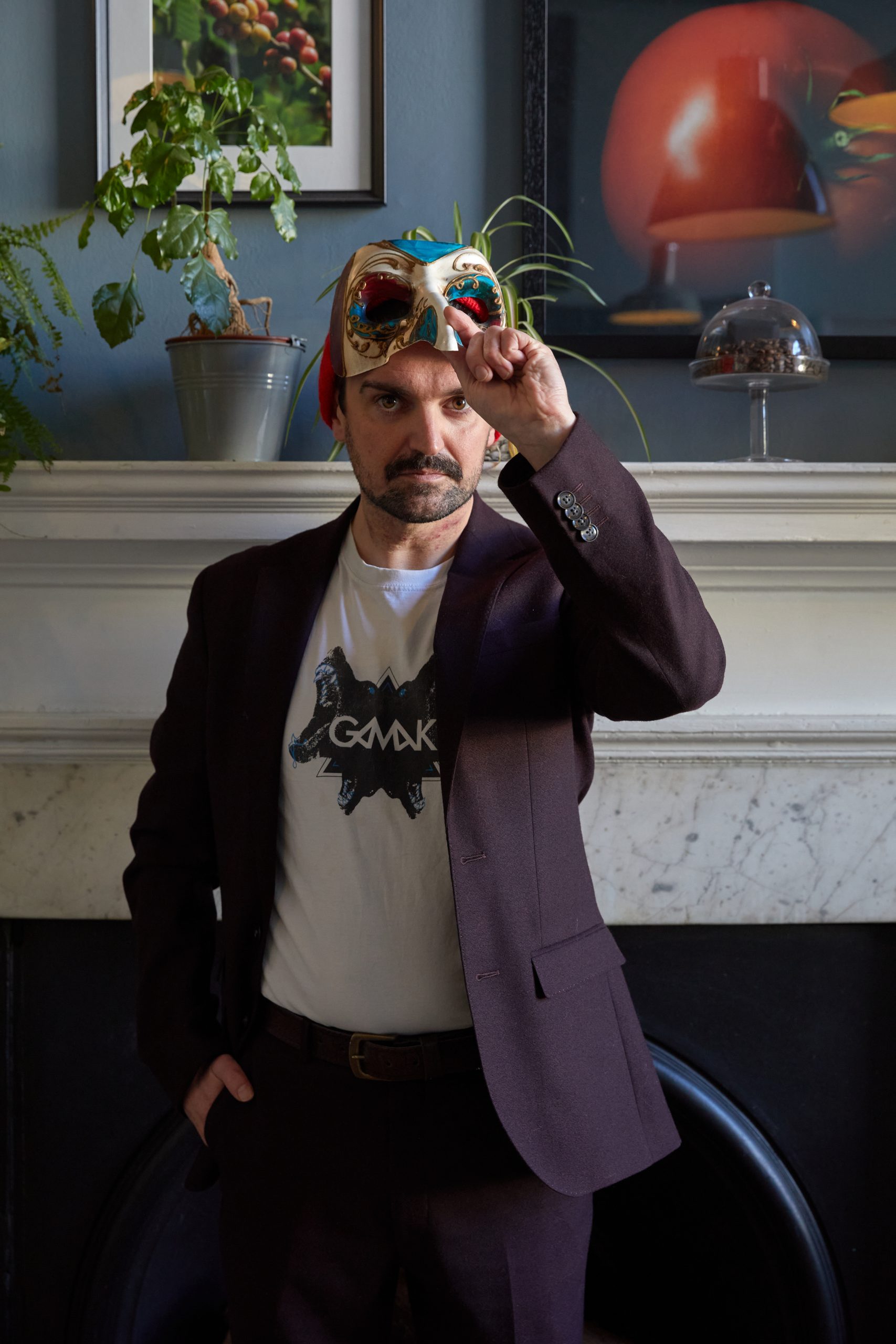 Off the back of his stellar new LP Now Is All, we chat to Dublin singer-songwriter Niall Jackson aka Swimmers Jackson about the health of the scene, breaking new ground and being 100% DIY
Swimmers Jackson plays Belfast's Sunflower on 8th September, the Kicking Donkey in Bundoran on 9th September and Sandino's in Derry on 10th Sunday.
Go here for tickets
Your new album, Now Is All, is full of highlights and features some of your finest songs to date. Taking a step outside of it, how do you feel it stands apart from what you've done before?
It's been six months since I started the campaign with the release of the first single 'Stripped Away'. Doing absolutely everything myself (PR, bookings, label, distribution, tour management, rehearsing with a new backing band) is what takes this up a notch as far as moving myself forward.
I've always been 100% DIY, and not always through choice, but now I think I have the hang of it. I'm not sending desperate emails out to every festival going, not playing (m)any shit shows. But if we're talking purely about 'the work' I just think it's more hi-fi, better-structured songs, better played, better sung, and more realised. There's a confidence there that has nothing to do with any sense of brilliance but a complete sense of not really caring a jot about those not into it. I think this album has the ability to make you feel happy even though it deals with some pretty dark times.
The album feels like a real statement from a songwriter who has always dug deep. Where did you find your inspiration for piecing these songs together as a full-length release?
Two years in a one-bedroom apartment in a city I was dying to get out of for a while. My wedding got postponed several times, we couldn't go abroad, or back to Ireland really, so I had to dig deep just to get through it creatively. I did a self-produced podcast for about a year of the pandemic called 'Pears for Lunch' where I talked to my peers about how they were coping with the pandemic, creatively speaking. It really helped me too.
Steve from windings, Sarah from Pillow Queen's, Joe Chester and Cathal Coughlan. Even Andy Irvine went through a spell of musician's block. It was tough but heartening at the same time. It kept me pushing. 
You recorded the album in Limerick with Mícheál Keating. It seemed like a really rewarding experience. What was the recording process like and what's your fondest memory there?
My fondest memory is genuinely getting to work with Micheál and Brendan (Bleeding Heart Pigeons and The Low Field drummer). Just to play with other humans again was much needed and the fact it was two as talented as them really lifted the music to a new place. I tracked all the songs acoustically at home to a click before heading for Limerick in December 2021. Brendan did his homework and added drums under Micheál and my guidance in a studio in Limerick city before we took them back to Micheál's home studio in Castletroy and began to fill them out with all the ideas in our head. We did this again in March 2022 before I got hit with COVID for the first time. I had to add some vocals and guitar overdubs in London and Margate and send them back to Micheál where he worked exceptionally hard to bring it all together before the brilliant Tony Fitzpatrock mastered it for digital and Vinyl.

Not least for independent solo artists, the winding journey of writing, recording, releasing and promoting an album in 2023 can seem borderline Sisyphean at times. How's it been navigating that this time around?
The recording process took about 10 days all in but by the time I had the digital masters in my hands, a full year had passed. Vinyl and CD. I care not for streaming though you can stream it if you like. The writing of it took about 2 years, although some of these songs had been hanging around me like a bed smell for years. The pandemic actually helped kick them into shape. The cost has been exorbitant, as usual, and that was with pulling in favours from all around. What can I say that hasn't already been said? Promoting it should be the most fun part but bar the actual playing of the gigs and travelling/playing with good pals/peers/promoters, I fucking hate it. Sisyphean is right, an endless ballache. That said, it is rewarding when you leave the fishing rod in for long enough and something finally bites (even if it barely feeds one, nevermind the entire network of people required).
Your wonderful single 'Red, Red Evening Sun' has recently been playlisted by RTÉ Radio 1 alongside the likes of Wilco and Mitski. Is this sort of recognition what it's all about?
Like I said, it's lovely when something bites, but you can't depend on it. I love that RTÉ Radio One are recommending it and playing it but that was the 4th single off this album and I couldn't even get a reply off them until this one. They gave my last album 'Murmuration' Album of the Week in 2020 so I was a little bit disappointed how long it took them to get on board this time, but I am hugely appreciative that they have. I think Fiachna O' Brianain and Lilian Smith playing me outside of daytime down through the years has stood to me, so big thanks to them both, and any DJ that gives me a spin. I love radio. 
I got an IMRO cheque for the radio play recently and it's several times the amount I would get from the likes of Spotify. So it makes a small difference financially and for my ego, but I'm not sure it translates to ticket sales for my gigs. I'll let you know after the next stint in September. 
You've impeccable taste in music and you're constantly on top of what's happening in Irish music and the shifting industry at large. What's your favourite recent musical discovery – either homegrown or from further afield and why should we check them out?
I presented a radio show for Irish Artists here in London for 5 years called 'The Irish Jam' and actually it was brilliant for staying on top of Irish releases, but it was hard work and to the detriment of my own music so I stopped in 2021. Now I rely heavily on Irish music writers like yourselves, Eoghan O' Sullivan, Zara Hedderman, Eamon Sweeney. If a promoter like John Hennessy, Vinnie Dermody or Leagues O' Toole has them on I also take notice. Aoife Nessa Frances remains great, I'm enjoying the rise and rise of The Mary Wallopers, Lankum live regularly reduce me to tears (good tears) and I think Kynsy has the makings of a great indie rock star. Internationally, I'm loving Lyr, fronted by the poet Simon Armitage. 
What's your feelings on the broader health of the Irish music scene? As an Irish musician based in London, what do you think sets it apart or holds it back?
Community. I'm in London 8 years and it's far more cliquey here. I can't be fucking bothered hob-knobbing so I'll just continue to skirt around the fringes here and do my own thing. 
You look at Ireland and how strong the community is, whether in Limerick, Dundalk, Cork. Small festivals, people playing in each others bands, always someone offering a couch, a hot meal, an instrument. I hope we keep our roots and don't get too cocky, I don't like the cockier stuff coming out of Ireland, good luck to them, but I prefer people with a strong sense of community like Just Mustard, Hazey Haze, The Altered Hours, Junk Drawer.
You are, of course, also a member of Dublin indie-rock four-piece Bouts. Can we hold out hope for a reunion of some description in the future?
Never say never. We have always operated at our own pace and remain 4 great friends. Barry lives in Austria, Dan and Colin in Dublin and myself in London, but half of our stuff has been released remotely so there could be a third chapter yet. Gilla Band, Squarehead, So Cow and a lot of our peers from back in the 2010s are still going strong, so who knows?
Across 8-10th September, you're back over to Ireland to play Belfast, Donegal and Derry. What can we expect from these run of shows?
A new backing band. Cork musician James C. Lyons is on bass and multi-instrumentalist Christopher Anderson is on drums. We're actually doing 3 very different shows. Bundoran is full rock band show, Belfast will be followed and more stripped back and then Derry is just myself and James with a far folkier set full of sweet, sweet harmonies. So take your pick, something for everyone.
Finally, a few quickfire questions:
Best venue to play in Ireland and why?
Pharmacia in Limerick. The lads who organise it (LASA) all turn up and pay in themselves and tend to drag a huge cohort of real music fans. I played there recently before Jinx Lennon and it was an unhinged Friday night crowd. Spirit Store in Dundalk and Primms Bookshop in Kinsale are a close 2nd.
Favourite chord progression or riff of all time?
The guitar solo from Neil Young's 'Like a Hurricane' just came on my headphones today and although not technically a chord progression or riff, it is my only god. I'll go "Hey, Hey, My, My (Into the Black) for the riff though. 
Last 10/10 gig you've attended?
Lankum in The Barbican and/or Vicar Street
DEVO in The Hammersmith Apollo
Dream support slot?
I'd love to go on tour around the UK & Ireland with Gaz Coombes from Supergrass. I think we would be well suited and he seems really sound.