Human connection is at the heart of revamped Belfast community and cultural venue 2 Royal Avenue
Words by Brian Coney
Photos by David McEneaney
It may still be referred to as some variation on "the big Tesco" by many locals, but 2 Royal Avenue has seen quite the evolution since doors back in 1869. With its deep, Romanesque arches and breathtaking gothic dome, it's safe to say the former bank building (and, yes, Tesco Metro) has all the outward form to match its esteemed address. But since 2021, the listed building has undergone a remarkable transformation. Having reopened at the start of the year with a clear mission in mind, it's becoming an essential sanctuary in the heart of Belfast.
Like many truly beneficial public spaces, 2 Royal Avenue strikes a keen balance between being a cultural and community venue. Step in off the street any day between 10am-6pm and you'll be met with a space that's as accessible and inclusive as it is warm and welcoming. Whether for an impromptu work meeting, socialising with friends or some solitary time-out, it exists as a free, community-focused space where the sheer diversity of the human experience is both fostered and embraced. And that's only part of the bigger picture.

Writing the building's latest chapter is MayWe, a multi-award-winning events management agency whose domain is public need. For venue and events manager, Eimear Burton, offering the space to engender connection between people – regardless of their status or background – defines its utility. "We have regulars that come in every day and it's so lovely to see them get the benefit of meeting new people," says Burton. "For example, over there you have Wiggy who runs art classes. He's sat with Norman, who is an 86-year-old backpacker. Together, they are a bit of a classic example of how this place works so well. One day they just got talking. After joining our Sunday chess club, Norman showed Wiggy how to make a few moves. Wiggy then showed him how to paint. After skill-swapping, they're now friends. That's what it's all about."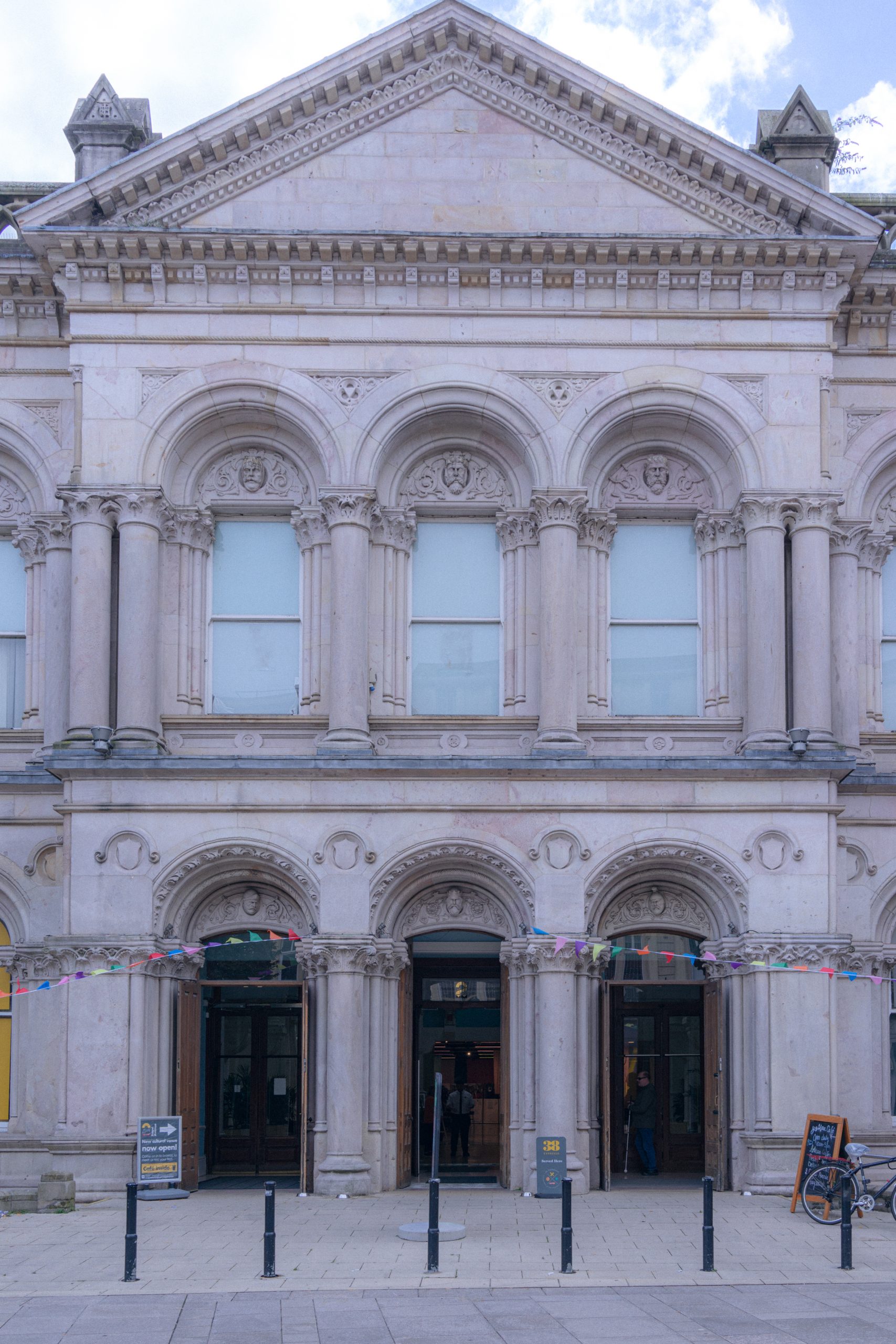 It may be constantly evolving but the spirit of 2 Royal Avenue can be found in a few constants: between coloured coloured fabric screens, all kinds of artistic experiences, events and workshops pop up. There are live performances, carefully-curated playlists of homegrown music, and a grand piano free to play. There are study areas, pods for meetings, and comfortable seating; art exhibitions, beautiful plant life, a cosy area for kids, a sensory dome for those with sensory issues, and a library corner featuring a selection of books for all ages by Northern Irish and Irish writers – including a diversity-themed collection supplied by No Alibis bookshop and curated by Seamus Heaney Centre at Queens and others. Best of all, it's dog-friendly, too.

Before working as an events coordinator at Belfast's Waterfront and Ulster Hall – where she was manager for five years – Eimear Burton worked at the 2003 Special Olympics World Summer Games in Dublin. As the landmark event became the third largest sporting event in the world that year, Burton got the bug for working in an industry that prioritises the value of human experience and interaction above all else. Fast-forward twenty years and Ireland – not least the streets of Belfast City Centre – is close to unrecognisable. Burton and her team are helping to meet the needs of that reality.
For all its soul-enhancing flux and flow, taking pride of place in the middle of the room is Yallaa. Meaning "let's do" or "let's go" in Arabic, it's a world-beating café and social enterprise project which promotes learning and experiencing Arab culture throughout Northern Ireland. Run by Rym Akhonzada  – an extraordinary woman with enthusiasm to spare – the Yallaa started life in a corner of the building and thrived without access to clean rubbing water. Zoom forward to September 2023 and it's serving some of the best coffee and food in the city, all while running free Arabic language and coffee-tasting classes, and helping asylum seekers get work experience to help with their Visa applications. It's a perfectly open-hearted approach to independent, not-for-profit business that mirrors the broader philosophy of 2 Royal Avenue.

It's one thing to imagine it, but when you're sitting in one of the venue's many little tucked-away spaces, it's patently obvious the sheer gap it fills. Particularly in light of COVID and following the nearby fire at the Bank Buildings – home to Primark – in 2018, the city centre has experienced a coexistent spike in homelessness and drug addiction or dependence. It may be imposing, both inside and out, but like any building, anywhere in the world, 2 Royal Avenue is nothing without the people who inhabit it. And it doesn't judge those who might seek refuge within its walls.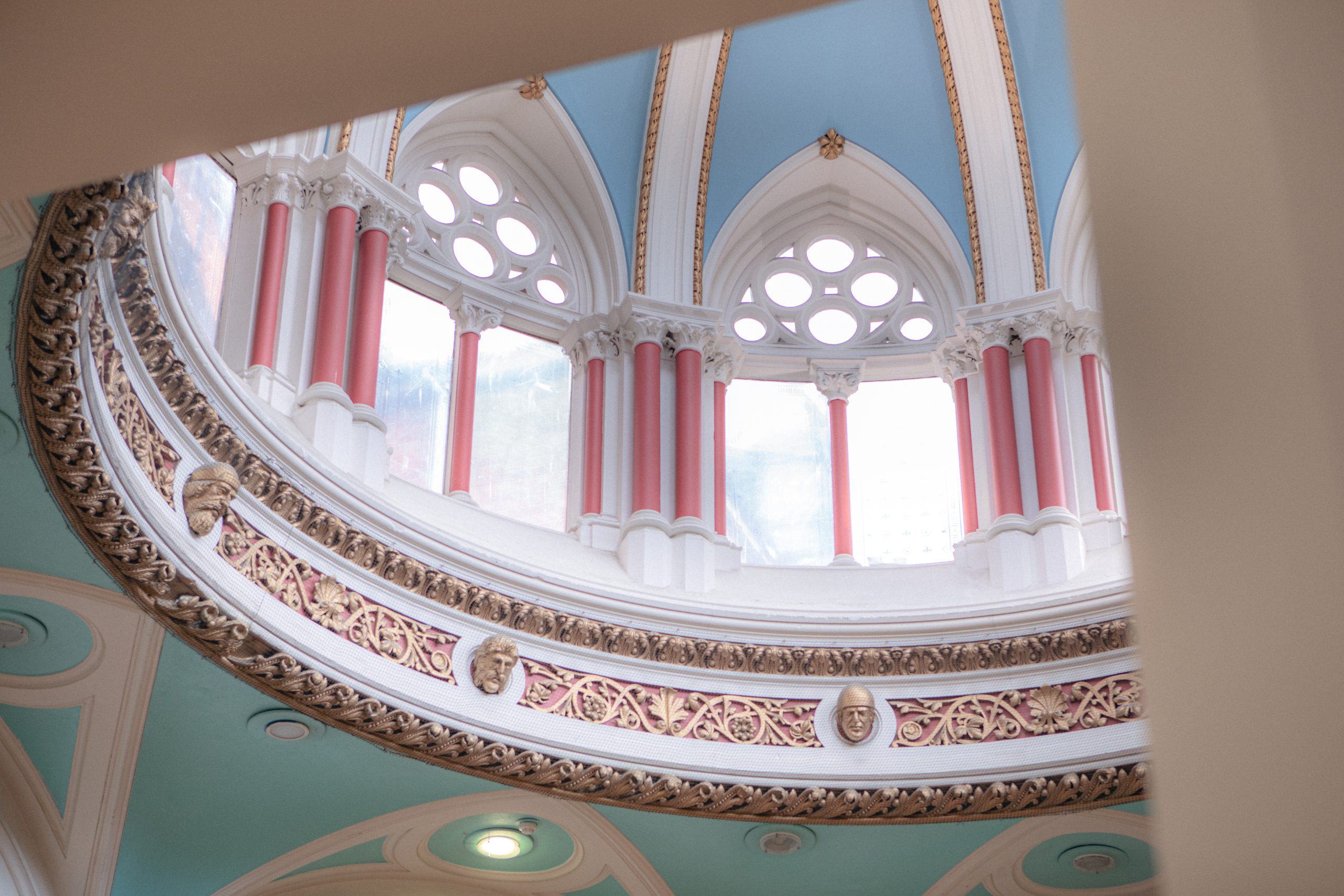 "Things have improved since we first moved here," says Burton, on the subject of Yallaa Café's pay-it-forward scheme. "The fire definitely affected this side of the town. We have a lot of folks who have fallen on tougher times. But I'm inspired by the stories of people like Patricia, a homeless lady who often calls in, who just graduated from Belfast Met with a qualification in Sociology. People want and deserve to be treated like people, and we're trying to do our bit. Because it's an interesting place and we've got great staff, our repeat footfall is good but it's all about getting people through the doors."

As I round up my chat with Eimear Burton, touching on how Docs Ireland recently screened films in a makeshift, 50-seater theatre in a corner of the room, she introduces me to a teenage boy, Dylan, who has been regularly calling by and teaching himself piano from his phone. In a world where everyone needs a place to go – in a city that is blessedly moving on and then some – his palpable contentment feels like the point. By catering to the multiplicity of modern Belfast, 2 Royal Avenue's magic can be many things to many people. And yet it's in its limitless potential where its real gift lies. With MayWe at the helm, and people like – and unlike – Wiggy, Norman and Dylan choosing to step in off the street, it'll surely thrive in its mission. Brian Coney

Keep up to date with all things 2RA here