Off the back of their trouncing new LP Strontium Fields, the Belfast prog-doom titans sit down with Pádraic Grant to talk sci-fi, analogue synths and two decades of sonic expansion
Photos by Sean McMahon
​​Twenty years into their existence, Slomatics have entered a new phase. Over six albums, countless splits and EPs, their fuzzed-out sound has grown in complexity and scope. Emerging from the chaos of the pandemic, latest release Strontium Fields, sees the trio – guitarists David Majury, Chris Couzens and vocalist/drummer Marty Harvey – push beyond the doom-stoner-fuzz continuum to blossom into an experimental rock unit as likely to create ethereal synth ballads as pulverising heavy rock. Headbangers need not fear – the band still grinds out riffs at will – but they are supplemented by bags of melody, texture and moments of quiet beauty, packed into the most compact songs the band have ever created.

Slomatics have been erupting ear drums since 2004, composed of three Warzone scene veterans. Founding member and guitarist David recalls being influenced by that collective's prevailing atmosphere: "The DIY ethos was really strong and playing music for the music itself was just the way things were done. There was certainly never a master plan beyond playing some shows and maybe recording a 7-inch."

The members' early listening habits were diverse – formative metal acts like Sabbath, Metallica and Celtic Frost, the noisier indie rock of Pavement, Sonic Youth and Swervedriver. First album Flooding the Weir showed a band that had already mastered the base elements of doomy heavy rock, but even in their early releases, they showed an appetite for something beyond the boilerplate. The 2012 arrival of drummer/vocalist Marty accelerated the evolutionary process, the increased album release rate offering more opportunities to showcase each new tweak.
"We always wanted to expand our sound – maybe compensating for being a three-piece – and we all love a lot of electronic music, so adding synths once we had access in Start Together [studio] was a no-brainer," explains David. "Playing without a traditional line-up has made us very aware of adding texture to fill the space. Synths are a great way of doing that."
Analogue synths are the band's signature twist, the element that brings their psychedelic impulses to the fore. Their function is both practical – the always surprising fact is that Slomatics don't have a bass guitar in their arsenal and synths help fill out the lower end – and decorative, giving their sound the richness of a meteorite's mineral deposits. Little wonder that their electronic inspirations – Tangerine Dream, Popol Vuh, Boards of Canada, Four Tet – deal in the creation of textured soundscapes disguised as songs.

These examples are audible throughout the richly layered Strontium Fields. To reach similar heights, Slomatics have built a fruitful relationship with Start Together studios and owner/producer Rocky O'Reilly. For David, the producer serves a George Martin-like role, turning ideas into real material: "When it comes to making records Rocky is very much the fourth member of the band. Despite not having a background in heavy music he has a great ear for what sounds good … I'll often go into the studio with ideas for sounds, but without the musical or technical vocabulary to express them and Rocky is always as keen to experiment to interpret these ideas as we are."

The producer's ear is important then, but so is the studio itself. For David, the recording of Strontium Fields was like a field trip for effects junkies. "[It's] an Aladdin's Cave of incredible gear. Who could resist a Moog Voyager? We used the space itself recording guitars in stairwells, along with putting the kick drum through a bass amp, adding every synth we could, along with tape delays and echo chambers."
If the producer and studio expanded the band's musical vocabulary, non-musical influences have also played a part. Slomatics have a distinct sci-fi sensibility, from album art that looks like the covers of vintage sci-fi paperbacks or psychedelic guidebooks to song titles like 'Wooden Satellites' or 'Zodiac Arts Lab.'" It is something that the band puts thought into, according to David. "We all grew up on Star Wars, Alien, Blade Runner, Star Trek, so hopefully some of that seeps into the music. Those films all had something a bit dystopian going on. I do read a fair amount of sci-fi too, people like Asimov, Dick, Strugatsky, so maybe it's just inevitable that it comes through in how we sound. We were all 2000AD fans growing up."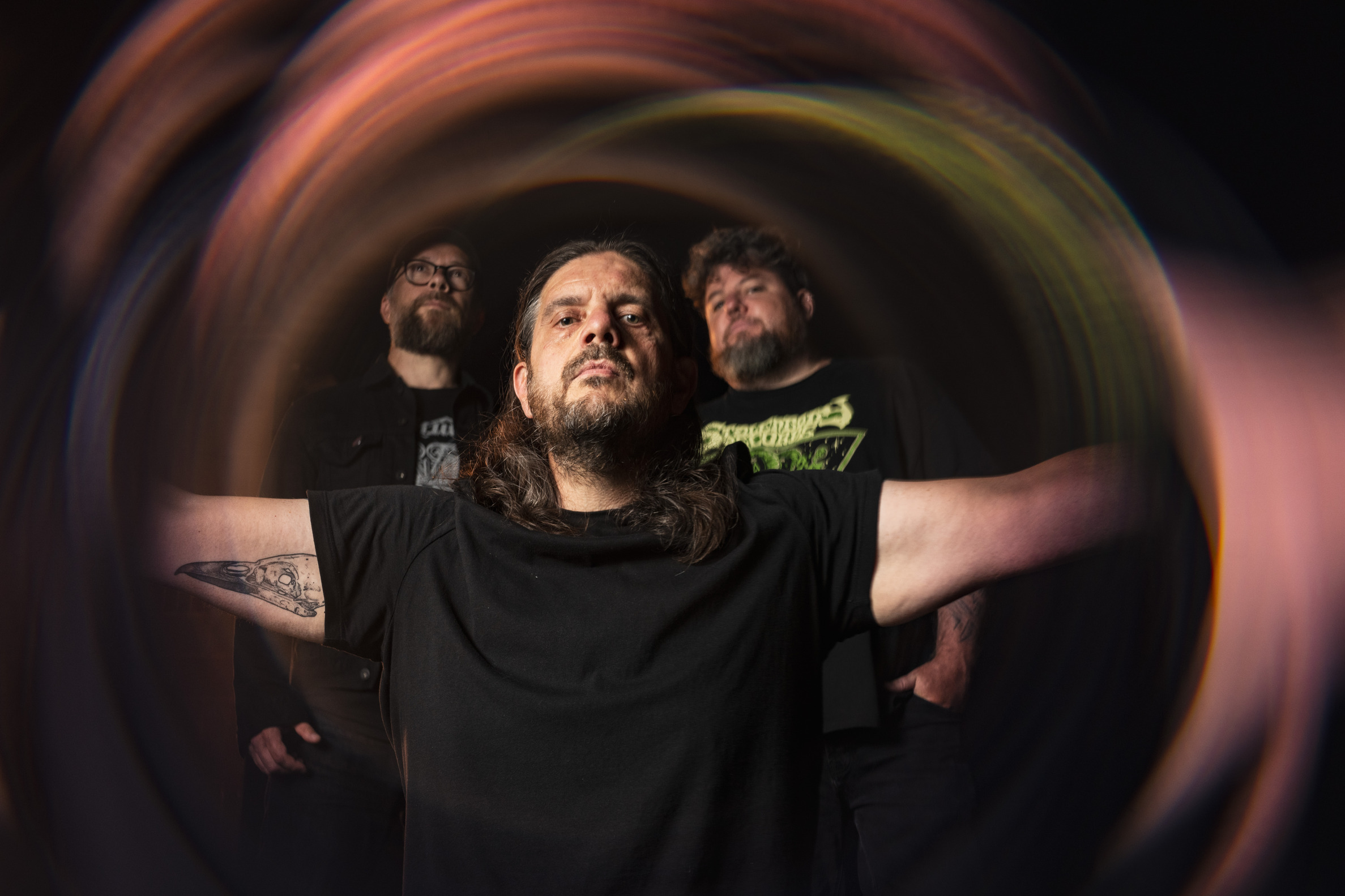 That spaciness is evident in songs like 'Time Capture,' which features acoustic guitars, lapping synths and drums that are propulsive but oceanic in their expanse. Chris Harvey's vocals push through this sea of sound, his clearest, cleanest and best vocal performance yet. Those vocals are a great part of the album's appeal, a leap from Buzz Osbourne to Robert Plant territory. They add another layer of texture to the more ethereal cuts, while lending yet more grandeur to the monumental riffs created by Chris and David. And make no mistake about it, those riffs still carry a mighty punch. Check out 'I, Neanderthal' or 'Voidians' for proof that a band can shimmer and crush at the same time.
Two decades on, David feels like a lucky man. The band is hitting new heights, but it is on their own terms: "We haven't toured in years through choice, we all have full-time jobs and families so disappearing for a month just couldn't happen. That doesn't bother us at all – if anything it makes our trips around Europe even better, as we aren't stuck in a van or dealing with sleep deprivation and long drives. We played a big festival in Las Vegas a few years back and quite a few people got in touch to congratulate us on our 'hard work' paying off. Being a nurse is hard work, or working a zero-hours contract in a factory and trying to support a family, that's hard work. Playing in a band is the opposite of that, it's all about having fun."
For Slomatics, the goal is still the same as those early days in the Warzone: "Nobody in the band had any aspirations beyond what we do, and when the shows and recording sessions eventually end, we will still be there every week making noise." Let's hope the rest of us are allowed to hear that noise for many years yet. Pádraic Grant
Buy Strontium Fields via Bandcamp