Articles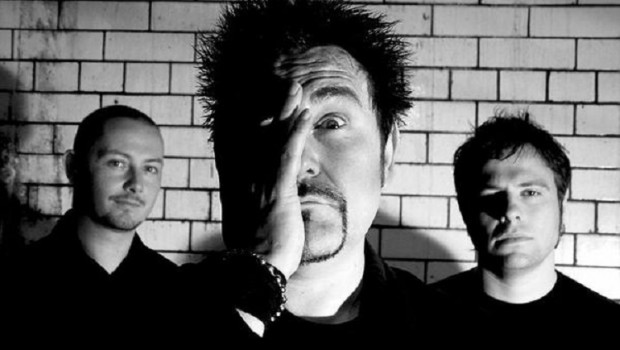 Published on March 28th, 2014 | by Mike McGrath-Bryan
0
The Complete Guide to Therapy?: Part 4
PREVIOUSLY: Having almost burned themselves out after six years of constant activity, drummer Fyfe Ewing leaves Therapy? in January 1996, almost halting touring for the rest of the Infernal Love album-cycle (eugh). Moving quickly, the band auditions for a new sticksman, and decides on Graham Hopkins, formerly of My Little Funhouse. Filling out the line-up is new addition and longtime collaborator Martin McCarrick, on cellos and guitars. After jaunts to the U.S. in 1996, including supports for Ozzy Osbourne, things get quiet, as the second line-up gets used to a new dynamic while demoing and writing. Pursuing a broad new alt-rock direction, the band eventually emerge in 1998, and in March of that year, Semi-Detached is released, their last record on a major label. Though full of great ideas, the album divides fans to this day, and is met with apathy from a label in the process of a corporate takeover. Though touring continues to be active, including festivals and a return to clubs to help reconnect with the band's core fan base, label issues continue throughout the year, and by December, the band are informed their transfer within their new label structure isn't happening, and are free agents.
Signing with Ark21 in mid-1999, the band's frustrations light a brand new fire under the four-piece, and October sees the release of possibly their finest hour, the fucked and raw Suicide Pact-You First. Radio hates it and critics are split, but the band is back on form, and selling out houses around Europe, as well as returning to festivals. It's not long before an acquisition-happy Universal gets its hands on Ark21, though, foreshadowing fresh label problems down the road, and an agreement is reached on a retrospective collection, rather than a pallid singles comp. So Much for the Ten Year Plan is counted in the official discography, most likely because of two new tunes that signal a new, hard-rock direction. The rest of 2000 sees another long jaunt around Europe, playing their own faves from the ten years previous. The band's second decade kicks off with the boys in black keeping the party going, heading to Seattle, WA, to meet up with Jack Endino. There, the boys put down their most no-nonsense, yet strangest record yet…
SHAMELESS (2001, Ark21)
Rock 'n' roll was the name of the game coming out of 2000 for Therapy?, and for a band that spent so very long avoiding the grunge pigeonhole, the choice to head to Seattle long after the aftermath of the genre's implosion was apt. There was not a whole lot else that had an overt amount of thought put into it: with the help of buddies from Clutch, QOTSA and even Endino himself, the band cast aside all of the stresses and struggles of the previous few years, took the chips off their shoulders and got down to it. Shameless is resultantly the sound of a band having an absolute whale of a time in studio. Surrounded by like-minded people and enjoying being in a "music town" for two months, the band dropped some of their familiar arch-seriousness, and while thematically heavy moments exist, it's the closest Therapy? have come to a party album. Part-Stooges, part-Lizzy, the album's rock-worship and light tone confused some longtime fans, but by the time it was finished, the lads were eager to put their heads down and get on with their rock 'n' roll…
Picking where 'Bad Karma' left off, 'Gimme Back My Brain' is a sinewy, brawny exercise, with a bubblegum pop twist and typical Therapy? paranoia: "I don't need you to keep me up all night/I wanna wake up with my head on tight". A strong lead single that garnered honours from The Guardian among others, it's one of the band's strongest opening tracks to this day. 'Dance', by contrast, runs along a relatively sedate but tight little groove, and sees the band in a place of relative content, "wired to the moon/stapled to the sky/happy as I am, and I don't ask why". 'This One's For You' is a mover, in keeping with the album's celebratory vibe, touching on suburban discontent and rock as an escape. The joyously unrepentant and rocking 'I Am the Money' is a glorious summation of everything right with this period of the band, a unapologetic party anthem with a hook to die for, the album standout, which could only have been improved (in this writer's opinion) by including the full version of the song, included as a B-side. After every party comes the hangover, though, and 'Wicked Man' is part headache-ballad, part stoner-rock squall that holds up wonderfully. 'Theme from Delorean' plonks the listener alongside Cairns at the most awkward party ever, but as the chase for answers continues, it's impossible to not be charmed by the rapid-fire riffing, in places resembling a weirded-out Wildhearts. 'Joey' is a straight-ahead tribute to motorcycling legend Joey Dunlop following his passing, and racing along to its conclusion, it stops along a load of cool, distinctly Northern pop-culture landmarks ("me, George Best and Hurricane Higgins!", yells Cairns excitedly). 'Endless Psychology' stomps along a titanic motherfucker of a groove, yet lops along on sad, teenage memories, calling out the stagnant metal machismo that accompanies small-town inertia and investing the whole thing with a familiar turbulence. 'Alrite' is a strident one, with call-and-response, yeah-yeah singalong and a straight-ahead parade of riffs. 'Body Bag Girl' lops along on a fat QOTSA-type structure, with a touch of Misfits horror-film nursery-rhyming. A lasher of a double-header finishes the record out: 'Tango Romeo', a sleazy, chunky slice of rock with a killer/cheesy chorus and burning twin-guitar work gives way to 'Stalk and Slash', a demented shredder of a tune with a tongue not so much in cheek as hanging rabidly from the side of its mouth, recalling B-movie horrors and propaganda flicks with a mocking glee.
Here, have a shockingly good rip of 'I Am the Money' from the Thailand-exclusive cassette release of Shameless.
B-SIDES & SINGLES: Not much singles action this time around either, although the CD of 'Gimme Back My Brain' got to number six of the 'budget' albums chart in the UK, by dint of having 7 tracks and counting as a mini-album. 'Gimme' was B-sided with 'Gimme Therapy', an original, and a rake of covers of tunes with 'Gimme' in the title, amusingly enough, across CD and 7″. 'I Am The Money' was bundled across two CD singles: the first containing a demo for 'Tango Romeo' and the full (superior) version of the A-side, and the second coming with instrumental 'Fat Camp II', and a spirited live recording of 'Bad Karma'…
Although Shameless pissed off punk fans, and confused label heads that were looking for baggy jeans and dreads any place they could find them, it is oddly gratifying to hear a band renowned for a sort of strident seriousness just cut the fuck loose. Far from the disaster some people make it out to be, it's at once a hugely entertaining diversion for longtime fans, and a banger in its own right, perfect for when the lads come around and you don't want to stick on fucking Good Charlotte (or whatever else "the lads" want, I dunno). Rocking with enough grey matter to keep you or your sober mate from going spare; that's what Shameless has. By March, it was time to go home, and the band was possessed a giant head of steam heading back over, in anticipation of an American East Coast tour. But those familiar label troubles were starting to kick in: the tour came and went without a release, and it would be September before it surfaced. The wait for the record killed its momentum, and touring Europe that autumn and winter ensured the band came down sick and generally very cranky after the year's woes. It also wouldn't be long before another obstacle presented itself, either: just before Christmas of 2001, Hopkins left the band, citing creative differences.
HIGH ANXIETY (2003, Spitfire)
Therapy? found themselves in a familiar situation in January of 2002: no drummer, no label. The earliest part of the year was spent at home getting it together, writing new material and demoing, while tour and festival duties were fulfilled with the late Keith Baxter of 3 Colours Red, with whom the band focused on having a good time with live while the search for a new skin-slapper went on in earnest. Summer 2003 rolled around and a chance meeting with ex-Beyond/Cable man Neil Cooper at a London gig led to jams, and eventually, adding him to the line-up after a gig in Portugal. Armed with tunes from a label demo they'd shopped around earlier in the year (now available on the Gemil Box), the lads signed up with Eagle Rock imprint Spitfire for a worldwide deal, and took to Parkhead Studios with engineer Pete Bartlett. With a new line-up, new deal, and a new outlook, the band regained its mojo in studio, with Cooper's snare-heavy assault recalling early Therapy? and the sessions possessed of a focused, cogent direction. It's been mooted by some fans that High Anxiety is the record that Semi-Detached might have been with a bit more urgency in its creation: ticking a broad range of boxes, it nails a hybrid punk-metal sound akin to Troublegum to a bubblegum pop sensibility, while a reunion with major-label-era producer Chris Sheldon provided a fuck-off huge mix to say the least. Everything was coming up Therapy?…
Inspired by passing by nu-metal kids around London, 'Hey Satan, You Rock' is a heavy-metal fairytale, part sh(l)ock-poetry, part humour, all-out metal. 'Who Knows' takes up observation, smugly and sarcastically addressing celebrity culture/worship on the back of some seriously cheeky, yet chunky, riffs and leads. Ethereal and fleeting vocals add to the sense of impatience behind 'Stand in Line', a pop gem in its own right, while the post-fame malaise hitting many of the early '90s superstars by the millennium is touched upon in 'Nobody Here But Us', a spirited piece of balladry that almost harks back to Iggy Pop balladry in its mix of immediacy and melancholy. Bouncing around like a child on e-numbers, and packing a chainsawing, saccharine riff, 'Watch You Go' is a champ of a pop-punk tune that almost steals the album, but the standout is lead single 'If It Kills Me', a fist-pumping rock anthem that gets the blood flowing without resorting to any cheese, thrilling in its impact and its summary of the band's new attitude, as well as a look into Cairns' creative processes at the time: "if I do just one thing with my life/I'll get the truth for you tonight/'cause there's more to me than this twisted side/I'll get the truth for you tonight".
'Not in Any Name' is an indictment of US/UK foreign policy, and perfectly sums up a lyrical gift of Cairns': framing his personal reference level to suit the song, then hammering it home, in this case, the seething rage behind "my grandfather was cannon fodder/to think he died, for the likes of you". It helps that a punishing, oppressive military snare frames the whole thing and sets up for the release of the massive chorus. 'My Voodoo Doll' is a rollicking, friendly punk jam with a sugar-sweet lead and a smile on its face as it deals with expectations and norms in the manner any awkward punk kid can relate to, while also touching off the post-fame abyss. 'Limbo' is a cool alt-rock number with a serious crunch, while 'Last Blast' rings true with anyone on the precipice of change or big decisions. Bittersweet, downbeat, but forceful and possessed of a worldly wisdom. 'Rust', on the other hand, has no pretentions of any messages, ruminations, thoughts, reflections or anything else of the sort. It's a brainless, pinballing, pit-opening motherfucker of a metal broadside that works along a maddening, hypnotizing riff and the cackling of Cairns in full-on funtime mode. Once that little shithole venue in your mind's eye has been comprehensively wrecked, though, hidden track 'Never Ending' is a fun wee jaunt over the pop-rock territory that sets the album apart…
There was a cool Thai tape rip for this one too, but it's disappeared. At this point, your writer would like to propose a SP-YF tape reissue at some stage (please).
B-SIDES & SINGLES: At this stage, singles were beginning to matter less and less to independent labels, especially as physical single sales began slowing down. 'If It Kills Me/Rust' was issued as a double-A side on CD and vinyl, with CD coming bundled with 'Mama, You Can Call The Ambulance Now', a mid-paced chugger about regret and, again, life after fame. 'My Voodoo Doll' garnered a limited release, on the album's promotional tour. Autographed and limited to a thousand, it came with three tunes from the Mandela Hall gig that would feature on Scopophobia…
The whole idea of a big, slick, fuck-off rock album that made everyone happy paid off. It still sounds as big and as crisp as it did when it released, and was their best seller since leaving the majors. Its success also gave rise to the filming of a live DVD, Scopophobia, in Belfast's Mandela Hall in May of 2003, at the launch gig for Alternative Ulster, this very blog's spiritual predecessor (more on the DVD in the final part of this series, this weekend, folks!). But heading back on the road, true to Therapy? form, change was on the horizon, and after yet another round of touring in Europe and the UK, the band parted ways with McCarrick, by now predominantly a rhythm guitarist, with cello duties restricted to the live show. Early 2004 saw a return to the old-school T? work ethic, and rather than wait around, the band, staying as a power trio and beginning their current line-up, went back to studio and demo'd everything, quick and dirty, as a response to and recovery from the band's internal discord.
NEVER APOLOGISE, NEVER EXPLAIN (2004, Spitfire)
From Cairns' house, to Stanbridge Farm in Sussex, the writing and demoing of the record was an intentionally quick and dirty process, to keep energy and momentum up. As in previous occurrences where ennui had set in, the band firmly had alt-rock and big production jobs out of their system, though the ease of working with previous producer and live tech Pete Bartlett made him a cinch for a return to the studio chair. The whole vibe of the album screams urgency, from barebones production and Cairns' vocals emerging from a cupboard in Parkhead Studios, to the red-raw guitar tones, pounding percussion, and sheer groove that makes the record a fan favourite, earning it comparisons to the two mini-albums and ensuring its stronger tunes remain setlist fixtures. No more suited a title to this record, then, than Never Apologise, Never Explain…
A screeching opening riff gives away to a flurry of picking, right before the wrecking ball of 'Rise Up (Make Yourself Well)' comes through, a commanding lead-in, that piledrives a path for squalling live staple 'Die Like a Mother Fucker', a stomping, wild testament to just being tired of everything. A frantic scramble and a hail of feedback ring in the Fugazi-like syncopation and ringing riffs of 'Perish the Thought', while a more bludgeoning, frustrating beast emerges from the primordial sonic soup with 'Here Be Monsters'. A smart, jazzy number, 'So-Called Life' is a rare reprieve from the onslaught, harking back to SP-YF territory, and passing comment on modernity/futility/delete as applicable. 'Panic!', meanwhile is a dizzying critique of neo-liberalism and government. 'Polar Bear' and its evil, unsettling groove perfectly encapsulates the oppression and dissatisfaction of life in an enclosure, as imagined by Cairns after a day at the zoo. 'Rock You Monkeys' takes politics, international relations, etc. and draws a cock-and-balls on the lot, before scampering off to tell its mates, while its descending, almost comedic guitar hook wails away. Then, as is Therapy?'s wont, a sharp thematic veer into the personal takes in a double-hander of 'Dead' and its embittered, scornful scowl, and the idyllic, escapist washout of 'Long Distance', riven with burning streaks of feedback and a chorus seemingly made to calm the whole affair down before a mad dash to the end takes place. Which it does, in a dour, racing fashion, with 'This Ship is Sinking' darting out of the trap, howling hopelessly all the way. 'Save the Sermon' is a spazz-out, harmony-laden, noisy, gravestone-heavy slab of misanthropy, while that punk-rock Chelsea smile inherent to the boys in black emerges in 'Last One to Heaven's a Loser, a d-beat thrasher that doesn't fuck about before bringing the record to a ringing close.
B-SIDES & SINGLES: One, a digital double A-side of 'Polar Bear' and 'Rock You Monkeys', that comes with a live rendition of 'Die Laughing'. Not much reward for physical collectors here, although radio promos of this, 'Rise Up', and an edition of 'Long Distance' especially for Belgium exist if you feel like hunting.
Prefaced by live debuts while on tour with The Wildhearts, the album released to immediate acclaim from the band's core fan base, and touring around Europe commenced. A defiant statement, NANE helped set the foundations of the new power trio Therapy?. Groove, heaviness, a wide palate of influences and a philosophical slant hinted at here would all become major factors in the years to follow for the band.
Tightened up, lean and mean, the band's original trio camaraderie returned over its recording, and showed, as the band finished out promotional touring with festivals in 2005. As label apathy grew over this feral new direction, however, and American labelmeisters began looking to play to formula, Therapy?'s bold streak surfaced again, and the band's twin experiments in groove and existentialism resulted in the beginning of the next stage in earnest of the band's journey…
NEXT: One Cure Fits All marks a turning point for the band's continued evolution, and sets the tone for some of the band's greatest work to date…