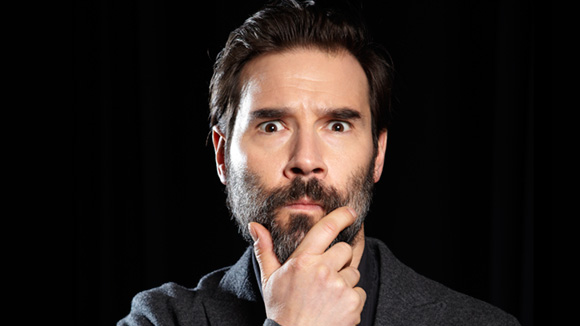 There's a crucial moment during this evening's multimedia shenanigans when an entire cinema auditorium chuckles in unison at the sight of a LEGO David Bowie explaining the inspiration behind his new persona "Cobbler Bob". At this point the audience have fully plugged into BUG, Adam Buxton's deliberately random selection box of music videos, skits and winding anecdotes about earache. And that's part of the joy of BUG: the not knowing what glittery video or deranged cartoon is going to pop out of the indie rock super collider next. Essentially, what we have is an assortment of music promos glued together with non-stop non-sequiturs, puns and poop jokes. It shouldn't work but it does, thanks wholly to the genial Buxton's unstinting enthusiasm for the subject matter.
Evidently a firm believer in the idea that the lowly music video can be categorised as high art, the presenter has been throwing bimonthly BUG parties at the BFI, London for the past five years. For these he cherry-picks the weirdest, funniest, scariest examples from the genre and plays them in full on the big screen. It's amazing how this simple transition can make such a difference. Thus, the disquieting, backwards flowing short for the Yeah Yeah Yeahs' 'Sacrilege' becomes a masterpiece in abstruse horror and the animation accompanying Of Monsters And Men's 'Little Talks' becomes a dark fantasy full of krakens and leviathans.
Kudos should also go to Buxton for giving props to the very talented individuals and teams who put said videos together – quite often in their own bedrooms on well-thumbed MacBooks over a period of weeks or months. For example, 'In Your Arms' by Kina Grannis, which brings Peter Gabriel's 'Sledgehammer' to mind, involved poor drones stop-motion-capturing thousands upon thousands of jellybeans. Meanwhile, the origami inspired visuals of 'Katachi' by Shogu Tokumaru must have driven the two (!) Polish animators to the brink of madness but the results are quite beautiful. On certain occasions, such as in the Belgian band Willow's video for 'Sweater', which uses all sorts of projection-based jiggery-pokery, the ratio of people involved versus the intricacy of the result, is quite astonishing.
Buxton is kind and ebullient about each of the designers (Megaforce, Weweremonkeys et al.) involved in these films yet cheeky fun is to be had elsewhere through the simple act of reading out YouTube comments in funny accents. This, for reasons inexplicable, is absolutely hilarious, particularly when Buxton draws attention to the manifold grammatical errors peddled by the kind of brain-addled trolls who lurk in these shady virtual caves. Thom Yorke, dancing again in the fantastic video to 'Ingenue', and David "Wuzza wuzza wuzza" Bowie seem to particularly incense the online community. As in the Sky Atlantic television spin-off of BUG, this turns out to be a real highlight of the show: Buxton coats everything in a nondescript eastern European accent which effectively reduces vicious online wars of words to the silly squabbles they truly are.
If at times proceedings veer a little close to being a hipsterama Buxton punctures the potential for musing with a spoof video of his own. The aforementioned Bowie features heavily, notably in an inspired recreation of a studio session with Brian Eno and Tony Visconti. The humour is occasionally near the knuckle – one imagines that Brad Pitt will not be flattered by the astoundingly scatological alteration of his face – yet the self-deprecating Buxton as enough charm to pull it off. Well played to the CQAF team for including such an offbeat addition to the programme. On evidence of the huge crowd in this evening a return performance is not only warranted – it is expected. Ross Thompson