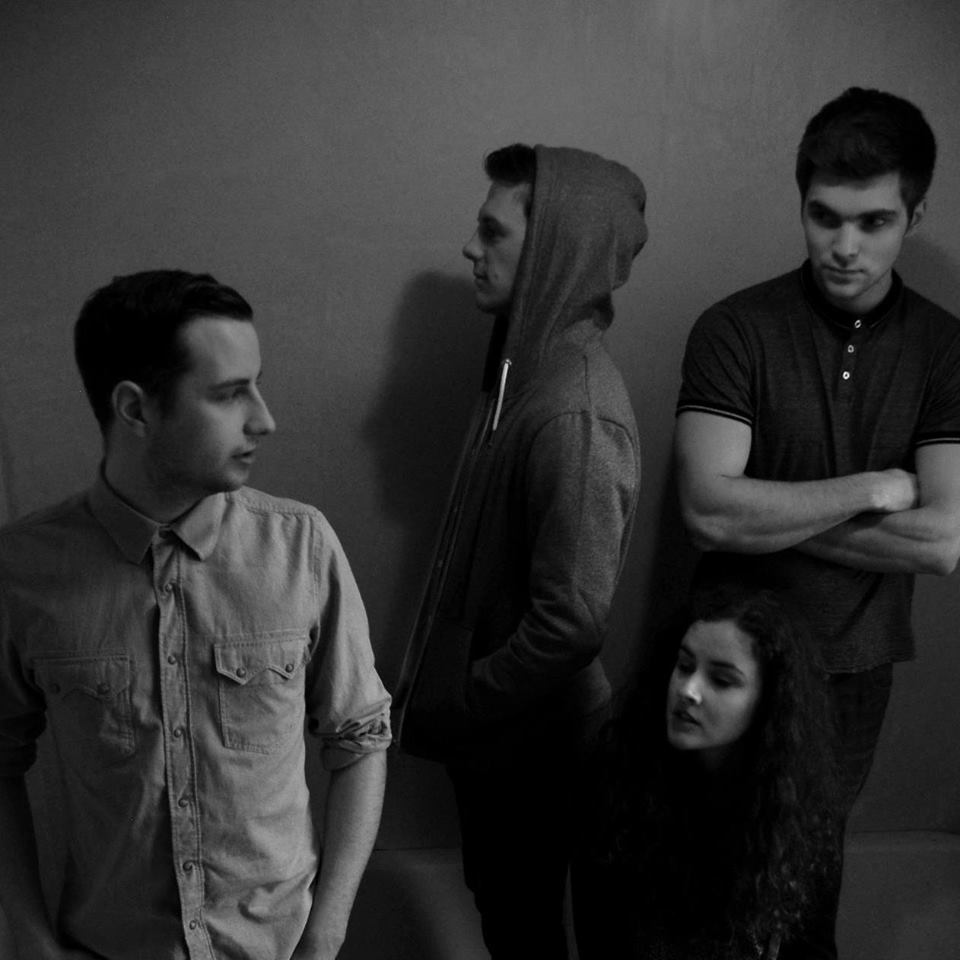 Having spent the last few months building an ever-increasing fanbase, fast-rising Belfast indie pop band Go Wolf have just finished recording their debut EP. Seven months on from the release of their incandescent debut single 'Voices' (featured via Bandcamp below) Brian Coney catches up with Scott and Chris from the band four-piece to talk music, image and the Northern Irish music scene.
___
First thing's first: how did GO WOLF come to be? Did you all know each other beforehand or was it a case of one person setting out to start a band?
Scott: Chris and I met at a poetry reading. I read a poem and he liked it. We got talking and bonded over our love of the band Gayngs. We decided to start a band. Chris knew Steve (drums) from being in bands together before. We got a then 16-year old Anna (keys/vocals) in last minute, a few days before our first ever show. She nailed it so she got to stay.
Chris: It really was right time, right-place.  We just seemed to strike up an instant connection and I knew we were going to get along well from the start.  It's been a fairly seamless partnership so far; we tend to balance each other out pretty well.
For someone who hasn't heard a note of your music, how would you go about describing it in terms of say, the mark of your influences, your music's lyrical content and the band's general compositional approach?
S: We all bring different influences to the band, both live and in composition that might not necessarily sum up the GO WOLF sound… I guess I'd describe it as a DFA-records house-band soundtracking a John Hughes movie.


C: B-52's x Cocteau Twins: party-vibes & hazy relationships.
The bio section on your Facebook page simply says "POP MUSIC". To what extent do you think that truly sums up Go Wolf?

S: I don't really like when a band have a 200 word bio saying 'we sound a little bit like this, a little like that …' so the POP MUSIC tag was meant to be something more ambiguous, I like the generic instability of calling something 'pop'. Taking it at face value, we started GO WOLF to write 3, 4 minute pop songs with catchy hooks, but there's also a darker side to the music, especially in the lyrics. To me pop music is perfect when it can combine those two strands.
C: To me pop music just means possibilities; we never want to be tied to a genre and that's just a tag that allows us to take it anywhere.

Your debut EP is very much on the horizon. What was the songwriting and recording process like? Was there much pressure involved and do to what extent do you think you captured the sounds in your head?
S: We've been working on the EP for a while now so by the time we went into record with Rocky at Start Together, the songs were all finished and in a structure that we were happy with and had tested out live. So there was no pressure other than that which we put on ourselves to get everything right. I think the finished product is really close to what I imagined before hand, but one track 'Talk To You' just all came together in the studio (with Rocky's help). It's the song I'm most excited for people to hear.


C: Personally I really enjoy the recording process; it's great to see creations coming to life and then having fun with it. Rocky was great to work with, super chilled and composed which allowed us to run a little wild. I don't think you ever fully capture the sounds in your head but that's what you strive for and kind of makes you want to write better and better songs. There was honestly very little pressure involved, we work fast, get things down and try not to overthink things too much: working based on instincts, but having a bunch of great people around you also doesn't hurt.
Despite being quite a new band, there's no question that you've covered a fair bit of ground already. Would you consider yourselves a driven band and if so, where does that drive stem from? Sheer belief in your music?
S: I'm not sure about 'sheer belief'. Sometimes I need Chris to reassure me that what we're doing is worthy but at the same time I wouldn't be playing music in this form if I didn't believe in it. For me the drive is probably part pride, part fear of failure and part my OCD approach to everything. GO WOLF is 90% of what I think about. 

C: Yeah, I'd say I'm fairly driven and intense about our work. We still haven't covered enough ground, there's still everything to do and that's what makes it exciting. We haven't sought out opportunities too much, but we have a clear idea of what we want to happen: just little goals and milestones that we aspire to. The drive comes from belief in our music and each other but ultimately it's a selfish artistic pursuit and it's wonderful when anyone takes any interest. Having a confidence in what your doing shows up in both a live and recording context so I'm just trying to give the others a boost with unwavering reassurance!

I once overheard someone accusing you of being "all style over substance". Would you consider this as a compliment or an insult, or somewhere in the middle?
S: I'd be lying if I didn't say insult. We have a strong sense of what the GO WOLF style is and we appreciate the style of other bands but I'd like to know that persons idea of substance! I just made an EP with three of the best musicians I know and both musically and lyrically I think it's the strongest thing I've written. So they can judge us on that when it comes out. If they still aren't into us, it was probably never gonna work out.
C: I'd be more insulted if they said all substance.

Insofar as Northern Ireland music is as the minute, what are you thoughts on the so-called "scene"? Is there a scene? And what acts are pushing your buttons at the minute?
S: I don't think we feel part of a scene. I think Northern Irish music is as healthy as anywhere else right now, but we're probably coming at the tail end of what seemed a very cohesive Belfast scene, with a bunch of bands breaking up or moving away. Having said that there's been a lot of people who have helped us out a lot as a band, Paul Irwin and the Ed Zealous guys, the guys at the Oh Yeah Centre, Across The Line; I think Belfast is a really great place to be a new band right now; there's a cool sense of people having the freedom to do something different. I'm psyched about the electronic acts that are coming out of Northern Ireland right now, the stuff Champion Sound is putting out right now is awesome… Ryan Vail, Unknown etc. Also Alana Henderson – she's great.
C: Space Dimension Controller and Malibu Shark Attack are both doing great things but there's a bunch of fantastic people.  I'm always interested in seeing local bands and just hearing anything new in general; whether it slots into a scene doesn't really worry me too much.

Looking firmly towards the near future, how would you quantify success? Is critical acclaim more important than fame? Does one's reputation precede the music?
S: I want to make music that a cooler version of the 16-year-old me would've got obsessive about. We want to be a band that captures, inspires or reminds of the nascent energy that comes with falling in love with music. Ideally it would be great to make that in a niche that gets us great reviews and on end-of-year lists but that's out of our control to a degree. We'd like to be a Beach House or the XX; critical acclaim with a sustainable level of popularity.
C: Neither critical acclaim nor fame are important at all, I think if you're trying to create with that attitude there's something wrong but certainly affection in any capacity is always nice.
Your whole approach – image and sound – just about yells summer. How much is this a conscious effort on your part? Could you still write the music you do in winter?
S: Agreed, Summer has a romance to it that matches with a lot of what we do, both musically and visually, but of course we'd be able to write GO WOLF songs in winter. It excites me think about extending our visual and musical identity in that way.
C: Winter-Balearic is the new genre I'm championing, but if we make you think of summer then lovely.

Finally, over the next few weeks, what does the future hold for Go Wolf?

S: We play Belfast Pride Week's Afterparty on 6th July with Not Squares, Ed Zealous, and the Wonder Villains in the Speakeasy. We've started writing and recording the 2nd EP also, so more of that.
C: More parties and dancing with beautiful people.