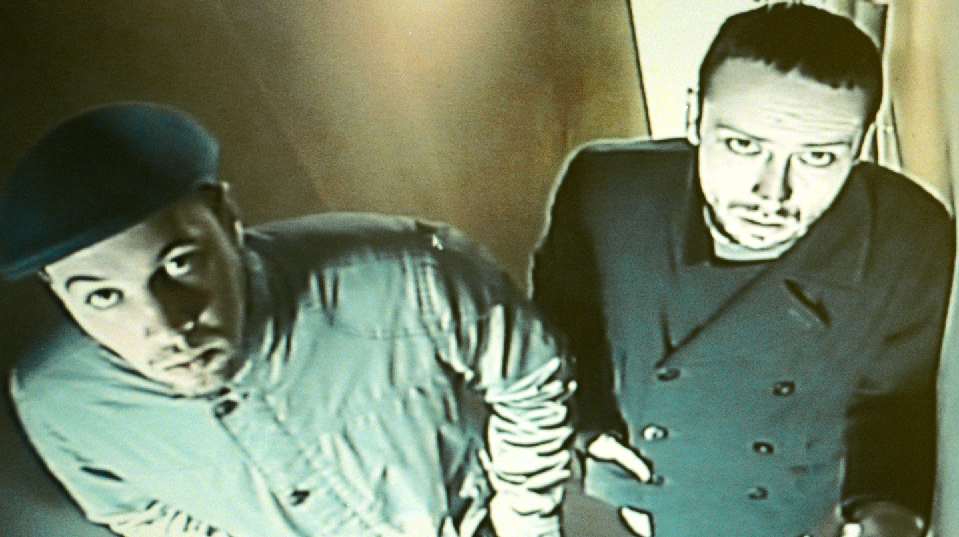 Earlier this year, Dublin/Wicklow duo Solar Bears released their second album, Supermigration. The record built on the template they set out on their debut album She Was Coloured In – a blend of nostalgic electronica, psychedelia, Krautrock and sci-fi themes – while reshaping and refining it, tapping into their pop tendencies and working with guest vocalists for the first time.
Chris Jones spoke to John Kowalski and Rian Trench over email to find out more about the record and where the band might be headed next.
How did you feel the first album went in terms of execution and reception, and what your ideas were when you began to think about the second one?
John: The first record was a learning experience first and foremost. It was really humbling to see people and music writers react to it in the manner they did. We were encouraged to continue exploring novel ground with our next collection of songs. Rian and I are constantly thinking about what we have yet to do in terms of songwriting and approach. That's already happening for album three, the genesis has begun.
You say that She Was Coloured In was a learning experience. Can you expand on that? What lessons do you feel you drew from it, and how did you act on them?
John: I had no experience in music prior to Solar Bears so I had to go on my knowledge of records and intuition mostly, doing things by ear. Looking back on the debut, we wanted to make a denser album with Supermigration, a more concise piece.
Rian: Collaborating with other people by default, will always span beyond your own imagination. I've never worked with anyone remotely similar to John in approach. We have such opposed styles of working a track, that we're always surprised with the result. After She Was Coloured In, we started to play with this dynamic and push it as far as it could go. Trying to make sure we were both playing our strongest game.
In what ways did your methods change this time, and did you have any particular inspirations or touchstones that you kept returning to?
Rian: Because album one was produced with very little gear in a semi lo-fi manner, we had many unexplored options in terms of sound recording and design. You could say that Supermigration explores our sound in a typical sound studio setting. This allowed us to be more adventurous with our influences considering we could literally reverse engineer records we liked, and employ those methods directly onto the tracks. Nothing was off-limits.
John: We definitely wanted to move away from drum samples and record acoustically in our new studio The Meadow. There aren't really any major influences but throughout the LP there are micro details where we simply acknowledged certain artists. I like the concept of showing respect for a lineage.
So does that imply that you see yourselves as members of a particular lineage? If so, who are your antecedents?
John: Not especially, I refer to artists that refuse to adhere to signatures or elements they know will work because it got acclaim in the past. It's part of the joy of creating, showing respect for others gone before.
Rian: There are far too many to name. It's never something we consider when we write together. It's also something that others will use to put someone's work in context. A fair practice in all types of art.


You have expanded your live show to feature a full band. How do you feel that has gone, and has it had any effect on the music you are making?
John: We've discussed drafting the band in to record on the next album to increase the live aspect. The shows we have played with them have all been really satisfying and educational at the same time. Everybody learns from it and the chemistry between the group gives us added confidence.
Rian: The live show has become far more diverse now. Every gig will have new elements so we can share some spontaneity with the audience every time. Three highly experienced players have filled out the sound. Their influence on the songs is wonderful. It's starting to inspire our next body of work.
I know you played live to support the last record, but I seem to remember that you didn't do much actual touring. Is that something you would like to get into – to really take Solar Bears on the road for weeks at a time?
John: We played quite a lot in 2011 and 2012, highlights including Norway and Russia. I think it's better for everyone to space them out at home. A lot of time and thought went into finishing Supermigration. A full tour is being planned for autumn so it will give us the chance to write new material, which is something we are savouring the idea of.
Rian: We are looking forward to touring greatly. To enhance our musical relationships with the band members and go on a real journey together. We want to be the best band we can be for everyone who decides to come and see us.
You say that the live band has begun to influence where your music goes next. Can you give us an idea of where you see it headed?
John: It's probably too early to say but there's bound to be various styles explored and recorded as live as possible. The more we travel and see, the more we will want to expand. You can't write a record without experiences, good and bad.
I want to ask you about the vocals – you have used vocals in the past, but they are much more prominent on Supermigration. How did the collaborations with Sarah P and Beth Hirsch come about, first of all?
John: 'Alpha People' definitely required a vocal line instead of another melody or instrumental layer. Sarah's voice was something we got a kick out of whilst on remixing duty for her band Keep Shelly In Athens. The collaboration with Beth was more foreseen and thought out. We believed she could be ideal based on her previous work and sentiments. It's likely we will use the vocoder on the next album.
Is that in preference to guest vocalists or in addition to them?
John: Probably both, mainly because we haven't explored that sound fully. It's been used on a thousand records but when it's done right it can transform a piece of music. To date it's only been on one song, 'Children Of The Times', so it's a case of finding a new setting for it and subverting the usage.
Rian: We've talked about it non-stop, but never found a home for it past 'Children of the Times'. Writing songs with vocoder first will be interesting. We like non-vocal sounds through the vocoder too. It's a great filter. The combination of voice and instrument through the same vocoder can have a disorientating effect which we like.
Do you have any examples of songs in which you think it's been used especially well?
Rian: Herbie Hancock – 'I Thought It Was You'. The sound of that vocoder is just incredible.
John: Seconded, that's really the pinnacle.
If you do use live vocalists, would you like to work with Sarah and Beth again, or do you have others in mind? What would be your dream collaboration, money no object?
John: The music has to be written first but the experience has opened up a lot of possibility and attracted new people to our band. A person's voice has to fit where we are sound wise, it has to be to the utmost benefit of the record and vice versa. Linda Perhacs would be a good one, her record gets plenty of play after years of discovering her.
One thing I associate you with is your willingness to champion other artists in interviews, on social media and in support bills – people like SertOne, Letherette and I Am The Cosmos come to mind. How important do you feel this is?
Rian: It's just the truth. We love these artists for many reasons. We all share a great passion in life.
John: Making music is not a selfish pursuit, we get strength from peers. If you can't champion others there's something seriously wrong with you. Things that are said privately can be said publicly out of respect and courtesy. Why not shine a light on people in your field?
With that in mind, are there any other new artists getting you especially excited at the minute?
John: Koreless, Ships and Lasertom who has a new album coming out this year which is superfly. Pye Corner Audio is incredibly consistent, he's a cross between John Carpenter and Delia Derbyshire. Check out his record The Black Mill Tapes.
Finally, I want to go back to talking about touring. Do you have any concrete plans yet? Will you be visiting new places, and where in the world would you most like to play?
John: We'll be doing more touring soon. Travelling does a lot for mental space so it's always a priority for us. We'd like to play in Japan more than anywhere. The furthest east we have played is Russia so we would like to extend that further across Asia.
The London album launch for Supermigration is on Tuesday, June 4 at The Nest in Dalston. Support from I Am The Cosmos and guests. Tickets are £5 from here, more on the door.
Stream the very awesome Monochrome by I Am The Cosmos below.