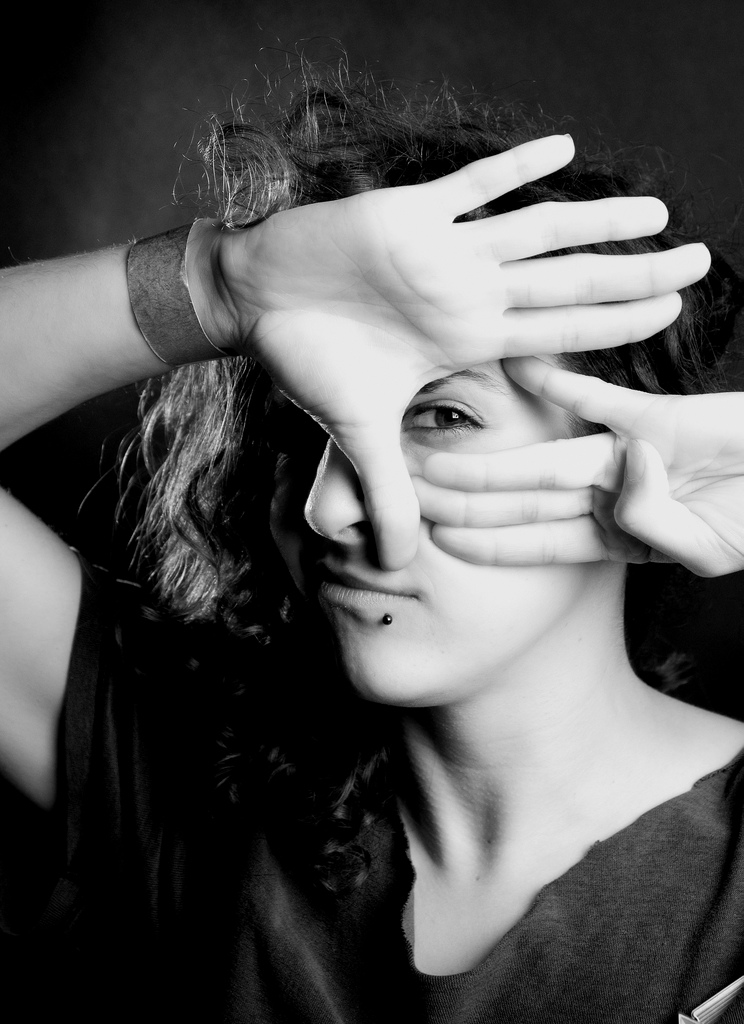 In the third installment of The First Time, we catch up with Belfast-based experimental folk singer-songwriter Rachel Austin, delving into a whole range of musical "firsts" in her life both as a performer and lover of music. Traversing her experiences with everyone from the Appleseed Cast and the Smashing Pumpkins to UB40 and Django Reinhardt, the Virginia-born artist has come quite the way…
Portrait photo by the ever-excellent Joe Laverty.
___
First album you bought?
I begged my parents to take me to the music shop to buy Louis Armstrong's What A Wonderful World when I was 8 or 9. I loved his voice as soon as I heard it and HAD to have it as my parents didn't have any jazz in their collection. I'm hardwired to love jazz evidently!
First single you bought?
I'm kind of embarrassed but I think it was 'Can't Help Falling in Love' by UB40. Think I was quite young and still dreaming of love at that point, so it tapped into something deep inside my pre-teen imagination!
First live concert/gig?
My parents went to a lot of gigs when I was a kid. I remember falling asleep when I was 6 at a Mylon Lefevre concert in a massive auditorium somewhere in Virginia. I think he recorded with The Who and Eric Clapton though went on to do the circuit of the plethora of Christian venues in the States.
First album you properly loved?
Ooh, now there's a telling question! I still have a copy of a self-titled album by this band called Havalina Rail Company, a Long Beach, California band that I heard on a mid-90s compilation album from the then obscure label Tooth & Nail. Total Waits-ian sounds with a bit of rockabilly and dreamy southern sounds. Great band and I still list to the album on repeat ad nauseum to this day!
First artist/band to change your music-listening/making life?
I have the weirdest, most obscure points of reference musically, but I'd say Smashing Pumpkins. I was of the 1979 era and that song hit a nail and made you want something deeper without being cliche. Same with the likes of early Pedro the Lion stuff, which certainly changed my songwriting. I still go back to David Bazan for writing guidance.
First local band you got really into?
In Belfast, I fell in love with the Delawares first! I was working with the drumming, producing, and witty legend that is Rory O'Connor and – damn- those folks could pulse out a gig that made you dance, laugh, and cry all at once. Sincerely something special with an amazing line-up of musicians.
First festival experience?
Again, my folks took us to a bunch of festivals when I was a kid, but my first big one was a festival called Cornerstone Music & Arts Festival in the middle of tornado country in Illinois. We had to drive 14 hours to get to the flatland in the middle of the US but it was worth it and you got to meet people from all over the place! I played at it in 1998 due to my name being drawn out of a hat on the impromptu stage but it was a LOT of fun!
First favourite film soundtrack?
This one is easy. I fell in love with film Swing Kids awhile after it came out. The soundtrack was my guidance notes for swing music of the 1930s, including Django Reinhardt, Duke Ellington, Benny Goodman… ooh, so good!
First band t-shirt/jumper?
Hmm. Not sure on that one. Remember that glam metal band Stryper from the 80s? I had an amazing shirt of theirs that I picked up in this tiny metal shop for $5. Ironically, that shop was owned by the metalwork yard in the town I grew up in.
First song to make you cry?
Probably 'Take My Breath Away' or 'Ordinary World'.
First time you knew you wanted to make music?
I think it was when I was 14 or 15. All of my friends were musicians and we used to go EVERYWHERE and sing in harmony together. In the park: harmonise. In the mall: harmonies and beat box. Broken down on the side of highway: harmonies. Fun times. I loved singing then and I love it now, although I think I'm the only one still making music!
First instrument you learnt to play?
I used to play the piano a bunch when I was a kid, though I never had lessons. Probably my voice, then!
First riff/song/piece you leant from start to finish?
Probably the riff from Vangelis' piece on Chariots of Fire. Cos I was that nerdy kid.
First original song you wrote?
Like seriously or just playing around? I used to write songs when I was little. I wrote one that was very inspired from 1950s musicals called 'Gimme my Sunshine' on the pool deck at my house in the Appalachians when I was 8 or so. I made up my own system of music scoring to memorize it with.
First gig or performance of your own?
Probably when I was 16 at the local all ages nightclub with friends in a melodic rock band and a friend playing noise rock. Eclectic mix, but that's the way we rolled in Virginia.
First musical hero/idol you ever met?
This is like the hour to show my backwoods American upbringing! I think it was probably… hmm… when I did an interview with Appleseed Cast for a zine I was writing for in like 1998. Or the guys from Chevelle at a show in.
First music magazine you ever bought?
I bought a bunch of zines in the late 90s. I think there was one associated with the art & underground rock scene outta Pennsylvania or New Jersey called Burnt Toast. That's a shot in the dark. I definitely bought a few Rolling Stone's early on.
'First Of The Gang To Die' by Morrissey – great song, right?
In the way that only Morrissey can be. Happy sounding tune yet you know if you listen to it after a break up it would cause you to weep!
___
Rachel Austin players Sunflowerfest on Saturday, August 10