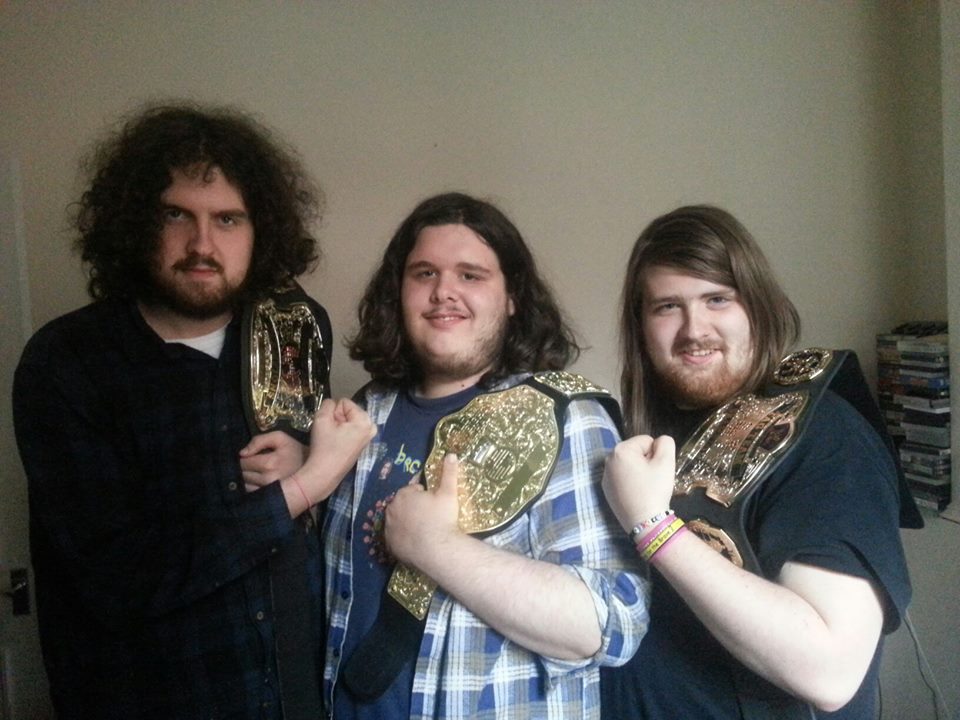 In the first installment of the perhaps not-so-imaginatively titled Tour Diary, our Guide editor and PigsAsPeople axeman Stevie Lennox (above, middle) sums up his band's recent UK tour was. Driven by More Than Conquerors' Danny Mo on the tour, PigsAsPeople are: Wilson Davidson, Chris Leckey and the aforementioned, altogether handsome Stevie Lennox. Take it away, Steve…
___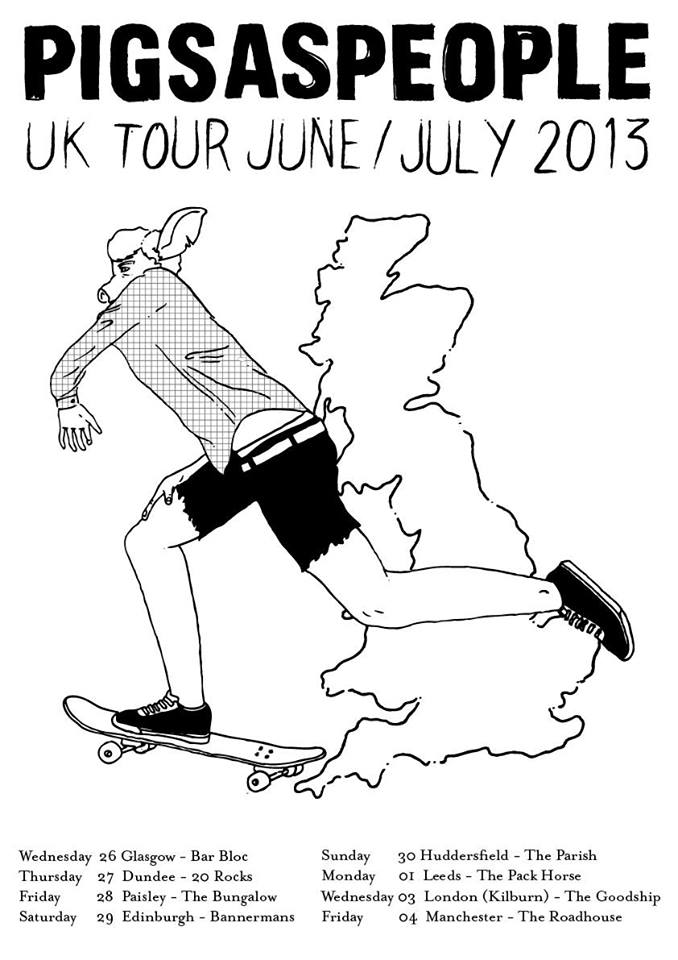 After many, many hiccups when arranging this tour, it took More Than Conquerors bassist and all-around good guy Danny Morton to step in last minute so we could get on the road. We've only been together for about 11 months at this point, which is pretty much as long as I've known Leckson (the collective term for our rhythm section).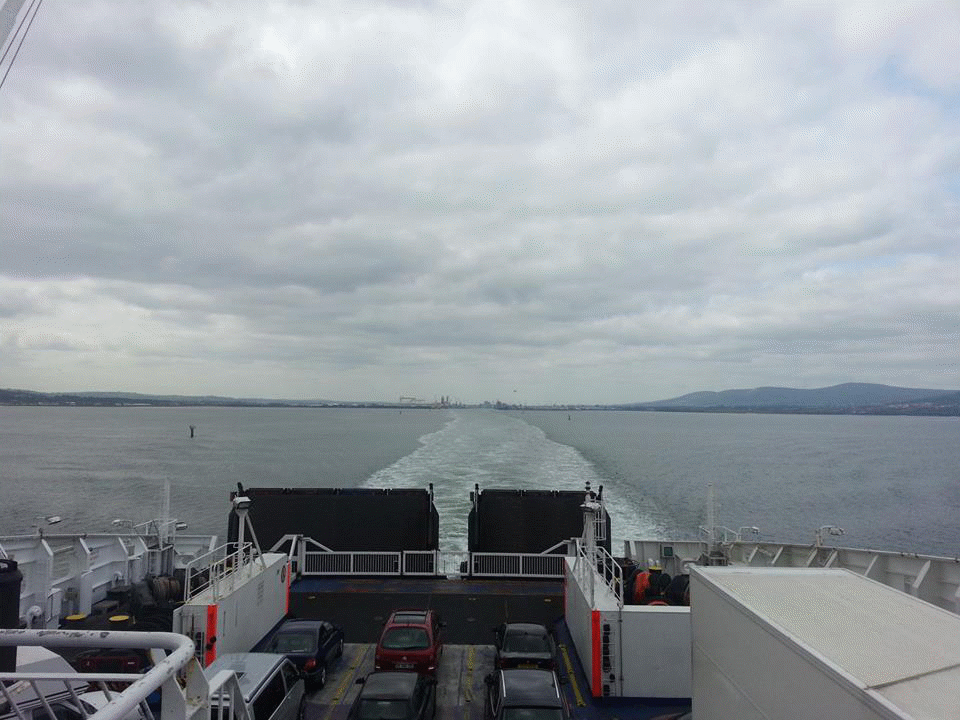 June 26 – Bar Bloc, Glasgow
Setting sail at 11.30 after a LOT of stressing, it's somewhat bizarre to actually be on the ferry, knowing that we can't go back and that the only thing we now have to concern ourselves with is actually getting to the shows (and finding somewhere to sleep. But sure that'll be grand!) Bar Bloc's an incredible wee venue – great sound, nice people as well as the winning combo of free pizza and beer for bands, which is a complete godsend for a bunch for poor students, and we can't recommend it highly enough. It's essentially (in terms of both people and location) a better Belfast. Being able to quote Limmy's Show with random gig-goers verbatim is probably the best part though.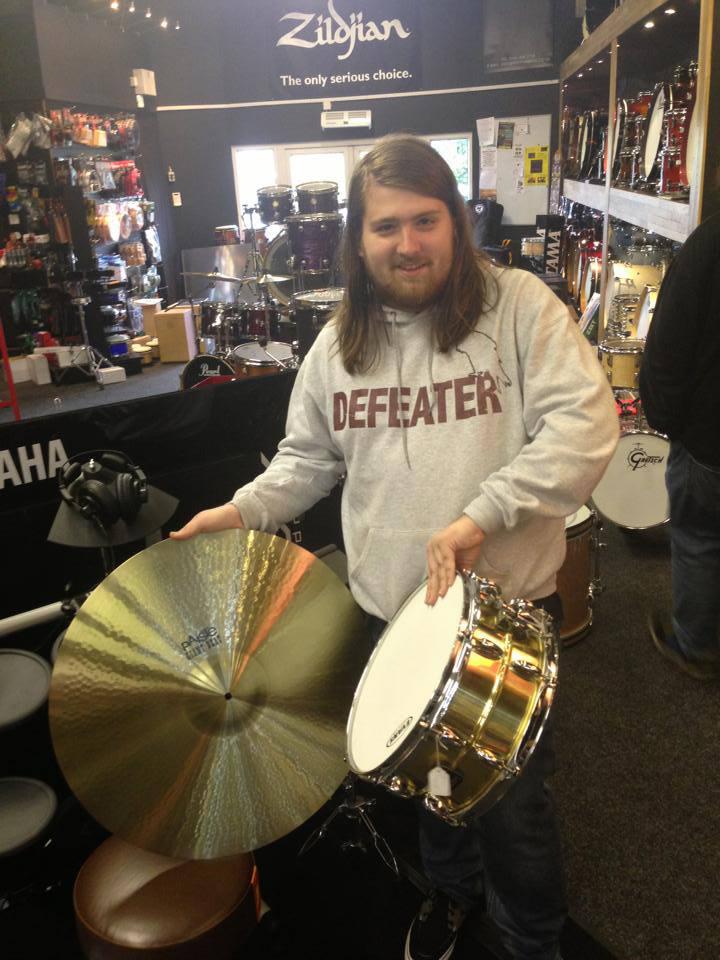 June 27: 20 Rocks, Dundee
Fundee? Scumdee? It changes depend on who you talk to, but we decided to stay in Glasgow for a while, which led to Wilson going to a drum shop for a replacement skin. He ended up spending over £500 on a new snare and cymbal. Dundee's a bit of a siren – enchanting on the outside but once you get a glimpse up close, you'll wish you could've turned back – and our venue tonight is what would happen if a church transformed into the Hard Rock Café. It even had mouths for urinals. Yep.
There was a small crowd, but somehow a handful of people were singing along to a couple of our songs, which is the most you can hope for on a gig like this. That, and one kind fellow who chatted to us post-gig about coming specifically to the same venue to see Axis Of, LaFaro, ASIWYFA and others from NI as well as ourselves. It's a small world, and meeting passionate, like-minded people is exactly the kind of reason you start a band in the first place.
Best MOments: Mobama, Hulk Mogan, Mo White & the Seven Dwarves, The Little Momaid, Moko Ono, Motown.
June 28: The Bungalow, Paisley
Paisley's a nice, cosy wee town and it boasts some of the most pleasant people we've encountered to date, with probably the greatest thing we've heard so far too: "You guys know Dischord".
After the show, Wilson thought he left a phone charger in Glasgow, forcing us to go back on the way to sleep in Edinburgh. 2 extra hours he cost us before realising it was in his bag the whole time. 2 hours we could have spent sleeping. I have no words.
On the plus side, we saw justice served when some good-for-nothing attempted to headbutt a girl and got himself arrested.
June 29: Bannerman's, Edinburgh
Despite definitely being the most beautiful place we're likely to visit this tour, Edinburgh's not got much of a music scene in comparison to Glasgow. Bannerman's – with a Cavern-like interior – was almost empty, but boasted a couple of great people who stuck around to chat. On a busy night I imagine it's an amazing venue, but unfortunately not every show can be packed. We did, however, drive out a middle-aged woman who just "didn't get it, man".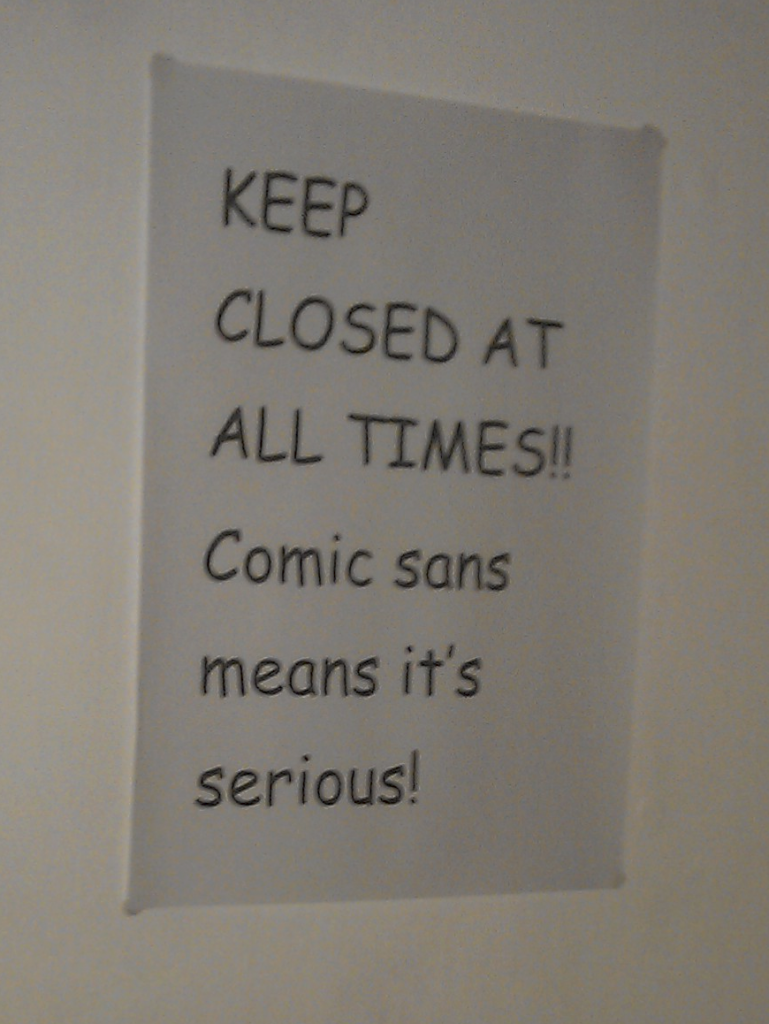 Bannerman's really meant business.
June 30: The Parish, reorganised for Zephyr, Huddersfield
This is where tour veered dangerously close to disaster with us almost left without a venue or a place to stay. It turned out the fellow we booked with misread our booking and was arranging our show for the 30th July and only realised today. Fortunately, we rearranged a free show in a different bar to a good crowd that grew throughout the set, and all went well. Crisis averted. We even found a place to stay!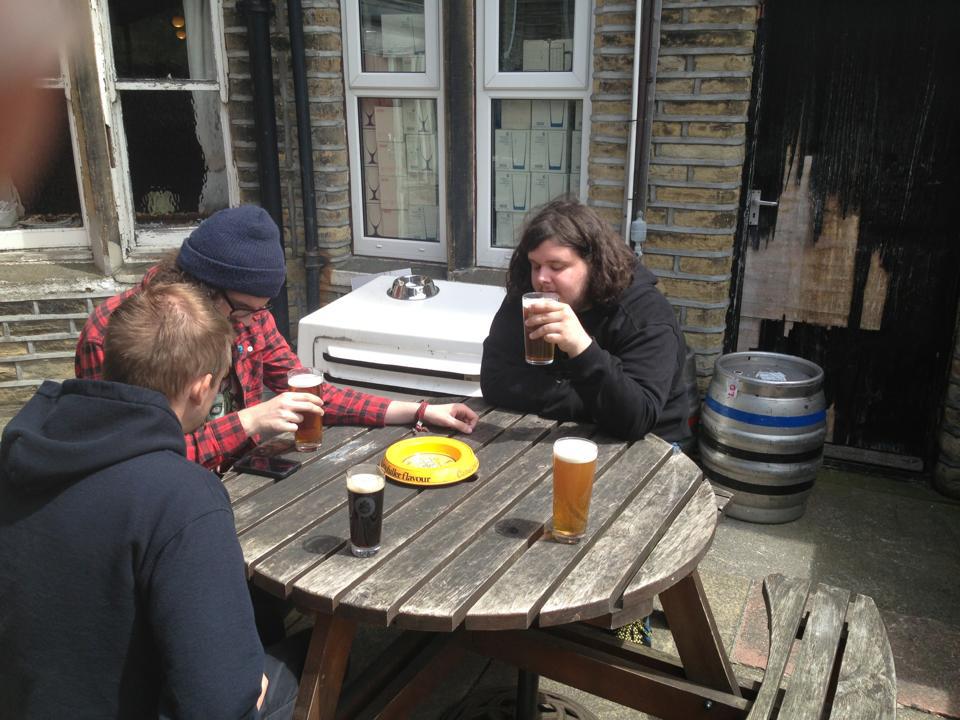 July 1: The Packhorse, Leeds
Some incredible local ale was sampled in Huddersfield before leaving (because when in Rome…). Again, the tour almost went completely pear shaped when not only did Leckey become so sick from a dodgy kebab two nights ago that he almost couldn't play, but one of the support band members who'd promised to let us crash at his disappeared; however, this led to possibly the greatest silver lining of all time when Marmozets – nominees for Kerrang's best newcomers – offered to let us crash at their place (which is the best house ever) after coming to our show and being genuinely wonderful people. Their oldest member is 21, and to see the level of success they have is inspiring – their new material is going to blow minds too.
After some amazing midnight burgers courtesy of the band, we slept like kings.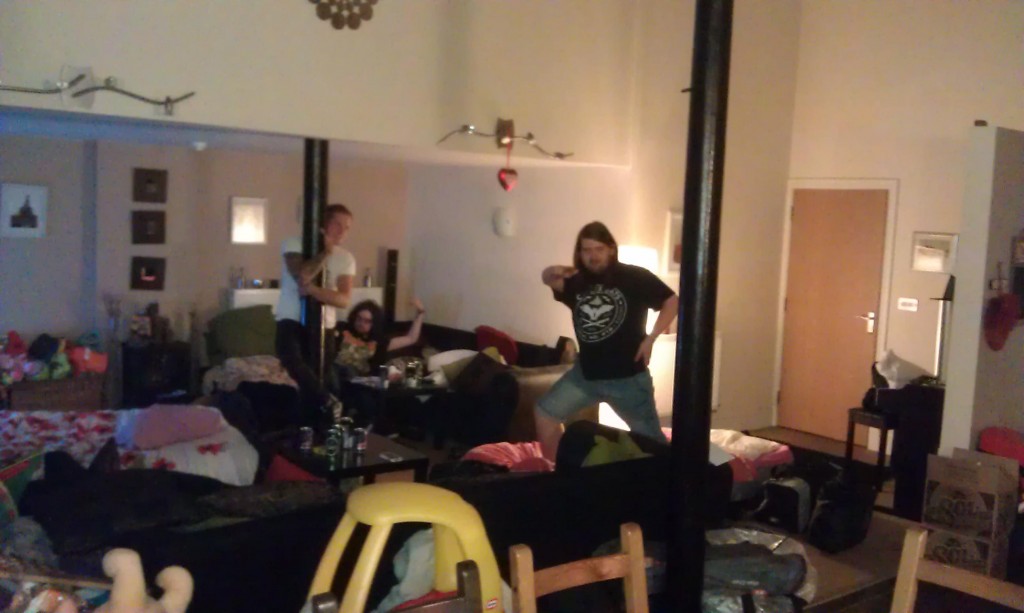 Success can be measured by the number of corner sofas per living room.

July 2: LECKEY'S BIRTHDAY!
Birthday burritos, nachos and pints, followed by a failed attempt at a night out in Shoreditch.
"LANDAAAN!"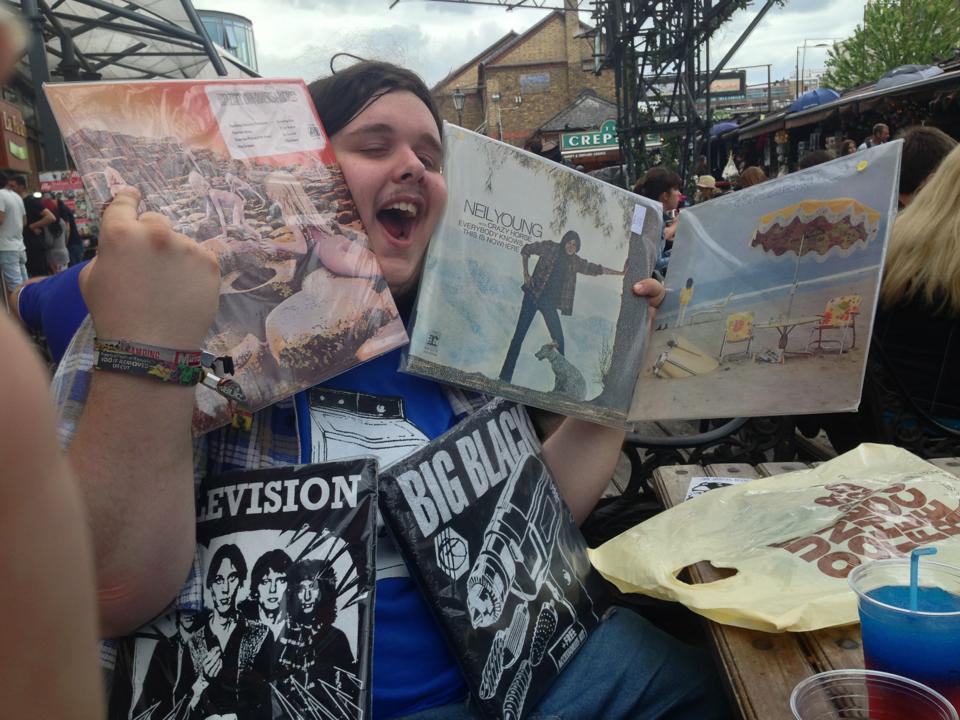 July 3: The Good Ship, Kilburn, London
Today turned out to be the most schizophrenic day yet; the highest highs and the lowest lows. We started with a trip to Camden in search of some things we obtained, which will be listed as follows:
Stevie: Zeppelin's Houses of the Holy and Neil Young's Everybody Knows This Is Nowhere and On The Beach LPs, Big Black & Television t-shirts and the greatest coffee I've honestly ever had (Shoreditch Grind – latte).
Chris: Tom Waits – Bone Machine LP, a Smashing Pumpkins 'Disarm' single art tee and a graphic novel called King City.
Wilson: Nothing but a fear of the city. You can take the man out of Jordanstown, but you can't take the Jordanstown out of the man.
After a merry day of adventuring we returned to our flat, only to find that the car was gone, and following the serious panic that it might have been stolen (with all our gear in it), we cooled down and realised we hadn't paid the parking as it had been free the previous night so it didn't cross our minds. It turned out the car had been towed without even issuing a penalty notice, so we showed up to the pound to pay a hefty £265 fee. Oh we'll appeal. Fortunately, Mike Patterson – the promoter of our London show – was incredibly cool about our delay and helped us work around it, and it turned out to be one of the best shows of the tour! The kindness of strangers genuinely did prevail, and a little bit of faith in humanity was restored.
Never again though.
July 4: The Roadhouse, Manchester
The Roadhouse is exactly the kind of venue suited to us: a grimy basement. The show itself has been recorded, so we may well have a rough live record soon.
___