Live Reviews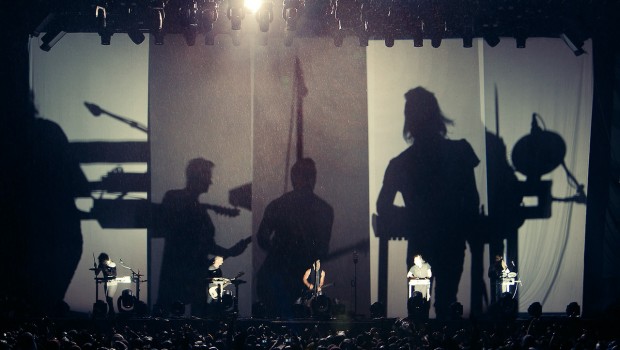 Published on August 23rd, 2013 | by Brian Coney
0
Belsonic: Nine Inch Nails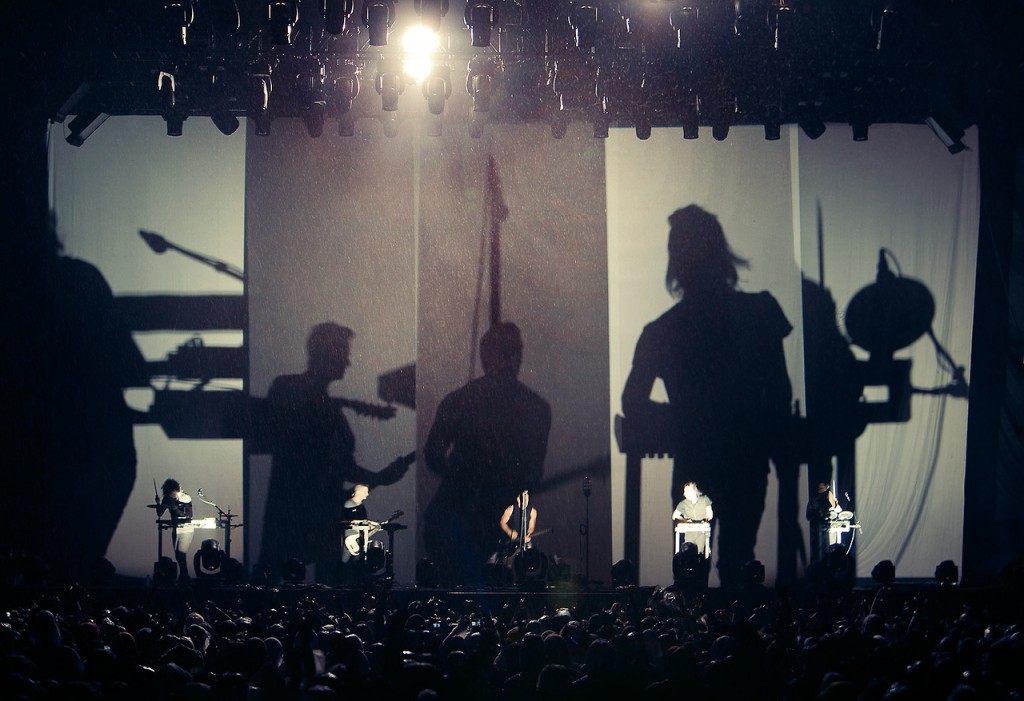 With their eagerly anticipated eighth studio album, Hesitation Marks, primed for release at the beginning of next month, Trent Reznor's genre-defining, decade-spanning Nine Inch Nails stop off in Belfast for Day Three of Belsonic 2013 experiencing quite possibly their most marked period of acclaim to date. Twenty-five years since Reznor formed the band as an effective solo project, there is an almost touchable urgency about the band and the music following a four-year incubation period. As fans rove in their thousands, everything, it would seem, is pointed in the general direction of a monumental first visit for the five-piece.
Having endured the elements to bear witness to the fast-rising talents of Little Matador and North Coast post-rock quartet And So I Watch You From Afar, the crowd – a melange of giddy youth and life-long aficionados – greet forty-eight year old Trent Reznor to a nigh on deafening ovation just after 9pm. With nightfall beginning to stalk the scene, the multi-instrumentalist delves straight into beat-heavy charge of 'Copy Of A', a new track unveiled at the start of the month. "I am just a copy of a copy of a copy," Reznor sneers, his band appearing one-by-one à la 'So Long, Farewell'* in reverse, the slotted white backdrop projecting five towering, contorted silhouettes. Illuminated by sweeping flashes of blue light, 'Sanctified' from the band's extraordinary 1989 debut Pretty Hate Machine soon follows, its slow-burning synth ambience and sublime nocturnal scourge having stood the sonic test of time very well indeed.
After a breathless "thanks" from Reznor, another new song, the warped, darkly chromaticism of 'Come Back Haunted' provides an early peak, all but seizure-inducing white strobe lights casting light upon the front of the crowd. Grabbing a tambourine nears its conclusion, Reznor – wearing what appears to be a kilt tonight – is in utterly vehement form. Exclaiming, "Ok, let's go!", a live drummer in Ilan Rubin is revealed and '1,000,000' quickly follows. Heady and impressive as it is, it pales in comparison to the rousing one-two of 'March Of The Pigs' and Piggy' that follows. With the former ambush distilling the indignant zeal of the band to a tee, Reznor segues into latter with "It's good to finally get here. Thanks for staying around." The song's creeping ambience is brilliantly executed, its pace and fervid delivery coming to the fore. "Nothing can stop me now", Reznor sings over and over, the crowd, thoroughly entranced, in complete accord.
Shortly afterwards, the industrial tech-glam 'Terrible Lie' sounds as narcotic as it did a quarter of a century ago, Reznor stalking the stage as its skittering synth outro bleeds into 'Burn', a visceral, sleazy barrage that sees the band, basked in red, explode into a propulsive, moshpit-making entity half-way through. One of the band's biggest tracks, 'Closer', provides tonight's first smartphones-in-the-air moment, Reznor performing out of sight to a camera before emerging from the screen. It's a bobbing, bass-led, altogether bewitching mid-set highlight, its sultry tangents wonderfully complimented by the visuals. Indeed, the instrumental role of lighting and stage direction throughout cannot be understated tonight: accompanied with unique scintillating visual bravura, each song serves as a standalone, sensually integrated experience that vividly brings into sharp focus the band's consistently forward-moving, fully immersive live show.
With recent setlists from the reinvigorated outfit hitting all the bases, the exultant string of career-spanning material aired tonight makes for both a relief and a unremittingly thrilling experience. New track 'Find My Way' stands out, the band honing their mastery of subtlety with hypnotic results, whilst 'Survivalism' – the first single from 2007's Year Zero – and the supremely solipsitic 'Only' make for two of the most exhaustive (and exhausting) singalongs from the crowd. Despite "fucking up" by wrongly playing non-NIN track 'What If We Could?' – a "rare occurence" which he humbly apologises for – the band are on fine form from start to finish, long-time guitarist Robin Finck, in particular, proving effortlessly virtuoso.
Concluding the main set, possibly Reznor's greatest moment, the galvanic, thoroughly nostalgic 'Head Like a Hole' enraptures the crowd from its initial ruminations. Chanting the chorus along with Reznor – who bounces on the spot and attacks his guitar with open chords at the start of each bar – the crowd are a smitten and flailing mass. "Bow down before the one you serve, you're going to get what you deserve," they fanatically relay as the 1990 single peters out. Walking off stage to ear-piercing applause, the band return almost immediately afterwards for the inevitable: a suitably glorious rendition of their Grammy-nominated, widely-covered 'Hurt'. As is only to be expected, it makes for a deeply final catharthic denouement: with images of nature and destruction entwined on the screen behind them, Nine Inch Nails round off a performance that, whilst long in the making, proved every minute worth the wait. Brian Coney
* yes, a Sound of Music reference in a Nine Inch Nails review.