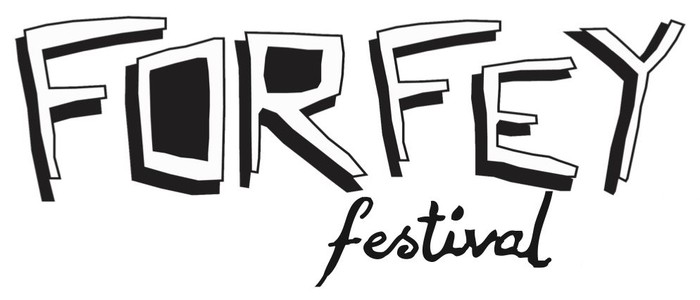 Miles from civilisation, in the scenic Fermanagh countryside, the Forfey Festival  is the destination for music fanatics around the country. The small farm site which plays host to the festival provides a communal atmosphere, where strangers are family and the reasonably small crowd overflows with passion and enthusiasm for each act.
Early on Friday evening, Enemies' semi-instrumental showcase of melodic math-rock impresses with a soulful ambience coupled with sheer head-bopping tunes. Usage of two drum kits heightens the intensity and kick-starts a seemingly tremendous weekend. Next up in the aptly named 'Hayshed' stage, Sons of Burlap put together a globe-spanning range of influences. Comprising members from And So I Watch You From Afar & Axis Of, as well as additional flute and fiddle, they manage to turn the entire festival's collective head with their Eastern-European-Irish-Egyptian concoction that resonates as a highlight in terms of originality and pure entertainment.
Kasper Rosa provide an impressive set of heavy progressive post-rock full of intense riffage, followed by Katherine Philippa whose contrasting passionate, minimalist piano music invades the hearts of the packed Hayshed. Axis Of deliver a phenomenal set of upbeat punk off the back of Finding St Kilda, serving as a testament to their talent and ability to outdo themselves as the memorable festival sets keep coming, and their continued growth is very much deserved, as proved by their performance. Headlining the Friday night, Daithí brings a set of energetic electronic house with the incorporation of violin, making instantaneous converts out of every previous non-fan, which consolidates Forfey's ability to cater to everyone's festival lineup needs, ensuring bang for the customers' proverbial buck.
[soundcloud url="http://api.soundcloud.com/tracks/4078615″ params="" width=" 100%" height="166″ iframe="true" /]
At most festivals the crowd are not given the chance to wake up for an early morning Pilates session, but it should probably be noted that Forfey is definitely not most festivals. The range of activities ensures consistent entertainment and alternative pleasures for the campers, including an impressive art gallery and curious shed-cinema showing arthouse film throughout the weekend. The Diddley-Bo workshop grants festival-goers the chance to view and play hand-crafted one-strings. Of course, if these don't appeal to your taste, the boutique offers merchandise and crafts for browsing and to purchase, as well as table tennis and swingball sets.
Arborist play an early set of pleasant and endearing albeit mildly derivative folk music to a small crowd, starting the day on a mellow note. Supposedly one-time-only hardcore outfit Skeletons are yet another highlight of the weekend including all members of More Than Conquerors, who've already won Forfey's heart over the past few years by playing consistently-mesmerising sets. With an added frontman alongside screaming sincerity to the packed-out 'Lie-To' stage, Skeletons thoroughly engage the crowd with tasty riffs, heating the shed with active bodies. Later in the day, Joshua Burnside's soulful, contemporary yet rootsy experimental folk satisfies all manner of tastes, serving a delicious aural platter for the Forfey music fan. Up next is acoustic singer-songwriter Jamie Neish, who has proved his worth to the festival, drumming for the aforementioned Skeletons & More Than Conquerors previously. His flawless voice and sparse music captivates the crowd throughout; after which, dedicated fans swarm to catch the seasoned Ed Zealous serve up a moderately entertaining set of electro-pop. Mojo Fury take to 'The Pit' and the crowd knows what to expect from the band that has already given them so much. Their awe-inspiring, life-affirming set paired with a seizure-inducing – in the best possible way – light show leaves the huge crowd enthralled from start to finish. They are the definitive highlight of an already fantastic and memorable weekend, serving up impeccable precision and keeping the crowd hungry for the release of their new album.
[soundcloud url="http://api.soundcloud.com/tracks/5618116″ params="" width=" 100%" height="166″ iframe="true" /]
Forfey festival is the embodiment of love for music, capturing the very essence of everything that we love about it. Low-key and intimate, it nurtures our local music scene. Quaint and quirky, the festival is a consistent summer highlight for the like-minded people that attend annually. This year was no exception for the festival as no camper was left dissatisfied with their experience, and rightfully so. Forfey Festival 2013 has once more delivered fantastic acts throughout the weekend accompanied by a constant positive and homely atmosphere. R Jake Lennox