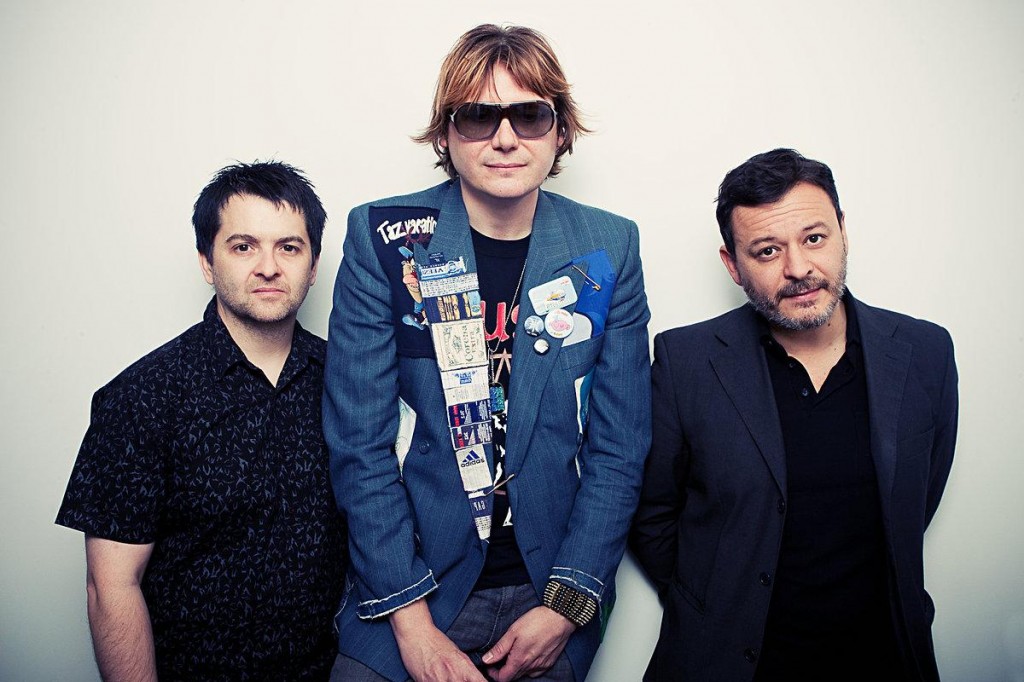 Manic Street Preachers are the great survivors of British rock music. In an era where the touring landscape is awash with bands of their vintage (and younger) on money-spinning reunion tours, the Manics keep racking up the albums, the tours and the years – 27 at the last count. And yet here they are, packing out the Ulster Hall again as they tour to promote their eleventh studio album, Rewind The Film – yet another top five chart hit.
Given that album's delicate nature – all acoustic guitars, slow tempos and snatches of brass – it's not surprising that tonight's show is a slightly disjointed affair, with six new songs aired. But that keenness to play the new material reflects the Manics' determination – which has always been there – to forge ahead creatively and not merely pander to nostalgia. That being said, 'Motorcyle Emptiness' is a hell of an opener. Richey Edwards' tirade against consumerism is no less potent now than it was two decades years ago, and it quickly reaffirms the fact that the Manics remain a great live rock band. James Dean Bradfield, dressed sensibly in a jacket and shirt in contrast to Nicky Wire's enduring fondness for glitter and patches, has lost none of his guitar prowess nor his vocal power. As Wire scissor-kicks and yells along, it's clear that the Manics' energy and enthusiasm have not left them.
The band have covered a great deal of ground over the last two decades – from the New York Dolls-aping glam and punk of their early days through hard rock bluster, austere post-punk, and on to Britpop and crowd-pleasing radio rock, with a few unexpected left turns along the way – so a setlist could go in one of many different ways. Perhaps as a nod to Rewind The Film's focus on melody and songcraft, we get a tranche of songs from 1998's This Is My Truth Tell Me Yours, written at the peak of the band's popularity.
The huge 'You Stole The Sun From My Heart' and 'Tsunami' provide big singalong moments, but it's the album's more sombre songs that translate best – the unusual phrasing and unpredictable melody of 'Ready For Drowning' and particularly 'If You Tolerate This Your Children Will Be Next', which is nothing short of majestic, and a haunting rendition of 'The Everlasting', performed by Bradfield alone, just a stoic voice and an acoustic guitar. It has the entire hall rapt.
When the new songs do get an airing, they are well received – a few superfans can be seen singing along to the lot – and the trumpet parts especially are a delight. Current single 'Show Me The Wonder' stands tall among the classics and 'Rewind The Film' has the grandiose drum rolls and sense of drama of something Phil Spector might have produced in his heyday. But the true thrills are to be had when Bradfield grabs an electric guitar and bounces around the stage, still pirouetting after all these years. 'Motown Junk', 'Revol', 'Kevin Carter', 'You Love Us' – there are enough classics in the race to the end to satisfy most, each delivered with gusto, choruses roared back by the faithful. And then we are rewarded with the monumental pay-off of 'A Design For Life'.
A Manics show in 2013 might lack the delirium and pure nostalgia of their peers' reunion tours, and the acoustic newies might slow them down a little, but theirs is a greater victory – the knowledge that they can still pack out large venues and leave fans grinning without having to disappear for several years first. Chris Jones