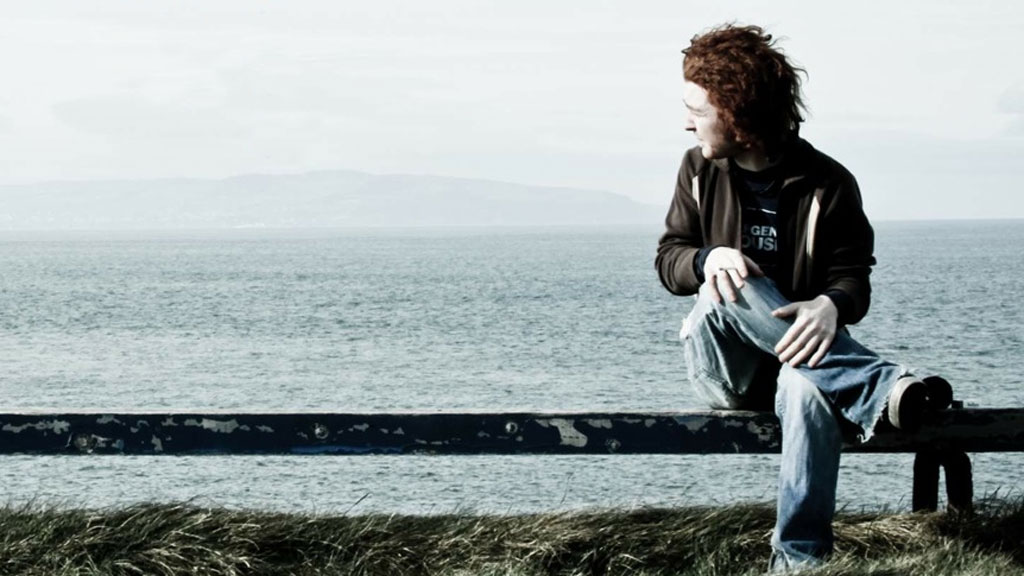 In the latest installment of The First Time we get the virginal sonic lowdown from North Coast songsmith extraordinare Tony Wright AKA VerseChorusVerse. Traversing his wide-ranging tastes and first-time musical experiences with everyone from John Denver to Public Enemy, we get an invaluable insight into the musical DNA of a homegrown songwriting giant.
First Album I Ever Bought: Public Enemy – It Takes A Nation Of Millions To Hold Us Back.
I was 9 years old and heard 'Straight Outta Compton' by NWA at my big brother's friend's house. It had been out a couple of years at this stage and I was at that age were I was discovering the joys of swear words. I saved a few weeks pocket money and went to the closest record shop, which was Jingles in Coleraine. Scouring the shop I couldn't find NWA or any Hip-Hop for that matter, so I asked at the counter. The lady pointed to a shelf beside her were they kept the albums with more colourful language, adorned with the classic 'Parental Advisory: Explicit Lyrics' sticker. She told me that they had no more copies of that particular album but these other cassettes (yes, cassettes) were, "the same kinda shite". As soon as I read the title of P.E.'s debut, I knew I had to have it in my life. She asked me what age I was, and I lied and said I was 12, even though I could barely see over the counter. Some things never change.
When I got it home and put it on it blew me away in a way that NWA hadn't and, I think, couldn't. Both were angry and amazing in their own ways, but this seemed like righteous anger. Anger with a purpose and a want for change. I felt like I was getting an education. An education in music and rhythms, but also in things I'd never heard in music before. I didn't know it at the time but the lessons I took in social commentary, politics and history were far more powerful than I could have ever imagined at 9 years old. It was a world I had never seen before, an America I had never encountered before. It was, quite honestly, the most incredible thing I had ever heard up to that point.
I later found out that Chuck D wanted Public Enemy to be like a Hip-Hop equivalent of The Clash. Explains a hell of a lot really.


First Single I Ever Bought: – Partners In Kryme – Turtle Power
The title track from the first Teenage Mutant Ninja Turtles movie. It would've been a few months before I picked up Public Enemy's debut, so this was my introduction to Hip-Hop. I know its Hip-Hop lite but without it I wouldn't have gotten into NWA and PE. It was like a gateway drug (of which there is no such thing, I hasten to add).
I'd grown up listening to my parents music, which was incredible. Bands and artists like The Beatles, Bob Dylan, Neil Young, Joni Mitchell, The Stones, Dick Gaughan, The Dubliners and The Chieftains so I guess Hip-Hop was kinda like my first act of rebellion, I'd never heard anything like it before.
I'm not ashamed of this choice one single (pun fully intended) iota. Its essentially a tune about good vs. evil, which so much of the music I love is about.
Turn it up, it fuckin' jams.


First Gig I Ever Went To: The Furey Brothers & Davey Arthur – Some Hotel In Ballymena
I was going to go for the cool option and put the first gig I went to of my own accord, without my parents (Beastie Boys, Kings Hall, for the record) but the honest truth is this was my first live music experience. My mum and my aunt took me and I had a blast. It was also my first ever live performance as I left a request on a bit of paper on stage and the lead Furey, Finbar, saw that it had obviously been scrawled by a kid (I was 7), so he brought me up on stage to sing it with him. I was completely terrified but equally loved it. I have a picture of it somewhere. Other than the imprint on my mind.
Here is that song, the 'Red Rose Cafe'. It's not for everyone!


First Album I Properly Loved: Nirvana – Nevermind
Yeah it's an obvious one, but there's a reason for that. It changed everything. Plain and simple.
I'd been listening to PE and getting into Guns N' Roses, and the release of Nevermind kinda passed me by (I was 10 when it was released), but then in 1992 when I'd just started a new school and things were, quite literally, beginning to change, I saw them perform 'Lithium' on the MTV VMAs. I'd heard 'Teen Spirit' and 'Come As You Are' and liked them but that was all. As soon as I saw that performance, that was it. Life changed forever. I had taped the ceremony as it was on way past my bedtime and I vividly remember watching those 4 and a half minutes over and over and over again. Like I still do. I think its my favourite guitar sound ever. After that, Nevermind was probably the only thing I listened to for months, occasionally interspersed with Pearl Jam's Ten, who cleaned up at that years awards with their highly affecting video for 'Jeremy'.
It was a good time to be knocking on puberty's door.


First Artist/band To Change My Music-Listening/Making Life: Fugazi
Repeater saved my life when I was 14. Incredible record. I played it again and again, repeatedly. It was the album that laid the blueprint for my continuing musical odyssey and what I tried to install in my bands over the years. With varying degrees off success! Both puns you just read were, again, fully intended.


First Local Band I Really Got Into: Carnivore 7
Carnivore 7 were the local heroes on the North Coast, led by one Mr. John Bakewell. John was my good friend Matthew's (of Edinburghs fantastic A Fight You Can't Win) eldest brother's band. They were ferocious in their intensity. I was too young to get into their gigs but I got to see them rehearse a few times and they made me wanna scream, jump around and create. Whenever I was a little older and formed my first band PepperBook, we took so many pointers from them. At our first gig when I was 14, we covered Sonic Youth and Fugazi (whom I had gotten into because Niall, another Bakewell brother, had given me a copy of 7 songs), as well as playing original material when the other bands were covering Oasis. John was impressed and I still think that may have been the happiest I'd ever been at someone's reaction to a live performance. Bakewells, I salute you. Thank you.
First Festival Experience: Glastonbury 1998
I paid some guy £5 to use his rope ladder to get in. Best fiver I ever spent. It was so fucking muddy. It was a scent I'd never experienced before and now strangely miss from time to time. My band PepperBook were being sniffed around by BMG at the time and I arranged to meet one of their A&R guys who ended up giving me a backstage pass. I briefly met John Peel, who I remember being very pleasant and encouraging me to go and see Blur as they had just started, so I did. It ended up being the first of four times I saw them. What John said, you did! Other than that I can't remember too much as I was 17 and at a festival for the first time away from home. The less said the better. You can probably fill in the gaps better than I.


Favourite Film Soundtrack: The Blues Brothers
They were on a mission from God. It has EVERYTHING. John Lee Hooker, Aretha Franklin, Ray Charles, Cab Calloway … what more could you want? Not to mention the actual Blues Brother Band. Those guys could play. Seriously, guys like Donald Duck Dunn & Steve Cropper (both played in Booker T & The MGs AND with Otis Redding) to Matt Guitar Murphy (Howlin' Wolf!), these guys were seasoned professionals. Jake (John Belushi) didn't have a note in him but was one of the most electrifying fictional frontmen of all time (him and Ziggy Stardust) and Elwood (Dan Aykroyd) was one hell of a harmonica player. Plus it had some of the most spectacular car chases of all time. How can you listen to this and not be in a good mood after?


First Song To Make Me Cry: Neil Young – 'Philadelphia'
Gets me just about every time.


First Time I Knew I Wanted To Make Music:
My first memory is waiting for my folks to get back from seeing Bruce Springsteen at Slane. My babysitter at the time was Breena Corrigan who went onto enjoy a number 1 with the Beautiful South ("I Need A Little Time"). I have vivid memories as a kid of running home from primary school in Portstewart to listen to the 'Born in the USA' vinyl of my mum's. Me and my elder brother actually used to have play fights were he would pretend to be Billy Joel and I, Bruce. Even to this day if I hear some of his older songs and I've had a few drinks I will climb the nearest chair/table/person and belt it out at the top of my lungs. I've said way too much! The title track is an incredibly subversive song. A damning anthem of a tattered and failed dream. It's no surprise that Joe Strummer was a huge Springsteen fan.


First Instrument I Learned To Play:
Guitar, when I was 8. I'm still learning.
First Riff/Song/Piece I Learnt From Start To Finish:
'Leaving On A Jetplane' by John Denver, my mum taught me how to play it. Poor old John ended up leaving this mortal coil in a jet plane crash some years ago. Poetic irony? Nah, just really shitty luck.


First Original Song I Wrote:
An awful two chord monstrosity called, 'Don't Move', I think there is one other person on the planet who knows and remembers it. I have top men on it as you read this. Top men.
First Gig/Performance Of My Own:
A gig in a hotel in Portstewart that has since been levelled. Chops from Team Fresh played in the band too! I had just turned 13 and Kurt Cobain had just joined the 27 club. Cue extended years of teenage mourning. I had my big moment getting to sing and play lead guitar on 'Pennyroyal Tea', I was so excited and nervous about it that I cast all regard for the songs tempo aside when it came to the solo, I played it so fast that I'd finished it before the end of the first bar. With the rest of the band looking furious at me! Didn't miss a note though, just played 'em too fast. Rock n' roll.
First Musical Hero/Idol I Ever Met:
John 'Doc' Docherty, lead guitarist with The Xdreamysts, a Portstewart band from the late 70's who were "signed" to Good Vibrations. They had done a John Peel session in 1979 and put out an actual record! I was 11 and Doc was kind enough to help me on my guitar education. Hero.


First Music Magazine I Ever Bought:
I bought Melody Maker and NME religiously every week for about 6 years from the age of 11 onwards. I always slightly preferred Melody Maker as they featured more the US bands I was into at the time, plus they seemed to have Therapy? & Ash in it more, it was incredible to see guys from up the road on the front of these magazines/papers. Melody Maker ceased publication in 2000.
VerseChorusVerse plays a full band show at Rattlesnake of Angel, London on Wednesday, September 25.