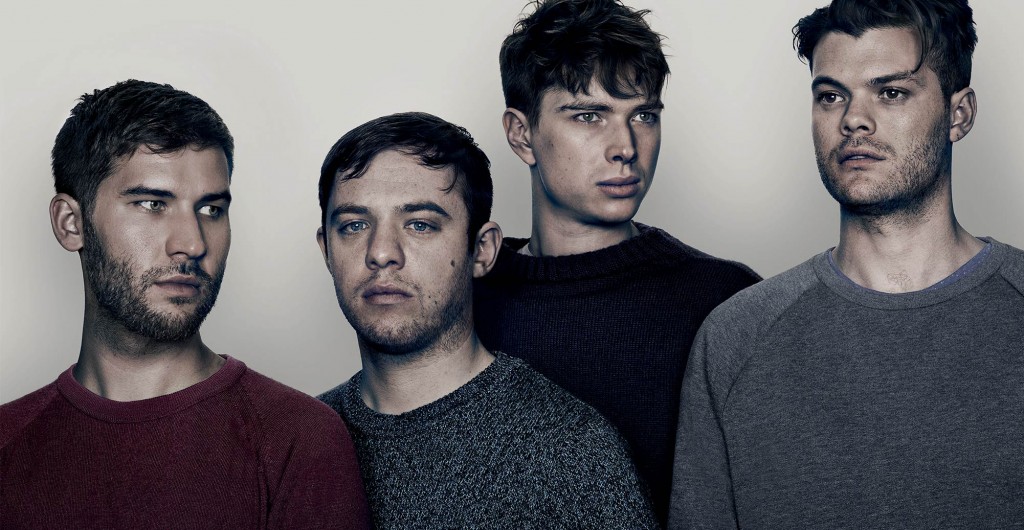 Having released their breakthrough, critically devoured second album Arc back in January, Manchester quartet Everything Everything stop off at Belfast's recently expanded Limelight 1 comfortable in their status as 2013's most comprehensively doted-upon darlings of English indie pop. But, as is invariably the case, having come to prominence so rapidly over the last few months, it remains to be seen how well the Jonathan Higgs-fronted four-piece fare in satisfying older fans whilst accommodating for the whims of the very newly inducted.
The first of Everything Everything's two touring support bands tonight, Liverpool psychedelic pop five-piece Outfit deliver a commanding performance to tonight's growing, slightly hesitant crowd. Citing Brian Eno, Talking Heads and Cluster as main influences, the band effortlessly meld Hot Chip-esque melancholia on the likes of 'Spraypaint' and throbbing, vaguely ominous dancefloor forays such as 'House On Fire' via scurrying triggered samples, nostalgic chord shifts and idiosyncratic guitar leads. The crowd may be classically standoffish but their approval speaks volumes.
Slotting into where Dutch Uncles were meant to feature on tonight's bill, London alt-pop band THUMPERS up the audible ante with their own slightly confused brand of harmony-driven, mutipart, decidedly fidgety electro-pop. Whilst the likes of the MGMT-like 'Sound of Screams' has single written all over it, the rest of their material – despite the occasional earworm hook and breakdown – feels overtly layered, the odd three note horn line, for example, feeling like a superfluous addition to a formula that this particular listener thinks would prove a lot more effective if stripped back to the essentials. An energetic and affable performance from a band with huge potential, nonetheless.
With the room becoming increasingly full (an inevitability supremely soundtracked by the likes of Slint and Grandmaster Flash, no less) Everything Everything soon emerge, one by one, to the brooding arpeggiated synth of 'Undrowned', the quartet's practically perpetually close-eyed frontman Jonathan Higgs' opening eulogy betraying an unmistakable heartfelt urgency before the track culminates in its brief but brilliant Radiohead-esque outro. The older, considerably more propulsive 'Qwerty Finger' follows, quadruple vocal harmonies, complex guitar lines and Hicks vocal delivery seeing it go down as an early peak.
Arc highlight 'Torso Of The Week' and the stupendous polyrhythmic charge of 'MY KZ, UR BF' drop next, the latter Man Alive opener more indicative of the foursome's more compositionally ambitious material. Fluctuating between the wistful narrative of Higgs – marking one of his finest vocal performances of the night – and the band's seemingly effortlessly intelligent counter-rhythms, 'Choice Mountain' also stands out alongside the symphonic 'Duet' and the instrumentally spare but rather beautiful 'NASA Is On Your Side'. Shortly afterwards 'Kemosabe', the second single to be taken from Arc, yields the biggest crowd reaction so far; dozens of nigh on mannequin-like onlookers suddenly animated.
With the band briefly taking leave, Jonathan Higgs remains to perform 'Tin (Manhole)' by himself. Despite only consisting a three or four fingerpicked chords and his vocals, it results in one of the most fully absorbing tracks of the night. Higgs means every word: eyes-closed as always, totally entranced by the borderline angelic lilt of his delivery and the belief he has obviously invested in these words, he all but silences tonight's crowd over the song's four minutes. "An old favourite," according to Higgs, 'Suffragette Suffragette' delivers on all fronts: four-part harmonies, wonderfully angular hooks and easily the band's heaviest breakdown  before the boundlessly anthemic 'Photoshop Handsome' proves the outright highlight of the night, an irreducibly nostalgic, melodically magnificent masterstroke that bursts into vivid and glorious technicolour live.
Despite the band's drummer Michael Spearman temporarily breaking his his snare drum ("you danced too hard! This has only happened once before – in a pub in Sheffield," Higgs informs the crowd) the band see in the encore via the buoyant 'Don't Try', featuring Higgs bashing a drum of his own at the front. Returning after the traditional repose, two Arc tracks, 'Radiant' and arguably the band's most well-known and loved song, 'Cough Cough', go down expectedly well before a rather beautiful, multi-layered parting shot in'Weights', with its knowning lyric "I know how it all ends", rounds off a masterful performance from a genre-defining band at the very top of their game. Brian Coney