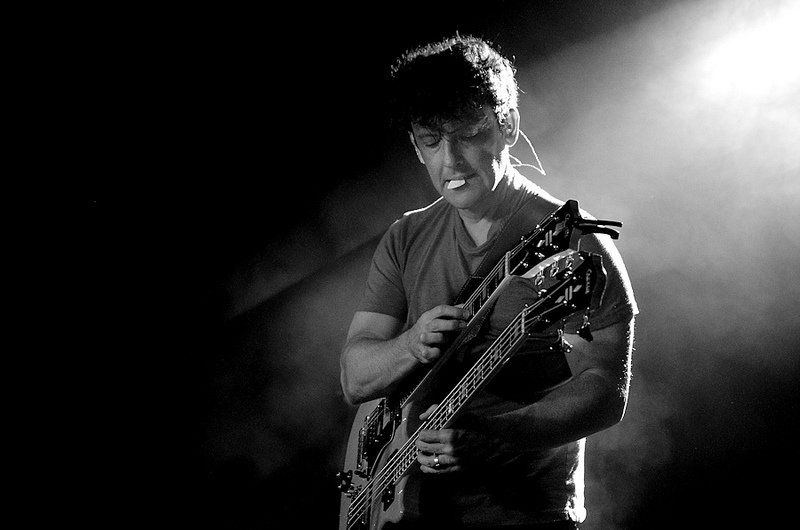 Since resuming service in September Radar has hosted numerous strong acts, and tonight proves to top them all, should you have a taste for a bit of noise and jumping around. Droids open the night up with a guitar-led onslaught of enormous chords and hooks, alongside big vocal anthems. They play 30 minutes to a relatively quiet Speakeasy, but the slowly growing numbers in front of them doesn't put them off. There are more than a few nods given to post-hardcore band Thrice throughout, with distorted walls of sound topped by piercing melodic riffs being a common factor in most of their songs. Another unifying factor of the performance is how tight the four members play together – start to finish, they are a joy to behold because they exude confidence and pleasure in their own work, and so they should.
A majority of listeners in the Speakeasy tonight have never heard Californians El Ten Eleven before, and so the first 5 minutes or so of their set are met with much head scratching. Once the penny drops, however, the crowd surges forward excitedly as they realise in unison that El Ten Eleven must surely be one of the best bookings in Belfast in the past year. The two-piece meld the technical musicianship of prog and the emotive charge of post-rock, but in honesty it would be doing them a disservice to pigeonhole them such.
Using only drums and a double-neck guitar/bass combo, the two band members are a spectacle to behold onstage, grinning intently as they manipulate their sound in the most unexpected and creative ways. Sometimes bass-heavy and dance-oriented, as on 'Jumping Frenchmen of Maine'; other times heartfelt and twinkling, such as on the title track of their last album Transitions, they pull off songs from both ends of the spectrum, reminiscent of Not Squares in many ways and so different in others. Its impossible not to hear a little Les Claypool-esque weirdness in front-man Kristian Dunn's (pictured) performance as well. With these technical skills on display, its amazing that the band doesn't come across as aloof – dozens of simple layers replace extensive solos, and their entire sound is revolves around expression of emotion much more than showcasing technique, to wondrous effect.
Still high on the surprise of the support bands, the crowd pile up for hardcore headliners PigsAsPeople. For anyone with any doubt as to why the three-piece have had so much attention in the local music scene over the past year, this performance should close all questions – PAP play just the kind of punk Belfast longs for right now, eschewing the party hard, image-obsessed route and instead opting for a strong DIY work ethic that many of their idols from the US hardcore scene did before them. Many influences are displayed; most prominently the speed and metal-edge of hardcore giants Converge, all the while juxtaposed by the guitar bite and nuanced songwriting of Greg Ginn or D. Boon.
The band benefits from their stellar support acts, the result of which is a crowd on the verge of euphoria before they even take to the stage. It takes around thirty seconds for the first mosh pit to start once they do, and it rarely stops throughout, much to the annoyance of the security staff. With a venomous guitar attack from Stevie Lennox, empowered rasp of vocalist and bassist Chris Leckey and metal-influenced drum blitz from Wilson Davidson, the three rocket through a set of short, punchy tracks both old and new in celebration of their new EP Idles & Us.
"I am Territorial Pissings, and this is PigsAsPeople," announces guest vocalist Tony Wright (of ASIWYFA and VerseChorusVerse fame) as the three-turned-four blast through a ferociously heavy cover of the Nirvana classic, Wright howling at the crowd like a demented preacher while the crowd completely loses it. Later, another guest singer appears in the form of Bellos' front man Luke Bowen as they belt out fan favourite 'Glass Fiends'. Shirts are abandoned along with accepted social norms as crowd surfers invade the stage, sweaty and ecstatic, with chants echoing throughout the room between every song at this point. A moment of respite is found during the only slow number of the night, 'Caprice', before the cacophonous 'The Art of Leaving Your House' brings the night to an exhausted close, the revellers turning to each other with grins and exclamations of "… dude." Aaron Hamilton