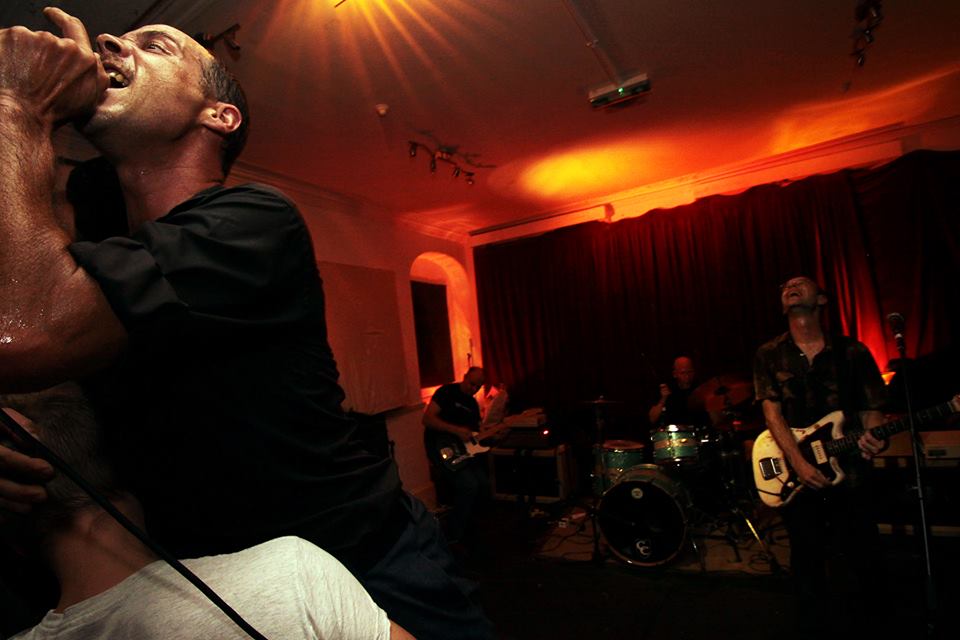 Five years on from wowing a close-knit assembly at Lavery's Bunker, one of the most distinctive post-rock bands of a generation return to the Belfast tonight dogged and purposeful despite founding guitarist Joe Goldring having his guitar stolen in Dublin the night before. Founded in 2004 and fronted by poet and spoken word artist Pete Simonelli, San Francisco's Enablers are all but an act unto themselves, their thoroughly immersive brand of abrasive yet introspective instrumentalism propelled by a masterful confrontational voice that just about guarantees special things on the stage time and time again.
Kicking off proceedings in typically inimitable fashion is Selaah, the latest solo project of The Continuous Battle of Order guitarist Hornby. Renown for his virtuoso six-string forays and impossibly tight musicianship, his solitary, sat and looped performance tonight reveals a bold improvisational prowess defined by spare-of-the-moment playing, crushing noise crescendos and a wonderfully theatrical undercurrent that rewards the open-minded listener. Indeed, taking the opportunity half way through his performance to address the varying pitfalls and major benefits of "making things up as you go along", Hornby draws a growing crowd into his alternate-tuned world of keen avant-garde changeability.
Arguably one of the country's most comprehensively forward-thinking acts, Belfast-based four-piece Blue Whale are a band finally receiving recognition for their altogether unpigeonholeable brand of noise rock. Navigating between the realms of post-rock and jazz-punk, the four-piece deliver one of their performances to date tonight, melding scurrying guitar explosions, intricate multipart breakdowns and downright irresistible beats that sees the majority of tonight's crowd throw every kind and concept of shape in sheer abandon. With the mind-expandingly fun schizo-groove of 'Sambastard' and recent single 'Was' proving peaks, Blue Whale once again re-affirm their ever-growing reputation as a music-making force to be reckoned with in Belfast and further afield. Bold, inspired and convivial all at once.
With the tone firmly set by tonight's support bill, Peter Simonelli and the rest of Enablers soon take to the stage to what Goldring would later call "a small but brilliantly receptive audience". Bursting straight into their set, however, the crowd are somewhat hesitant to start with, gradually make their way towards Simonelli's flailing arms and feverish decrees. Twisting his torso and splaying his arms in the throes of semi-possessed performance, he looks out into the crowd, spitting sharp, breathless refrains recounting darkly characters and the laws of the city at night. Musically, the band are resoundingly skillful from the word go, bounds of atonal riffs and shimmering guitar arpeggios morphing with the boundlessly accomplished shifting rhythms of the constantly in control Sam Ospovat, who sits in for Doug Scharin.
Playing material predominantly from their most recent masterstroke, 2011's Blown Realms And Stalled Explosions, the perhaps slightly kneejerk consensus that Enablers forge the angular moodiness of earlier post-rock acts including Slint with the breathless verbal dexterity of major Beat exponents such as Jack Kerouac or Allen Ginsberg is beyond question tonight. Traversing shadowy and brittle dual-guitar tangents with flawless bellicose ruptures from both the band and Simonelli himself – the latter's fingers piercing the air, eyes blazing broadly towards tonight's crowd – there is an implacable glorious appeal to Enablers and their approach that grows more insatiable and more intense by the minute. Rounded off via Simonelli's exchanges with the audience about Seamus Heaney and one particular song "being about that dream you have where you're back in school – maybe in your underwear", they beguile both the newly-inducted and firmly initiated tonight – a "small but brilliantly receptive audience" indeed, duly enthralled. Brian Coney