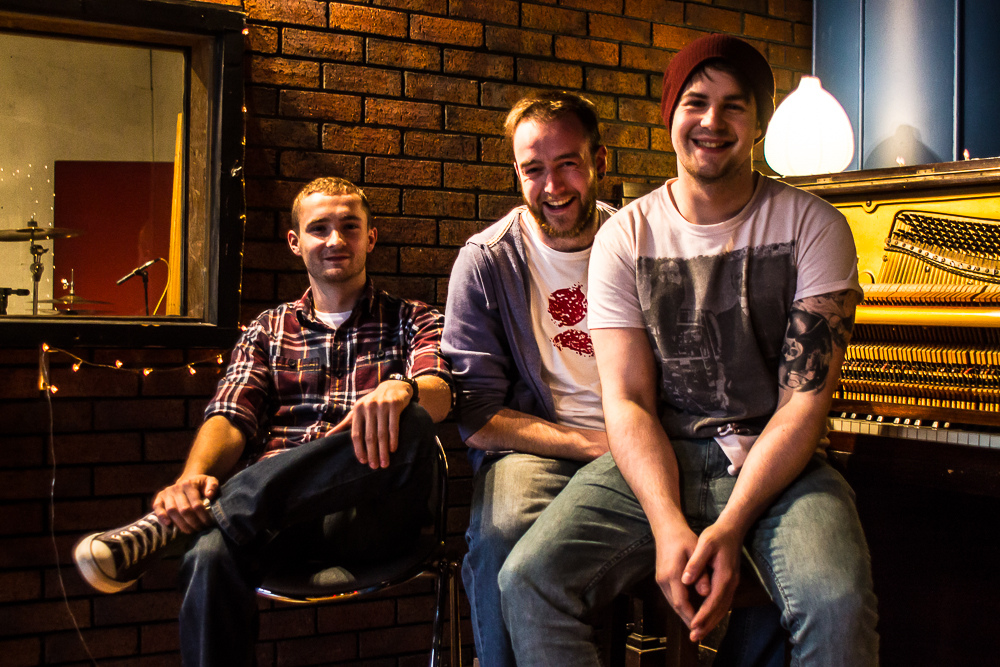 In the latest installment of The Record, Liam Kielt caught up with Belfast alt-rock band Stillpoint as they recorded their forthcoming single 'Go Ahead and Go' at Start Together Studio. A semi-swansong as sorts coinciding with the band's recent decision to go on hiatus for a while, it will be released at some point over the next couple of months.
Check out Liam's photos from the recording and our interview with Stillpoint frontman (and Two Glass Eyes' bassist) Dave McKendry below.
Hey guys. You recently recorded your single 'Go Ahead and Go' at Start Together. Tell us about the recording process.
We had a lot of fun recording this track. It had been floating around for a little while and a big part of me had wanted to play it as a band but I was nervous about how it would come across alongside the rest of our stuff. It's a good bit different but Mickey (Donnelly, drums/vocals) wouldn't let it sit so we finally got our act together and hit the studio.
It was incredibly relaxed. Mickey was a bit late to arrive so we just sat and chatted with Ben and Niall for a while and soaked up the vibe of the studio.
Once Mickey arrived we built a drum kit from their collection and picked a couple of amps to run through. After a short while setting levels we put everything down and headed for Boojum. Someone mentioned Boojum while we were setting up and we weren't doing anything more 'til we got one. We were half way through the day and had nothing to show for it. We should have been worried but it was all good and relaxed.
Post-digestion we went into the room and just started jamming it out. There was a lot of laughing. A lot of false starts and takes ruined by us just having too good a time but we knew we'd get it and we did. It's a really weird feeling when you're recording live. Suddenly you finish and you know as the notes ring out that that's it. That's the one and you're not doing it again. Suddenly I was glad we'd taken our time setting up and messing around. Otherwise we'd have been in and out in an hour and a half.
The single is a full band version of an acoustic demo. What changes did the song undergo over the course of the recording process?
The acoustic demo happened very much by accident. I was in my friends one night catching up and he he asked me if I'd be writing recently. I told him I'd a new idea just about finished and he said we should put it down. I picked up a guitar, double layered the tracks, threw down the vocals, added a backing and that was it. Four takes later we were delighted.
There wasn't really a whole lot of change thrown at the song for the full band version. I really wanted to keep that freedom and spontaneity element as much as possible. We knew what we wanted to do when we went in so we weren't firing things at it from the control room. In some ways it's actually more stripped back than the acoustic version, partly to do with tempo and partly the playing.
It really hits it at the end though. That's what I heard the moment I wrote it and it was awesome to bring it to life in the studio. I'm a big believer in writing on an acoustic and bringing that song to a band but from the moment I wrote 'Go Ahead' I knew I couldn't wait to roll up the volume and let the distortion pour forth!
Is there any particular reason(s) why you opted for Start Together for the recording?
We wanted to do it live. I've always wanted to do a live recording and this seemed like a great tune to start on seeing as everything else we do is a good bit more challenging. I'd seen Kasper Rosa do the Icebreaker Sessions in there and that inspired me a bit. Partially cause it's a kick ass EP and partially cause it sounded so good. We hadn't recorded there before, so it wasn't the first place to come to mind but it was the first place I thought we could definitely do a live take. I'm glad we did now.
You've put out two EPs so far – can we expect a new full-length release to follow on the heels of the single release?
Much as I'd love to say yes it's going to be a no. We're actually going on extended vacation once the single is released. A bit of a weird move but it's for the best at the moment. Jack, our bassist played his last gig with us at Tweedfest back in September. He joined us for a last hoorah in the studio but he's hanging up his boots and hitting the quiet life with his better half. Stillpoint have been through a good few members over the years, usually with happy partings. At the minute I just don't have it in me to go find another bass player. Especially when they've such big shoes to fill.
You have also filmed a video to accompany the single release. When can we expect to see that?
I doubt it's escaped the good reader's attention that Christmas has been and gone and still no sign of our promised video. All our videos have been DIY with the help of our good friend and original founding member, Mic Ko. The downside isn't so much that he works at his own pace cause it's voluntary, it's more that I don't hassle him enough. If everything was full steam ahead it'd be out by now, but with the change over to Two Glass and my head stuck in organising a European tour for those guys I just haven't given it the attention I should have. It's a shitty admission, but it's the sad truth.
I'm not done with Stillpoint. Not by a long way. Neither Mickey or I want to pack it in. I just need a break from it right now so I can approach it with a full tank when the time comes. I don't want to burn myself out trying to find a replacement for such big piece of it as Jack. It's tough losing members in a three piece! I'm still writing and I was sitting on a lot of material when we made the decision to pause. When we come back I have every confidence it'll be much better than everything we've done up to now.
Have any new influences – albums, bands, genres etc. – seeped into your sound recently?
Yeah, or at least it was going that way before we put it on the shelf! I'm absolutely great at getting into bands that are now defunct. Every now and again you get lucky like (very recently) 65daysofstatic getting back together and even being so kind as to grace our fair Limelight. For the most part though I really dig bands that don't exist at all anymore. The best and most recent example is an American band called Only Thunder. They were friends of a friend of mine and they kicked fucking ass. I think most of them are still kicking ass in other bands but I just haven't gotten over Only Thunder yet! I love the technicality – it's challenging while melodic.
Finally, how has the last six months been for the band in terms of planning for the future and breaking new ground?
Actually very productive! For the first time in about six years we know exactly what we're going to do and how we're going to do it. I don't know when Stillpoint will come back. I don't know if it'll be six months or six years. What I do know is it will come back and it will be fucking good when it does. I'm not going to get stuck back into it all just to churn out mediocrity. I just hope it's not six years 'cause no one wants to listen to thirty-two-year olds play whatever the kind of music it is we play.